It is 07h00 on Thursday morning, I am planning to meet Fisel in one hour for the 9 hour drive to Yamba. I press the 'snooze' button on my alarm and wake up again at about 11h30. At 12h00 with the surfboards loaded on the roof I am at Fisel's house and we are just about ready to hit the road for the 650km drive up to Yamba. Jenni, Rach and Mike left at about 09h00 and were well on their way up the coast, whilst Fisel and myself sat in traffic jams playing 'travel monopoly' as the Easter rush to get out of Sydney began. Michelle, Lyly, Henry and Dan were still at work so were not leaving until even later. We stopped in a placed called Marrickville to check the surfboards were not falling off the roof, I took this picture of the sunset over the river there –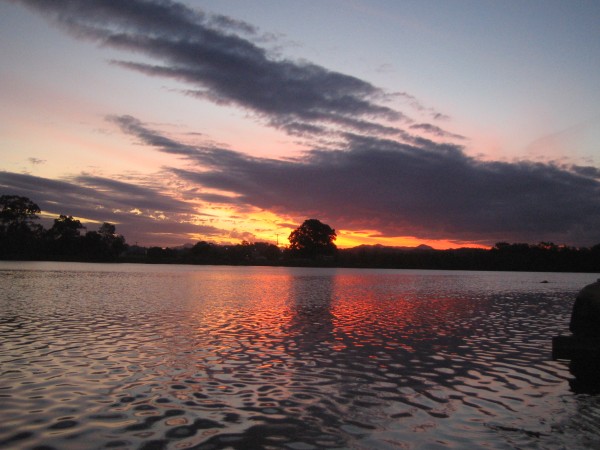 Marrickville – somewhere between Sydney and Yamba
The only places to eat on the side of the road, like in most countries, are McDonalds, Hungry Jacks (Burger King). In Coffs Harbour (Gin and myself's favourite place) we went to 'Red Rooster'. I've always wanted to try a Red Rooster meal but afterwards I wish I hadn't!!
After driving for what felt like half of my life we arrived in Yamba! Mike had phoned me earlier to tell me the place was a mess and that we needed to get some bleach and spray to clean the place up. I did not realise he was joking and ended up buying loads of cleaning equipment that we did not need. The house we had was beautiful, the open planned kitchen/living room/dining room looked over the pacific ocean on Pippi Beach (we actually happened to have some of the biggest waves I've ever seen on it). Of course the first thing we did after bring all the stuff in was crack open a beer!!! Here are the initial crew at the Yamba house –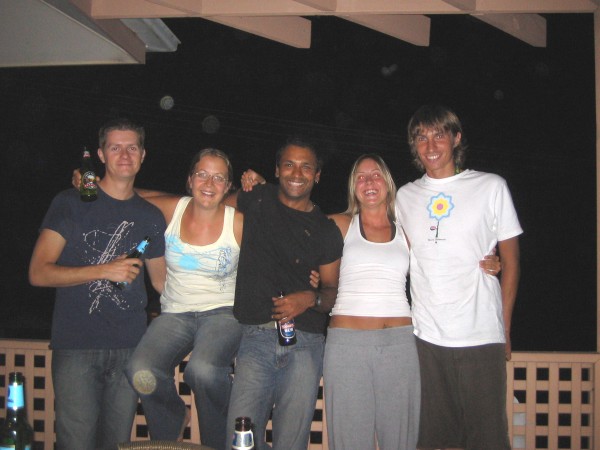 Mike, Rachael, Faisel, Jenni and myself
We had a quick game of 'Twister' and 'Hide and Seek' and then the other guys arrived, we had a little drink together and then all went to sleep in our new home for a big planned day of surfing. I woke up the next day to look out the window and see the waves were still messy and, when not messy, absolutely frighteningly big –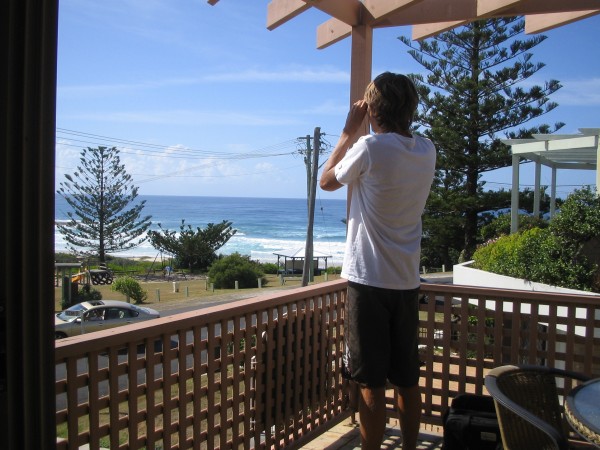 Checking surf conditions from our balcony using binoculars
Faisel and myself headed down to 'Main Beach' to checkout the surf, it is much more protected than the beach above and so was much smaller. It was a bit too small to be honest but was fun for our first day in Yamba. The place is really cool, we did not see any other foreign tourists whilst we were there apart from ourselves and this is all available 1.5 hours South of Byron Bay!
In the evening Dan cooked a lovely meal for us using some special rice and a lot of basil and cheese, here we are enjoying it in our house –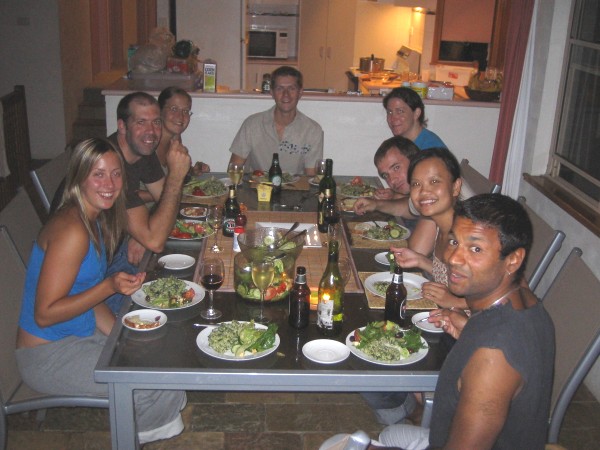 Clockwise from left – Jenni, Dan, Rach, Mike, Michelle, Henry, Lyly, Faisel
We then played 'Zoom' a drinking game that has a million rules. If you get caught by the games master (Dan) then you have to 'skull (down)' a few gulps of beer/vodka orange. Clearly it ends up with everyone getting drunk, we then moved onto playing Twister which just gets out of hand –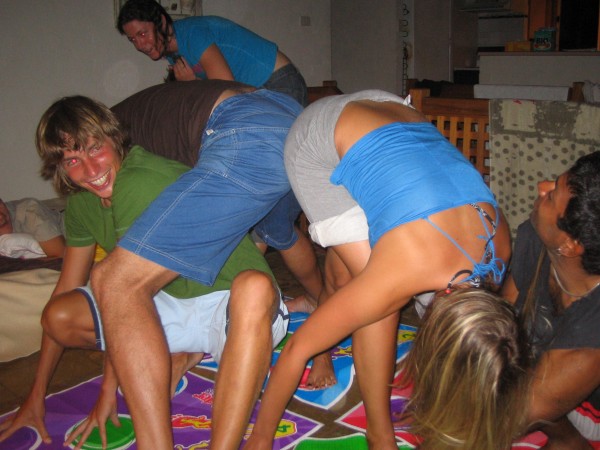 Twister!!
I have many many more photos from the Twister matches we played. Especially from the 'girls only' round that we had, I'm not allowed to put those on the internet though (as I was told by the girls), which is a shame because they are brilliant 🙂 !! So after a very drunken night we had a very late start on Saturday morning!! Back to main beach again but not for very long because it started to rain and thunder!! Jenni, Fisel and myself sat in the car soaking wet looking over main beach. There were two guys still in the water surfing until a lightning bolt struck the end of the river mouth entrance not 0.5km away from us!! We gave up surfing for the rest of the day and went back to the house for a rest. Later when the weather had cleared up we went for a walk around one of the heads of Pippi Beach. I really wanted to go and have a look at these monster size waves there were breaking over the rocks that I could see from our house. On the way around the rocks we saw some dolphins fishing in the bay. I managed to take a picture of a nice wave breaking as well as the dolphins in one shot –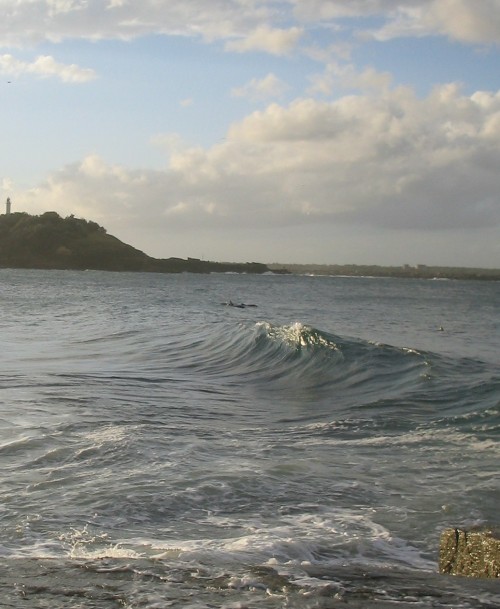 Dolphins and Waves in Yamba
I also snapped Jenni in the sunset on the rocks with Yamba in the background, it made a nice shot –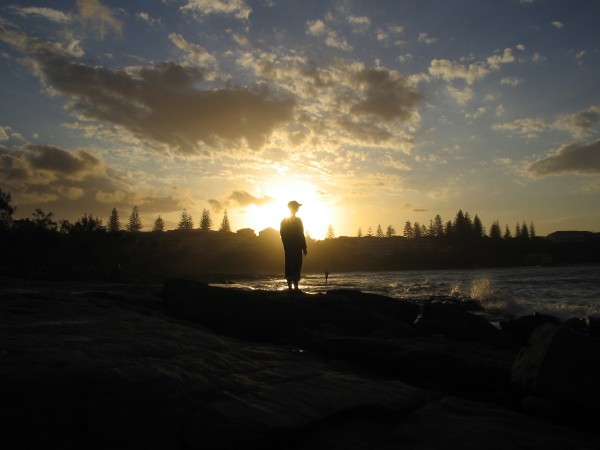 Jenni and the Yamba skyline
That night we headed into Yamba in search of food. We ended up at a Chinese restaurant where we had some great food and conversation about our favourite countries to visit. We headed back, played some (competitive) Trivial Pursuit (my team of Rach, Jenni and I came last) – we were playing the Australian edition and no one on our team was Australian (English, English and FInlandian).
Next morning after a quick breakfast, Henry, Fisel and myself (Dan was out of surfing, we think he might have fractured a rib) headed to main beach again. The waves were disappointing so we walked down to Turners Beach, which is the next one along. The waves here were much better!! They were pretty big out back, ranging between 3 and 5ft. Instead of trying to paddle out through these massive waves we decided to jump off the rocks into the swell. Doing this for the first time was a little daunting. It is not the jumping off the rocks that I was scared of, it was timing it right so that a huge wave wouldn't throw me back into the rocks I just jumped off. The key was timing and paddling as fast as possible away from the rocks so that wouldn't happen, it did not happen (obviously). The southern corner was really for right handers, some guys were surfing from the edge of the rocks across the wave and getting really long rides, Henry said it was the stuff that surf magazines write about. I rode a few (mostly as left handers), I then paddled towards what was probably the biggest wave I've ever had to paddle into ever! I am pretty sure it blocked the sun out when it was beginning to break right over me. It was very scarey and I was in the worst place I could have been. I attempted to duck dive it but didn't get the board nor myself down far enough. Henry said he saw the board fly out from behind me as this monster wave crashed down right on top of me. When I came to the surface I thought I had lost an arm! One of the fins of my board caught me across the wrist and has left a mark on my wrist that looks like a suicide attempt! I am just glad it did not break the skin all the way across! So now I was bleeding into the ocean (I didn't come in thats not the right attitude) with sharks possibly all around, however instead of seeing sharks, whilst waiting for some nice waves dolphins bobbed up and down in the water no further than 5 metres away from Henry and myself (Faisel was AWOL at the time). We came back for luncheon and no one was home, however this sign was on the kitchen table –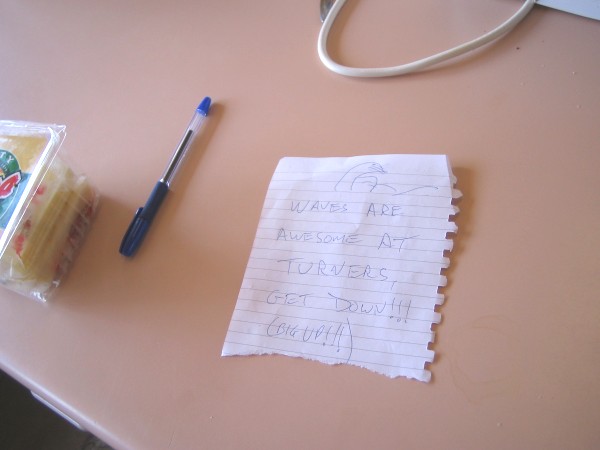 Surf's Up!
We already knew the surf was awesome, we had been out there all morning!!! In the afternoon Fisel attempted to make some video of us all surfing, as Jenni, Rach, Lyly and Mike were all practicing in the water! He got some good footage, unfortunately none of Henry and myself on the take off of the big waves out the back but a couple of us in the dieing seconds of those waves. We have loads of video footage to make a little surfing video though, I am going to be putting that together this week so watch this space!! Here is a small snapshot that Fisel managed to capture of me at the end of a ride (thanks dude) –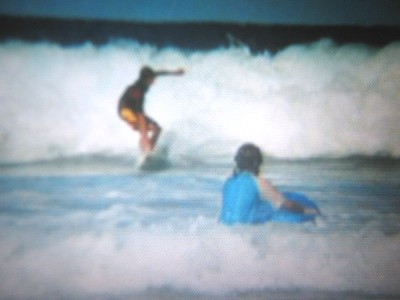 6ft whitewash!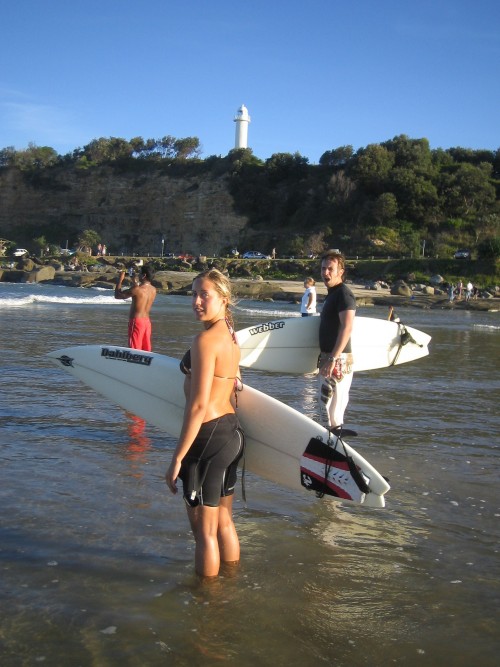 Jen + Dahlberg, Hen + Webber and Fiz (filming surf video) on Turners Beach
So after a killer day surfing (some of the biggest waves I've ever caught) Lyly and Henry made a fantastic fish pasta and tomato mozzarella pizza!!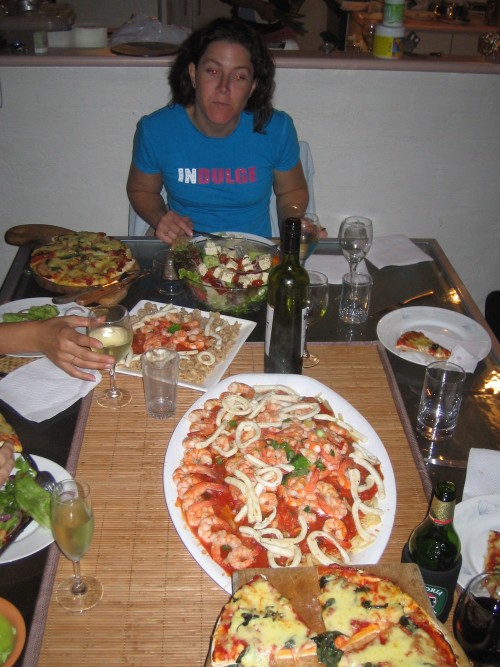 Michelle's t-shirt says it all
I then rewarded my board for its good efforts for that day with a new layer of wax –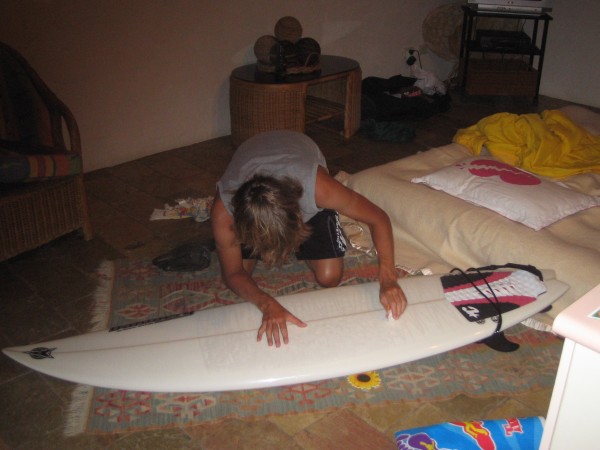 Waxing
Everyone always talks about Byron Bay and how you must go there when in Australia. Seeing as we were only 1.5 hours South of Byron a few of us decided to head up there to check it out. After an early morning surf, Dan drove us up to Byron Bay whilst the others checked out the surf at Angourie. We went to Watego's beach for the day, Dan and myself watched malibu board riders catch nice little waves that were giving them 50 metre rides. Here is the beach at sunset, you can see Jenni making footprints in the sand to the right of the picture –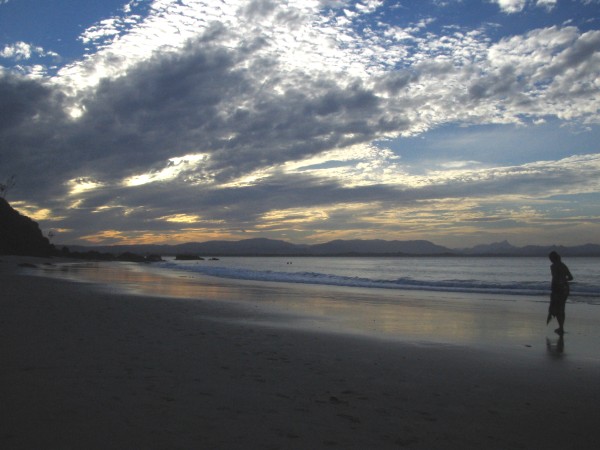 Watego Beach – Byron Bay
After a day of sitting in the sun and telling each other good and bad jokes and finding out that the deal on our house was to good to be true (we had only booked until Monday and not Tuesday – it was resolved though) Dan payed for us to have dinner at this lovely little fish restaurant next to the beach. I had the best piece of Salmon ever. We also had a load of deserts which were beautiful but was far too much food!!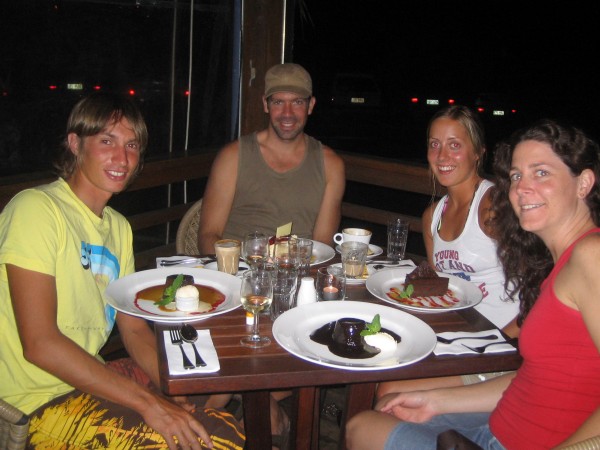 Dan, Jen, Mich and myself in Byron Bay with Deserts
Tuesday morning and we had to be out by 10h00. Fisel and myself walked the 2 minutes it takes to get to main beach to have the last surf of the Easter holiday at 08h00. The earliest I've ever surfed and it was brilliant! On the way back we stopped off at Seal Rocks, I really enjoy this place and Jenni wanted to have a look at it (after reading all about it on this very website). Here is Jenni and myself at Seal Rocks in the dieing hours of light of today –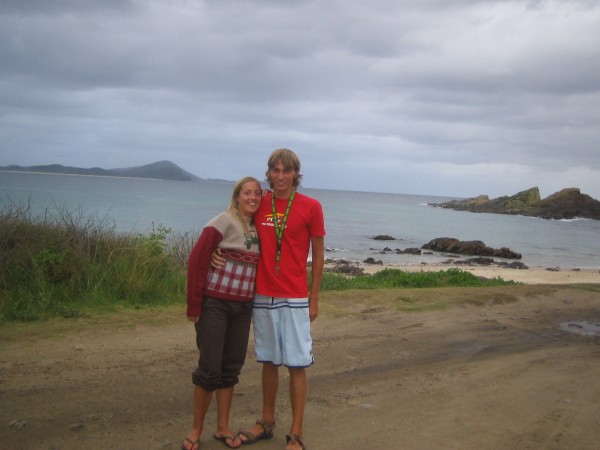 First and Last Visit to Seal Rocks
The best Easter I've ever had!! Watch out for the video on the website shortly!!!!!
On a separate note, I mentioned Kelly Slater was ripping it up in Sydney the other day when we had 20ft waves coming off of a major storm. Here is a picture of him riding at Deadmans that day –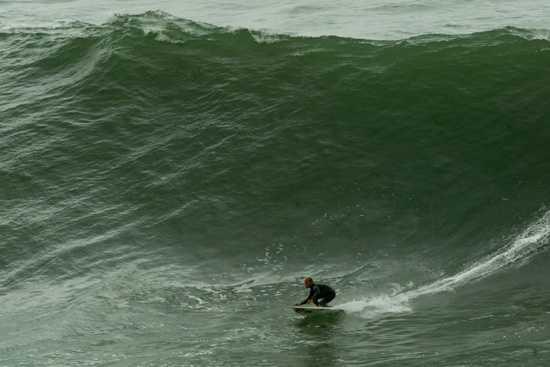 Kelly Slater riding Deadmans