One year on and I am lucky to find myself here in Australia and able to make the trip to Yamba again for Easter!
We left on Friday after work in a Toyota Corolla which we hired from No Birds. We also met Gemma at the ferry and eventually got on the road at 18h00, on a journey that would cover 1600km in total (just under 1000 miles), which is further than driving from John o'Groats in Scotland to Land's End in Cornwall! It took us about 9 hours to get up there and we went to sleep straight away!
The next morning we were greeted by a lovely day and our nice houses which we were all staying in.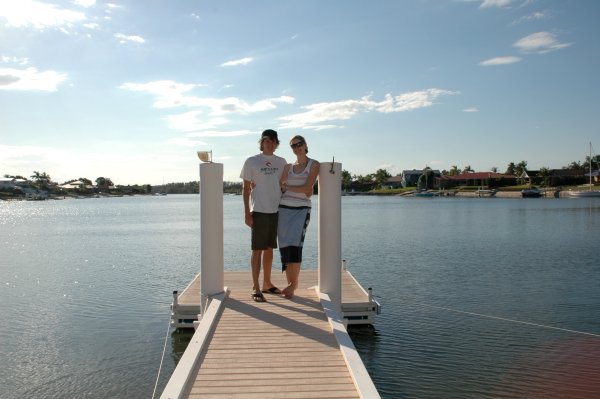 Amy and me on the Yamba House Jetty
Most of the other crew had already arrived at the house and so when we were all up we had a bit of breakfast and went down to Turners beach, where we chilled out and I had a little splash around in the waves (still no surfing allowed)!
We also had a lot of fun in the river outside our house, with some jumping competitions and some relaxing times in the tires!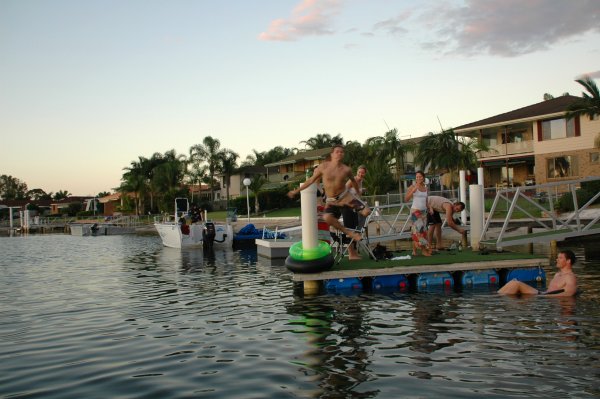 Mike Jumping into the Water
After a lot of chilling out by the water we got the BBQ on had a bit of a mix up on Mike's drum kits and keyboard. We had some great sausages and fish and drank lots of alcohol!

Lyly and Henry Flame Grilled BBQ!!
And it tasted good….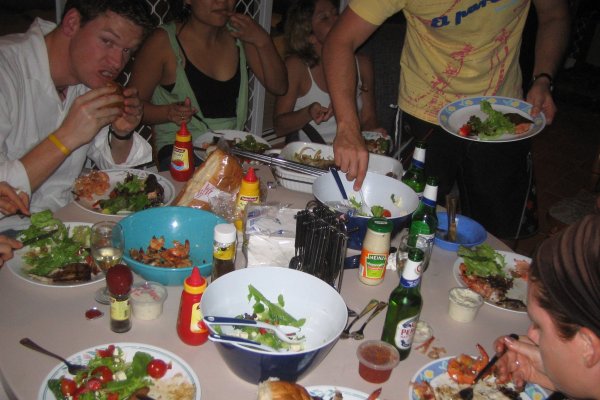 Brandom enjoys some BBQ
The next morning Gemma went for a swim in the river inlet outside our front doors, she was swimming with a dolphin at one stage and being attacked by aggressive seagulls the next!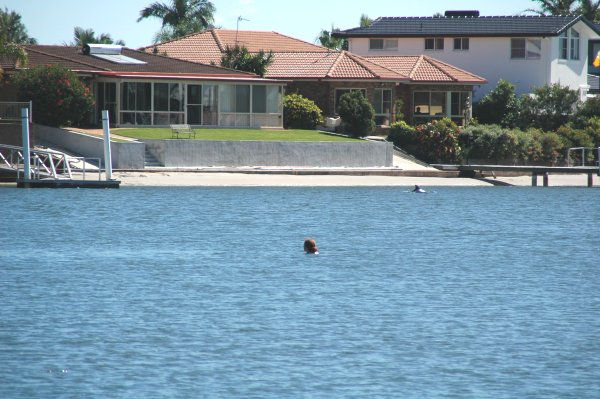 Gemma and a Dolphin
A group of us headed down to 'Spookies Beach' but there were so many people on it, it was unenjoyable –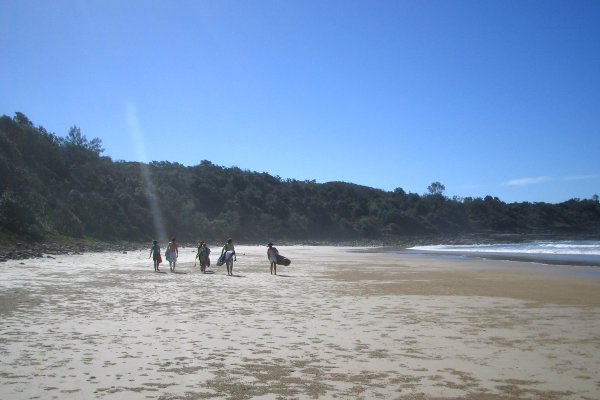 Spookies Beach on the busy Easter weekend
The beach was a bit spooky, in the sense the that the tide came in really fast. All the dark patches you can see on the beach are actually balls of sand created by tiny little crabs that lived under the sand!
Whilst down there we got Brandom to lift a boulder which I couldn't even roll –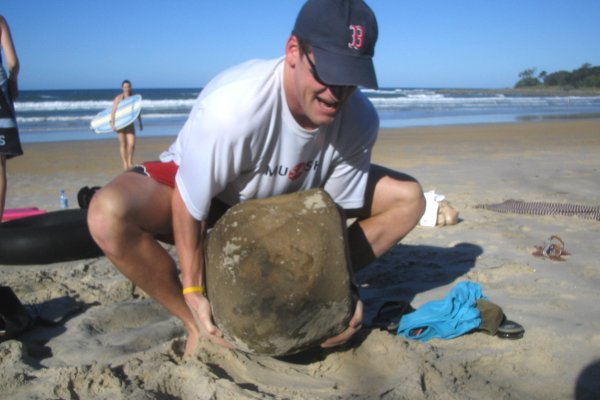 Boulder lifting on Spookies!
When we got back the other group had acquired a boat off of one of our nice neighbours. So they went out on the lake to see if they could catch some fish (unfortunetly they did not which tormented Henry no end).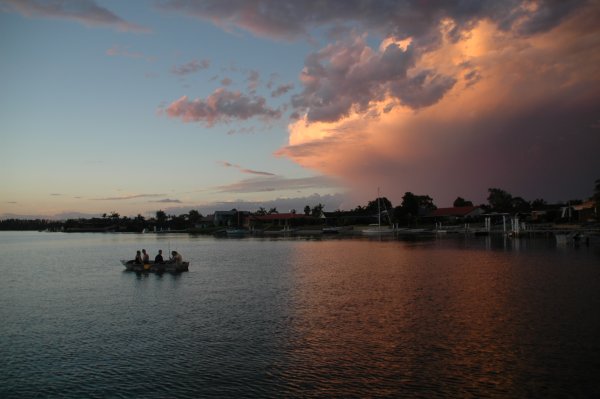 Boat and the Biggest Cloud in the World
Matt rocked up on a superbike that evening to a glorious welcome –

Matt with Kate and Lyly
We headed to the Yamba Pacific Hotel to see the band Jada and have dinner. It was a cool time and we had some nice food. Jada started playing and it was setting off the maximum volume system so some guy in the audience unplugged it. Then the management turned off their mics so they walked off, so I only really heard two songs. They were ok and I bought a t-shirt because they were pretty cool!
So no party at the Pacific Hotel, we took it home and had one in our Yamba houses.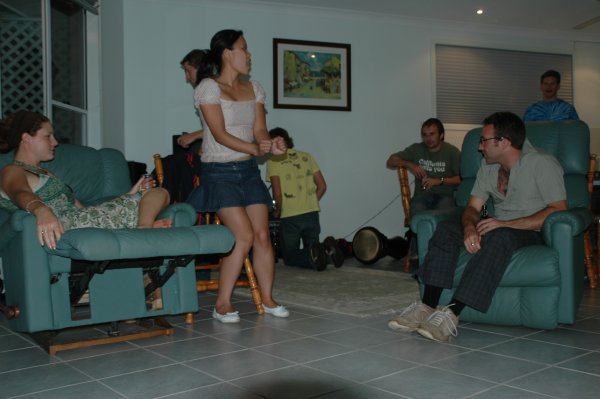 Lyly in full swing!
After a full night of dancing, drinking and drumming we slept very easily, however we had to get up early for Amy and myself to make the 1.5 hour drive up to Byron Bay to see Simone and Stu on Clarkes Beach.
Byron Bay is really a very beautiful part of the NSW coastline, it gets very popular at Easter because of the Blue and Roots festival that goes on at this time of the year which Holly, Gemma and Matt attended.
Whilst on Clarkes beach we walked over to the viewpoint to look out to sea –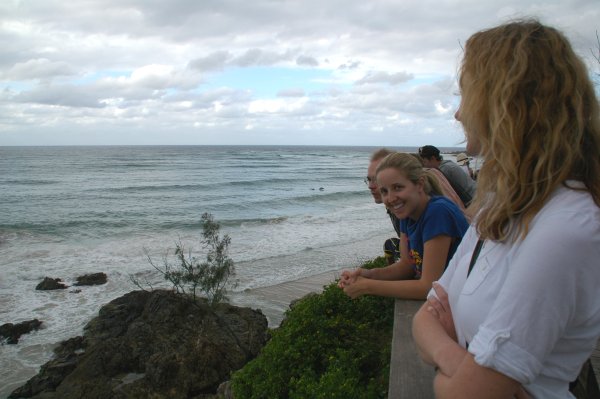 Stu, Simone and Amy at the lookout, Clarkes Beach.
whilst looking out we saw a pod of dolphins swimming in the waves –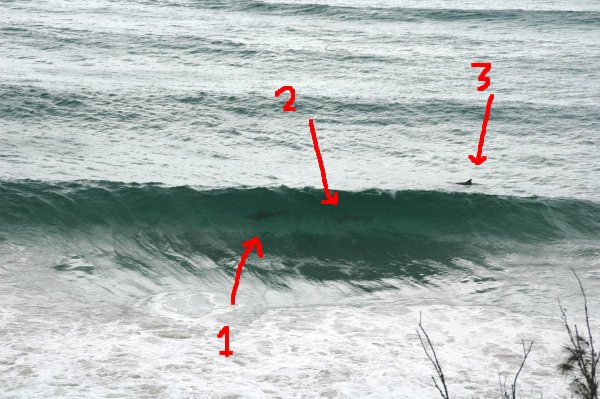 Dolphins in the Break at Clarkes Beach, Byron Bay.
We said goodbye to Simone and Stu after having some food with Simones parents and headed up to the lighthouse which looks over Wategoes beach and practically the whole of Byron Bay. It was approaching sunset and the lights were absolutely amazing, check out that swell coming in –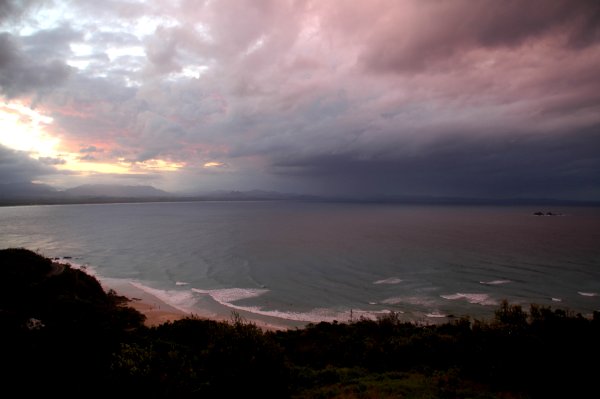 Amazing Byron Sunset
We got back that evening and celebrated Rach's birthday with 'toad in the bowl' jelly which I didn't really understand but it tasted good!!
Next day we did the ten hour drive back to Sydney, very tiring but a really great weekend and good to see all of the guys!
Yamba 2006: Rach, Mike, Holly, Kate, Gemma, Henry, Matt, Henri, Lyly, AJ, Brandom, Amy and myself! A great time and thanks for organising it to make it happen!