The lack of entries, it's not that we have not been doing things, it is that the little camera which served me so well since it first post in January 2004 stopped working due to a sand blockage in its little servos that make the lens come out. My other camera is great but really not convenient unless I am going out specifically to take photographs, which I have not done enough of recently – so I took it out today. An electronics shop in Waringah Mall have a deal on a waterproof camera that I want to get next so that I can take it out in the surf.
Yesterday was the first day back in the surf after 9 weeks of physio, it was very small but that suited me absolutely fine. I went out with Marcus which was good but I didn't catch any waves, I was on the short board in 0.5ft swell but I just wanted to have a paddle around. My previously dislocated arm hurt a bit when I brought it around but that went away after a while. It still felt a bit weak when practicing duck dives and doing the final two pushes onto a wave (at which point I forget that I had a dislocated shoulder) but I am sure I will get there eventually, it might take a bit more arm exercises and I plan on doing a bit of kayaking to get the strength back I need for the extremely demanding world of hardcore surfing. Check out Fizzer's latest entry he's been surfing reef and aiming for metal poles sticking out the ground. Unfortunately because the surfing really took it out of me we missed the Surry Hills Festival which looked really cool and had a great line up.
Lucky Amy is off to New York, London and Singapore next week which will be a good adventure!! I'll be staying at home and mostly be cleaning, ironing and staying in.
I took this picture this evening after we got the train back from Campbelltown where we secured a rather nice SUV on a very very good deal. I'll speak more about that when money and keys have hopefully exchanged hands on Tuesday.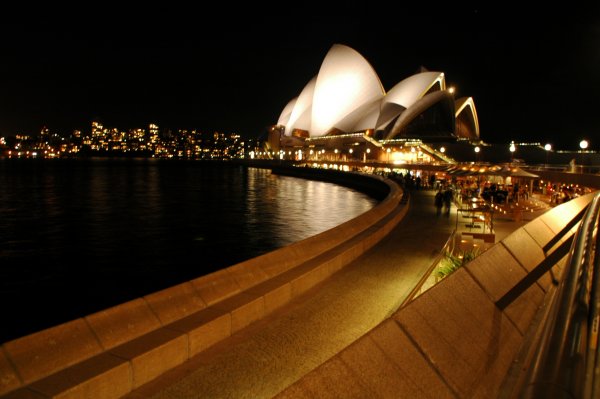 The Opera House on a mild winter evening
This weekend its a double whammy with Stu's birthday celebrations at the Casino and Andrew's football party, which has an excellent "Web 2.0" style flyer done by the graphic artist supremo Chris
This is the flyer he did for the party which I think deserves some visibility –