15 weeks after dislocating my shoulder I stood up on a wave! A personal breakthrough! Amy, Nancy, Marcus and I went down to Long Reef beach on a very flat day. It was high tide and there was only one peek on the entire beach, and it was very very crowded. Every now and then they'd be a closeout set on the rest of the beach, it was breaking deep enough so I decided to just hang there and focus on catching one of these waves. I took my short board which is the most comfortable board for me in the water. After a lot of sitting around and paddling too early into a few waves I suddenly found myself getting closer and closer to catching one. After one or two pulls outs at the last minute I finally got the courage to get on a wave and stand up for the 3 seconds it gave me before closing. I was probably more stoked than anyone else surfing that day!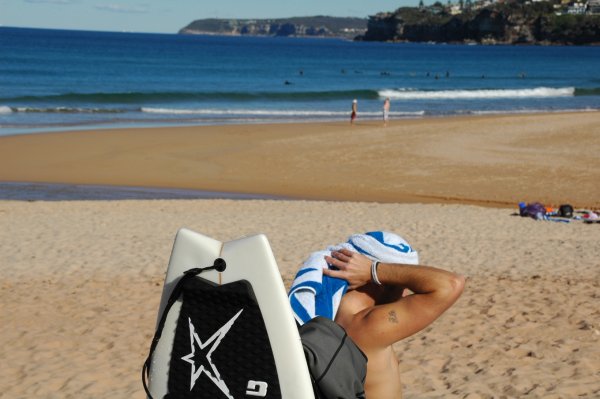 Sydney "winter" at Long Reef, Northern Beaches
I now need to get out in the water more and get my fitness back to a stage where I can really get on some decent waves! After a nice day at the beach and a few more failed attempts at flying the remote control plane we all headed to the North Head, the entrace to Sydney, to see if we could see any Whales, we didn't see any but there was some marvellous views –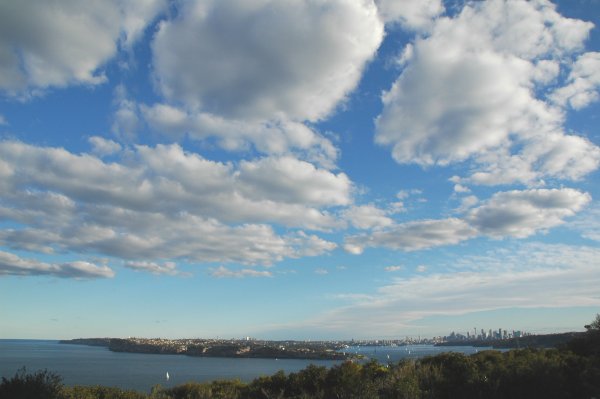 Sydney from the North Head
That night we went to see a gig at the Gaelic Club in Sydney, it was also Henry's 30th birthday at Vegas Hotel, Kings Cross, so I was between venues that night. It ended up that I didn't see any of the gig which was ashame, just the warm up bands!!
The good news also is that Amy and I bought a digital camera today, it is the same one as I used to have but a newer model! The Canon IXUS Zoom which was in the Myer end of year sale! So lots of photos to be coming this way soon!!