Found this excellent chart at wavelust.com that explains that actual height of a wave as given as the measurement and the reality of there size from the front –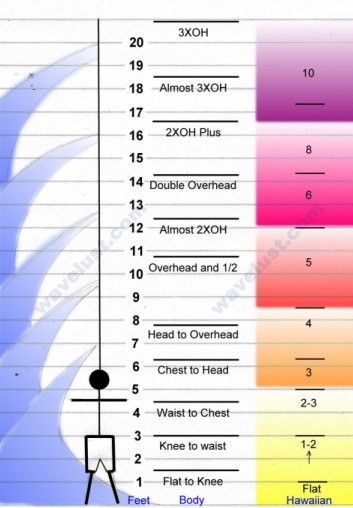 So that weekend that still haunts me on this scale shows the waves at Almost 2x Over Head on the scale!!
My car's front left wheel is loose and I cannot drive it until Monday when it gets repaired. We went to the beach today (by Manly Ferry which took hours) got on a few good left handers but had to get out as there was a southernly gale that wasn't very good for my attire (boardies only).
As for g2007.com February saw the biggest amount of visits a day ever! 697 visits a day on average, viewing 1443 pages and accessing 2726 files. 40,410 pages were viewed in total by 19,518 visitors who hit g2007.com a total of 101,153 times. I think a partial reason is for the sites syndication by Google Images.