I woke up at 07h30 in the morning, jumped into my jeans and t-shirt and bombed out of the door to go to the tube and pickup my hired Ford Fusion or similar motor. After getting off at the wrong tube (Kings Cross) although the sixt rental is called 'Sixt Kings Cross' it was actually a different tube stop. So after walking to Angel and still not finding the road I wanted I got into a cab which took me there (and cost about £5). When I got there the guy behind the counter asked for my 'counterpart' for my driving license. This is the green piece of paper that everyone loses when they get their photo driving license and is a big error for the UK transport department to make people not lose this flimsy piece of paper (they replaced the old licence with a photo card but expect you to carry this green piece of paper with you as well). The couple in front of me forgot their counterpart as well and she almost started crying because their home was not within a sensible distance of the rental place. So when I got to the desk and was asked for the counterpart I told him that it doesn't ask for it in the 'things to bring with you' section of the sixt rental agreement print out. He circled the line that says 'driving licence and notices' or something similar. If it had said 'driving license and counterpart' maybe we all would have remembered it!! What was more annoying is that some guy with a Korean driving licence hired a car no problems, he didn't have to bring any green pieces of paper with him! So I got back on the tube (the one right next to the sixt depot) and made my way across London (£2.30 return) to get my counterpart. By the time I got back to the sixt depot it was 10h30, 2 hours later than I wanted to leave. I could just picture Marcus down in Bournemouth rodeo clowning on some 4ft glassy sets off the pier and it was making me more and more frustrated with the car hire going all wrong.
So I got back to the depot and there was a girl in front of me, I was secretly hoping she had not brought her counterpart to make myself feel better, this was not the case. The guy behind the desk asked her how old she was "27" she replied, he then asked me and I said "24" and I gave a smug look to the girl as I was younger than her. He then asked the women what colour car she would like "blue or red", she replied "ummmm…blue". "OH GREAT I GET THE RED ONE" was the thought running through my mind, which looking back at it was silly because I couldn't care less what colour the car was, the chemicals in my mind were just in anger mode at the time. He then asked how many people were travelling in the car, "4" she said, "1 and a surf board" I said, "A SURFBOARD?" he replied and the girl laughed. "Yeah, I'm going surfing so something big enough to fit it in" I demanded. The girl got given the keys to her blue car and she went off smiling. I went to the desk and gave the guy my driving licence, counterpart, passport and two VISA cards, a little bit overkill but I wanted to make sure I wouldn't have to go home again. I was staring at the posters behind him, one was of a Mercedes E Class and the other a Mercedes C Class "Only £139 a Day!" the poster boasted (an absolute rip off in 98% of the populations mind). He then said "what sort of car will fit a surfboard in", jokingly I said "one of those C Classes should do it" and he said "ok you can have it if you want" and I was like "for the same price" and he said sure. So I went from angry to 'cool a Mercedes' mode pretty quickly. The sixt guy said to enjoy the surf and I was like "yeah thanks cheers buddy" he went from evil counterpart demanding man to my best friend in the space of 2 hours.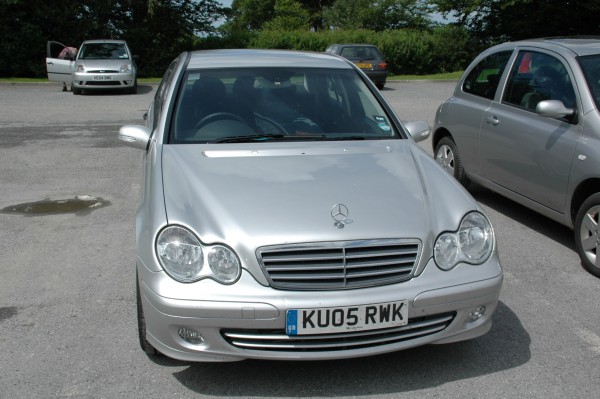 Yes it ruled
So I got into my Brilliant Silver C180 Kompressor Limited Edition Merc and drove back to my flat to get the surf gear. I was then on the way to Bournemouth. I printed out a travel plan from Kings Cross to Bournemouth which was not the route I was going but I thought it would all work out. I just wanted to make sure I avoided Hyde Park as this was where Live 8 was happening. Anyway I got completely lost from my weird direction print out and ended up driving around Hyde Park corner. After spending about 1.5 hours in traffic jams in Knightsbridge and seeing police motorbike escorts for black landrovers (which probably contain Madonna, Paul McCartney and all the other heros of Live 8 in) I was on the open road to Bournemouth. I rocked up to Marcus' house and dumped my stuff there and went to check out the surf to see how much swell was pumping through –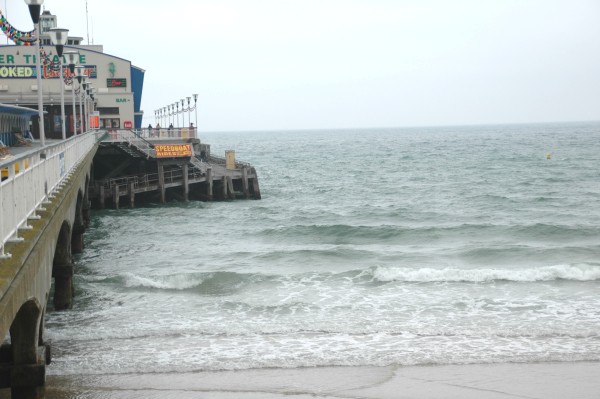 Triple Overhead (for mice)
So there was nothing going down in Bournemouth, after all the delays it wasn't a big deal after all. In a park in Bournemouth they were playing Live 8 out on big screens so Marcus, Tracey, Nancy and myself headed down there and met up with a couple of Marcus' buddies, here we are in the park having a great time watching Live 8 on the big TV screen courtesy of BBC Dorset. You could TXT messages to a number and they would appear on the screen, I sent "MARCUS, I LEFT THE CASH UNDER THE ICE CREAM VAN. GARY" but it never got showed on the screen 🙁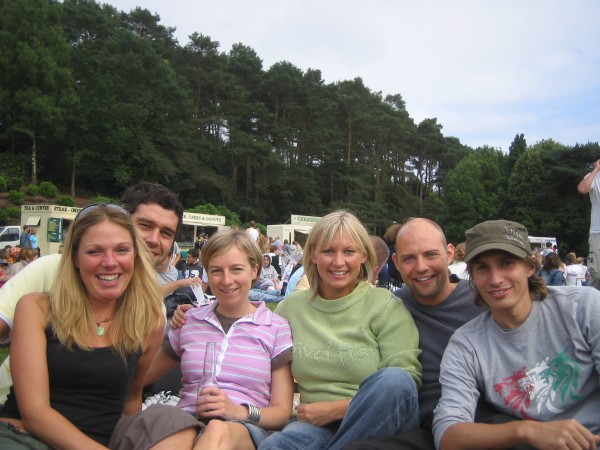 Friend A, Friend B, Nancy, Tracey, Marcus, Myself
Marcus was big-ing up the next days surfing trip to a secret spot a little West of Bournemouth that is a left hand reef break (a nice jagged rock bottom) that works with a bit of swell and no wind. I was excited but also a bit nervous, the predictions for swell at the weekend were great and I wasn't looking forward to coming off a 3ft wave head first into cold water with a rock bottom. We had a lovely pizza express dinner and then headed back, watched a bit of Yield surf DVD and went to sleep. The next morning Marcus and myself headed off to the secret spot which was down all these little windy roads, I was wondering if I would need to know a secret handshake for when we got there (entry to the location it is at was £3 no secret handshake needed). When we got there it was F L A T –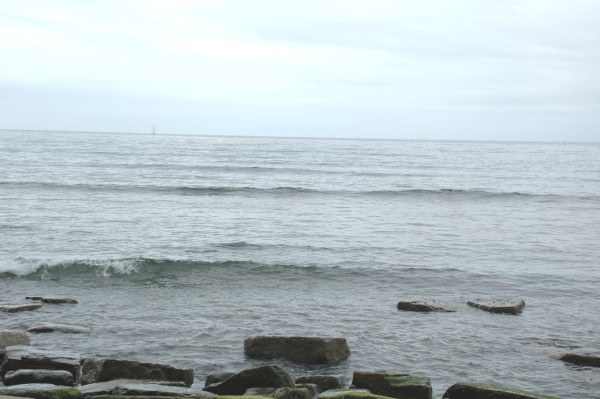 Flat Reef Secret Spot
I love that we went to a 'secret spot' or a spot that is only talked about in hushed whispers, its like joining a special club of elite people. So I said goodbye to Marcus (visit his blog) and headed off on the 4 hour A road drive to Newquay.
The road that takes you to Newquay from the South coast is pretty terrible but has some fantastic scenery. You go around a corner and the ocean appears in front of you, its beautiful scenery in the South West. I eventually hit some dual carriageway and was seeing what my C180 Kompressor could do. When I came to some straights with a large field of vision and not many cars around, I checked the mirrors for the police and then double tapped the Kompressor turbo on the accelerator and hit a cool speed of 120mph 70mph. Brilliant, the fastest, nicest and newest car I'll probably ever drive. When I arrived in Newquay I noticed a grinding sound coming from the left front wheel – oh great, bearings I thought, the wheel was falling off, which kind of worried me considering the 'tests' I was doing on the DC to Newquay. Even more worrying was that the car was a 2005 model and only had 5500miles on the clock. So after getting some weird looks as I drove around Newquay in a knackered brand new Merc I found the hotel and phoned the RAC –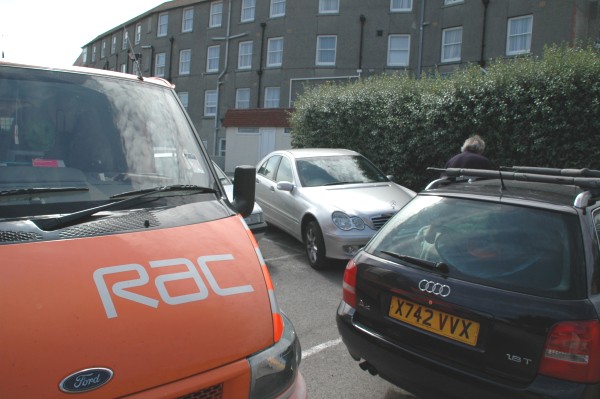 Whoops broke it
After getting the car up on the jack it wasn't bearings just part of the car's underbody hanging off. No idea how it happened, but not what you'd expect from such a new car. Oh well, at least it was working and the RAC man turned up within 10 minutes of the phone call which was great. Now onto the surfing. This is Towan beach outside of the hotel and it was huge –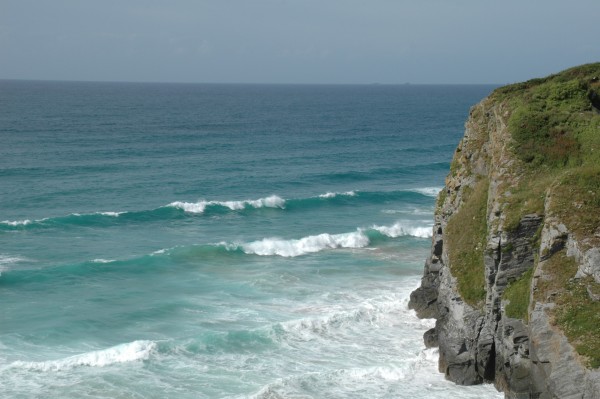 Gold Coast, Australia South West Coast, England
There were some real big sets coming in, some hitting 4ft and the surf report was talking about some 6fts at Fistral beach! The period was too short for me and didn't fancy going out in that surf, so I met up with Fizzer (who is down in SW doing pharmacy stuff) and we headed to Hayle. It's 10 miles up the coast from Newquay and by the time we got there it was around 18h00. That was ok because its not dark until 22h30 or so, it was just a bit colder. Hayle is a slightly protected beach (recommended by Marcus) and it didn't have the messyness of the other beaches we drove past. Actually Hayle was just about perfect, perfect sets coming in at 3ft with nice periods between them and a nice break. Fitness in surfing is so important and after the paddle out I was already tired, I am glad I had the extra bit of training the weekend before as I don't know if I'd even had made it out. After waiting around for a wave and trying to catch a few and failing (offshore winds and a gentle break were making it hard) I managed to launch into a beautiful wave. I checked the left and it would let me go, so I popped up and carved left the board was flying and was one of the first 'proper' waves it had been on, I went up the wave and then back down it again before it broke, it was absolutely beautiful. I reckon if I had bottom turned a little harder I could have boosted off the top. All the girls watching from the beach (not sure if there were any) would have loved that for sure!! I was claiming it to Faisel "DID YOU SEE THAT FIZZER????" and he was like "No, sorry" ALWAYS the way. After two hours in the water and a deteriorating body strength and cold setting in (couldn't hold my fingers together after a while) we got out, it was a good little afternoon surf and made the trip completely worthwhile!!! I went back to the hotel and after having fish and chips I fell asleep. The next day I woke up and went outside to check the surf –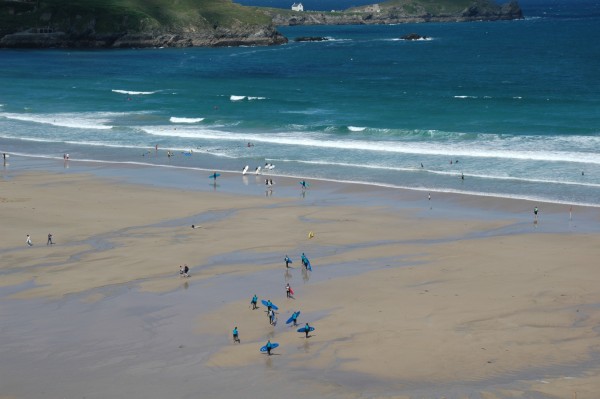 Learner City
There was a lot of people heading out and the waves didn't look that good so I headed up the coast. Watergate Bay looked beautiful, but the waves were breaking all over the place and there was no quality to be had –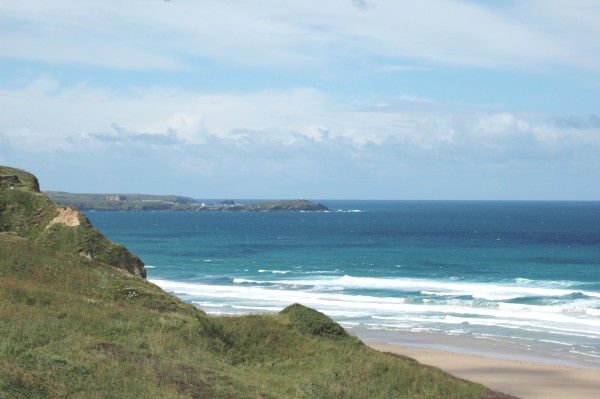 Watergate Bay with Headland Hotel, Fistral in the Distance
So I went back to Learner City and had a little bit of fun, but was still thinking about the perfect waves we had the day before and if it wasn't for the on set of hypothermia and exhaustion I would have stayed their longer and got some more quality waves. So I drove back to London at 14h00 and found out the London Congestion Charge has increased from £5 to £8. So I will have to pay that for driving the car (that is now full of sand) back to the depot tomorrow morning, as well as having to buy a underground ticket to get to work, £10 before the day has even started.
A nice little weekend but TOO EXPENSIVE!!! It appears that you can't even park your car in a field in a middle of nowhere at a secret surf location without paying at least £3!!