Its 20h30 on Thursday night and the phone rings…its Rach reminding me that we are all going camping tomorrow morning. So I race to K-Mart and buy a 4 man tent (which turned out to barely sleep 1), sleeping bag, inflatable laying on thingy, torch, paper cups/plates, 30 cans of coke, 30 packets of crisps and a box of 'decadence' chocolate chip cookies hoping that these items would be 'sufficient' for camping, which was probably very naïve of me.
Leaving at 07h30 hours from Sydney, we headed North for a location called 'Seal Rocks'. Rach, Tiina, Mike and myself set off for the 310km drive up Pacific Highway. The weather in Sydney was pretty terrible when we left, rain, rain and more rain, after about 1 hours drive it cleared!!! We arrived at the camp site after about 3.5 hours and set up all the tents as quick as possible but it appeared that the rain had followed us up from Sydney as it started to thunder.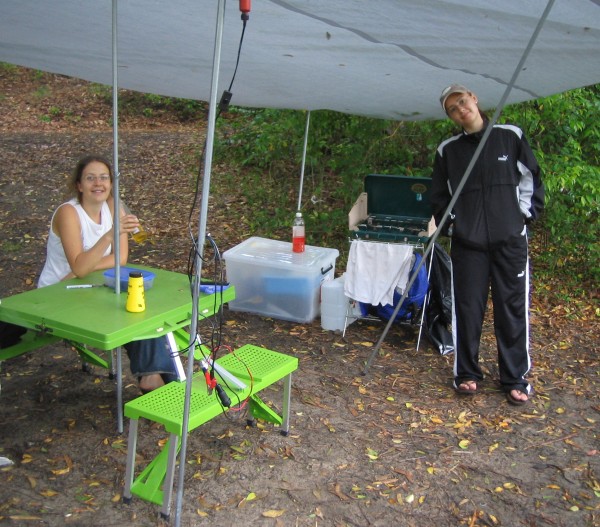 Rach and Tiina at Base Camp
As a newbie at Ozzie camping I was filled with apprehension as I looked out onto my tent that was now being rained on rather heavily by a large thunderstorm, so we started drinking Coronas…
The rain cleared and things started to look brighter! The camp site is called 'Treachery Camp' because it is right next to 'Treachery Beach'. The sunset is awesome and after running up some rather large sand dunes we managed to see the last glimpse of the sun as it disappeared over the headlands and I took this photo with very shakey tired hands –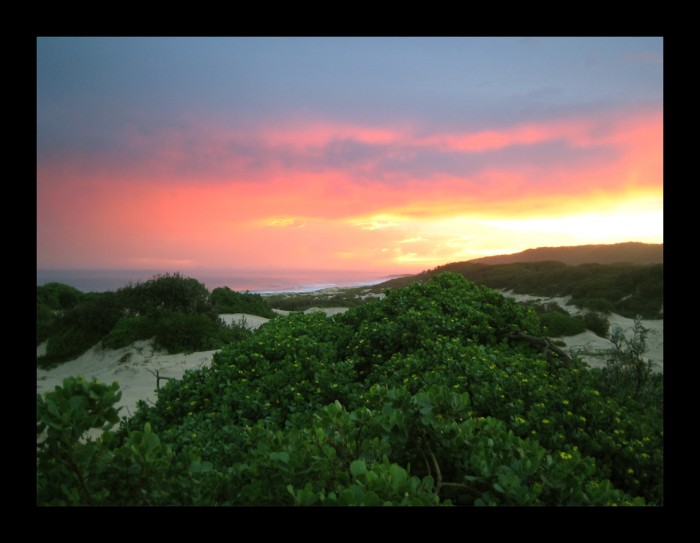 Bigger better photo of this here
So after this excitement we go back to base camp and Mike and Rach prepare Lentils for dinner –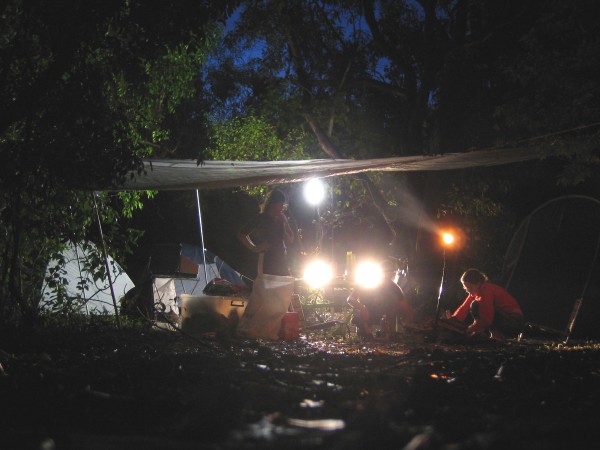 We sit around eating and drinking and then, not long after eating the 'decadence' chocolate chip cookies, we hear a rustle in the bushes. My heart rate increases, could it be a killer snake/crocodile/shark, these thoughts were racing through my mind, but no, it turns out to be a possum –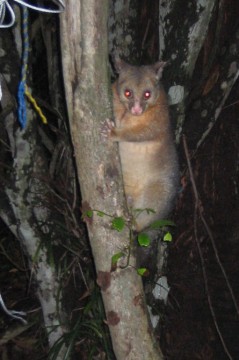 It looks cute and is cute, but he tried to eat our food as soon as we turned out backs!! He was not scared of us at all, coming right up to the fire and then sneaking round the back of our camp near our tents! We packed all of the food away and all went to brush our teeth, when we got back Possum was, as expected, in the camp looking for food but he could not find any! I went to sleep that night feeling fairly safe and happy with my camping experience so far. As far as the tent went that evening, apart from a little bit of of initial dampness from the thunderstorm I slept absolutely fine and all through the night…..
I work up at about 09h00 on Saturday morning to hear Tiina saying "oh my I've just seen a huge snake!!". I got out my tent and Tiina was saying it was about 2 metres long and black and red and it was by the Billabong –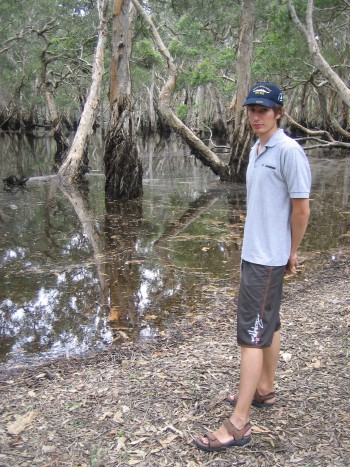 This is me wearing my Billabongs at the Billabong (also living on the edge as I am wearing shorts and flip-flops in snake infested area)
So I get out of my tent and, before I even have breakfast, we are out looking for this snake with Mike's camera. In absolute terror (in my mind at least) we spot this slivery snake in the bush. It turns out to be a baby of the one Tiina saw but still pretty scarey. It was a Red-bellied Black Snake (photo to come when Mike get's his film developed). So with 'danger' nearly at the front of my mind we head back to the camp for breakfast. The sun was shining and it was an absolute beauty of a day! I for some reason, decided NOT to take my surf board up with me. This was a crazy mistake as the beach at Seal Rocks had the most perfect waves and better still there was hardly any people on the beach –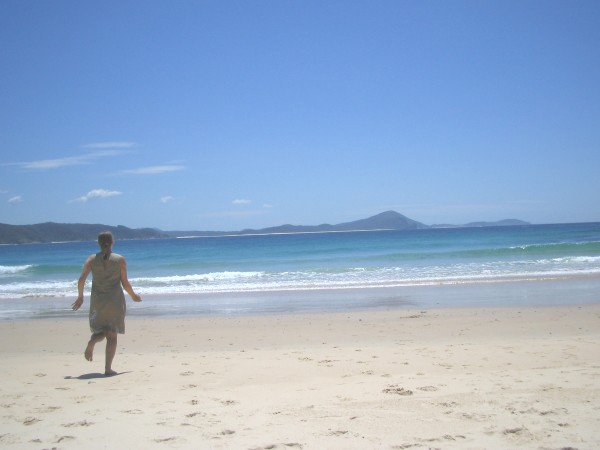 Rach dramatically running towards the sea (no waves in this picture)
We had a lovely day relaxing on the beach, I even learned how to snorkel thanks to Mike and Rach! That was excellent although I didn't see anything of interest apart from the ocean and the sandy floor. As I didn't take my surf board I was just body surfing the waves which is actually pretty good fun (not as much as surfing proper though). Tiina and myself then took a walk out over the rocks to have a look around. When we looked out to sea we saw some Dolphins swimming across the sea near the beach! It was amazing!!! Although I have seen them closer in at Whale Beach on the North Coast it was still pretty cool!
So as we headed back to the camp down the very bumpy road. My car has a 4WD option so we decided to take it down one of the little dirt tracks towards the beach. I was actually pretty unsure my car could handle it, after all, it is a 1989 Vitara with red alloys. I put the car in the 4WD option and headed towards the beach, I asked everyone "do you think we should go down to the beach" hoping for a voice of reason to say "no I think we should go back", this did not happen and moments later we are in this situation –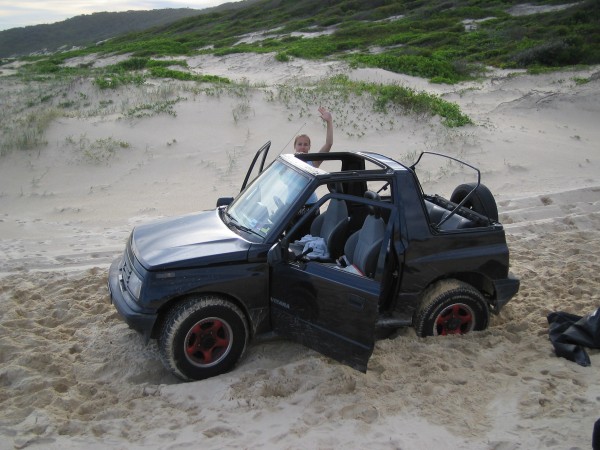 Its no use waving Tiina, that won't get us out!!!
Luckily we weren't more than 10 minutes walk from the camp, where we got some helpful advice to let on how to get the car going again. We even got some Ozzies to help us out –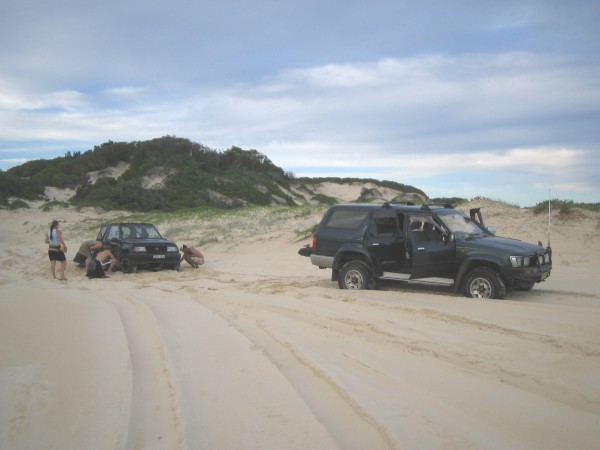 I really felt English at this stage
Here is a checklist for 4WD driving –
A. Know what you are doing
B. Take a little gizmo that lets you take air out of your tires and tells you what pressure they are at
C. Drop the tire pressure from 40PSI down to 15PSI
D. (most importantly) Change the gauge on the hubs of the front wheels from 'free' to 'locked' so that the car is actually in 4WD
After doing these things in the checklist (thanks Ozzie guys) I was away and driving on the beach like a dream!! So after that danger we were back at the camp for night two. Tiina is a two times national silver medalist runner in Finland, but that did not stop me from chasing running with her up and down the beach that evening. Although as I write this I feel like I have paid for it as my legs are completely seized!
Not long after settling down, drinking a few beers and looking back on a day of fun and extreme danger, Tiina says "oh look there's a spider!!", I look down to my left from the seat I am sitting on to see a spider which was suspiciously shaped like a Funnel Web.. the deadliest spider in the world!!! –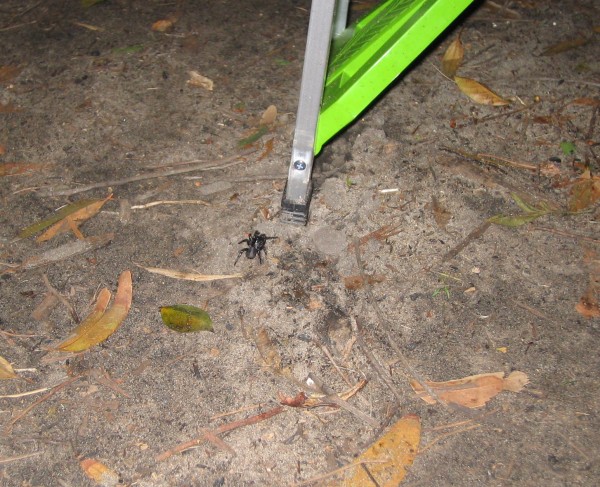 Looks fairly tame here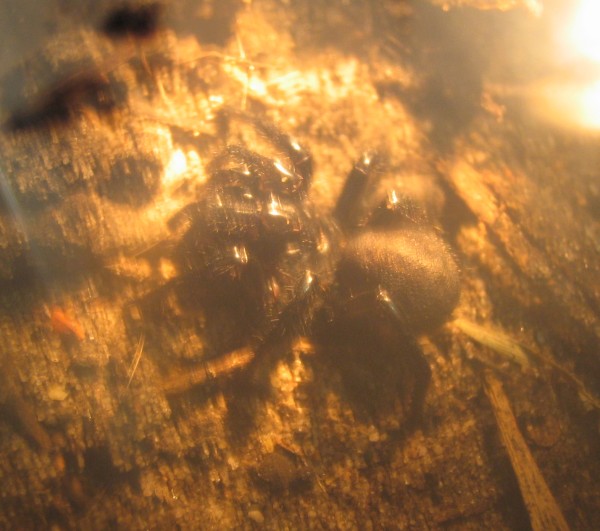 Looks like Atrax Robustus could kill you here (macro photo taken through a plastic cover)
Funnel Webs contain a toxin called 'atraxotoxin' which will give immediate pain followed by muscle spasms and cramps, foaming at the mouth and excessive production of tears. It is possible for the victim to suffocate or drown in their own internal fluids. On second looks it may have been a mouse spider although it doesn't have the pincers that they have. Although to be honest either way it was very very scarey, especially how close it was to us all. It looks very familiar to the third picture on this page –Funnel Webs.
After the drama we drank some more alcohol/tea and went to sleep, thankfully I did not dream of spiders!!
Next morning we packed all our stuff away and decided to give the 4WD trip another go! This time we were a lot more successful and went for a drive down one of the huge beaches they have in NSW –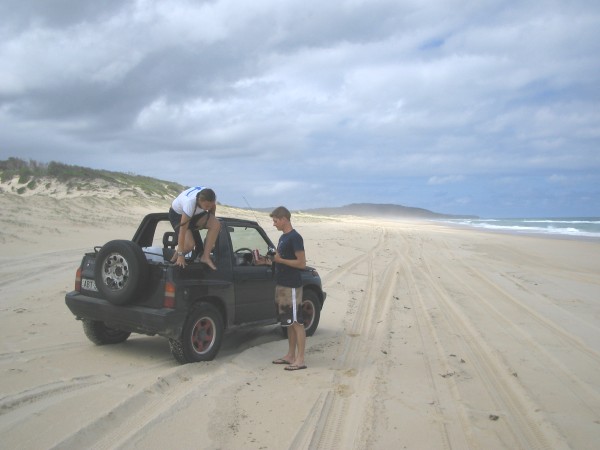 Not a person in sight (apart from us obviously). Whilst looking out to sea at this random location Rach noticed something strange going on near the horizon… it was a pod of whales breaching the ocean!!! It was an unbelievable sight to see!! These huge creatures were jumping and turning in the air as they jumped out of the sea. They were black on one side and white on the other, which I think means they were hump back whales, they also had the tell tale fin! We told some people at a local cafe we saw whales and they told us that they were moving back to Antartica.
Although virtually impossible to see (as my camera has no zoom) the white thing in the water on the horizon is the splash from a whale that just breached –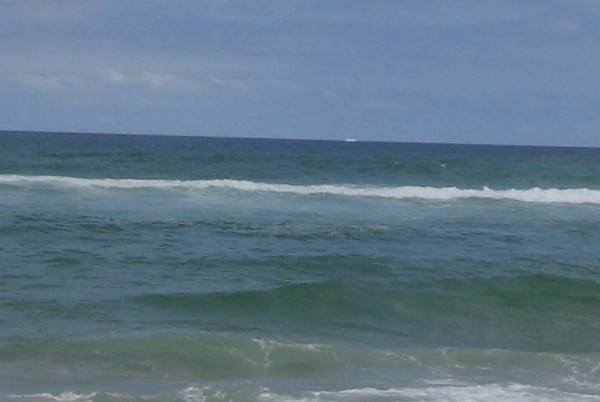 Mike took a picture with his zoom lens, so hopefully when he gets that developed and scanned there will be a better picture to show!!
For all of you who got this far, there is a video to download of the trip! I used Windows Movie Maker that appears to have been updated along with SP2 for the PC, it has loads of features, like text,credits and transitions etc.. so I've made a pretty cool video I think. It's basic layout is this –
A. Mike's Quote of the Holiday
B. The camp
C. Driving on the Beach
D. More Driving on the Beach
E. 'Wheel Cam' (thanks Mike)
F. Seal Beach on Arrival Day
G. Tiina looking sad as it rains and we have to go home
H. Closing Credits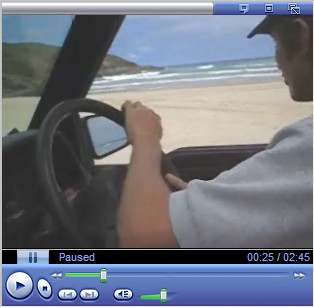 Right Click..Save Target As.. then Open (10 meg download) (requires sound!)
An excellent weekend, that was probably my most favorite weekend EVER!!!!!