Three Zero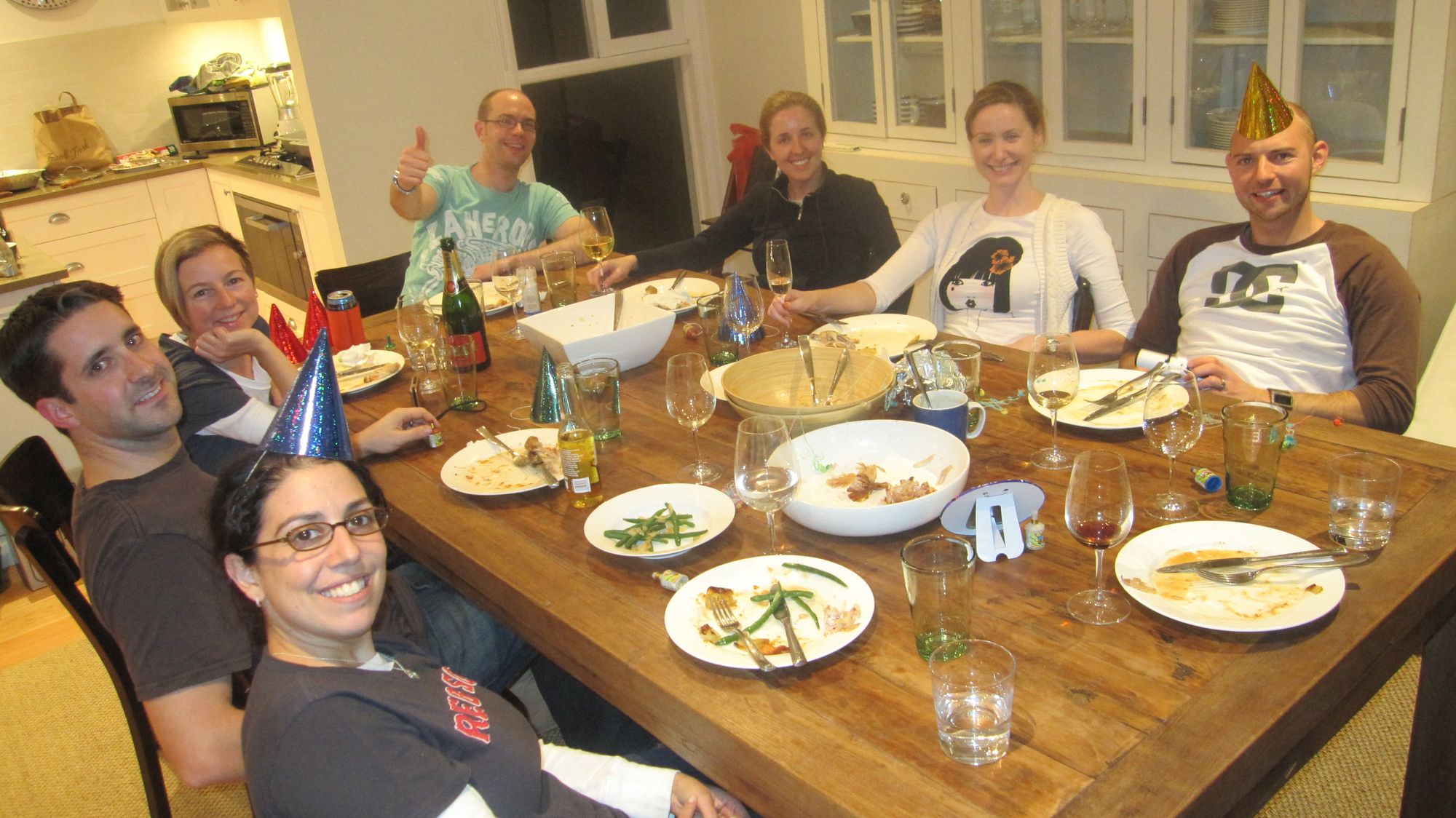 If you have not seen the video to my 30th have a look I think it's my best production yet!
So I organised a weekend away with as many friends as I could afford the deposit for at a location somewhere on the Northern Beaches. It was fun not telling anyone the location as it is more of a surprise when they arrived. The place we rented for the weekend was on Morella Road in Whale Beach, with an amazing view over the surf. The place was very vertical and it had its own elevator. The elevator still didn't take you to the living area making it a bit redundant but useful for those first few steps.
First off in the morning we met up with Nancy, Marcus and Hugo for a surprise breakfast near their house, which was really nice. It was also where Amy gave me my birthday present which will last a lifetime, although Marcus put a downer on that one when he said I got it a bit late!!!!!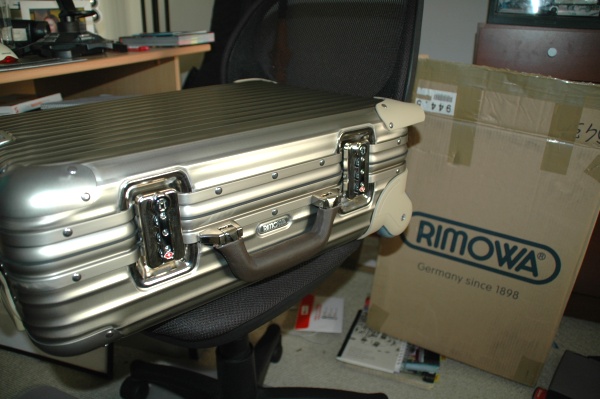 Rimowa Cabin Trolley Present
I was also lucky enough to get cash from my parents and six laps at high speeds around a racing track in Sydney, which is going to be awesome and a blog entry in itself I'm sure.
So the first evening Amy made a lovely chicken dinner with potatoes which was very nice, we also played Bingo which I bought especially for the night. The next day we ate so much food it wasn't funny, I made a breakfast, Stu and Simone made a delicious home made pizza and Marcy and Chris did their famous Brisket dish for dinner. Nancy and Marcus made a very delicious chocolate cake for dessert which doubled as a birthday cake!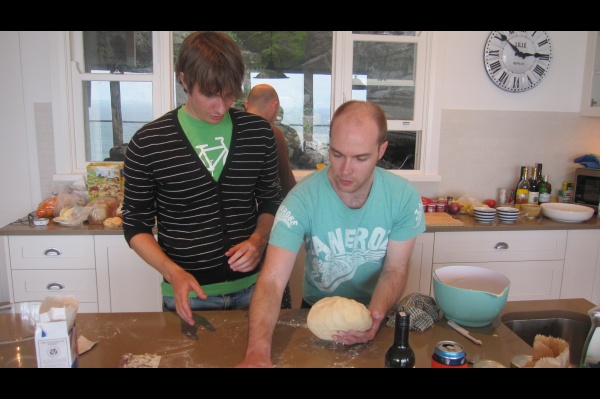 Stu the Pizza Chef Teaching me the basics
Note also in the above picture the clock says ten minutes to three and just below Stu's arm you can see Marcus is still wearing his pajamas.
To get an appetite for dinner after all of the eating we'd already done before 3 o'clock we headed down the beach to play catch, the USA version of this involves a special glove like the one used in baseball, here is Amy in action –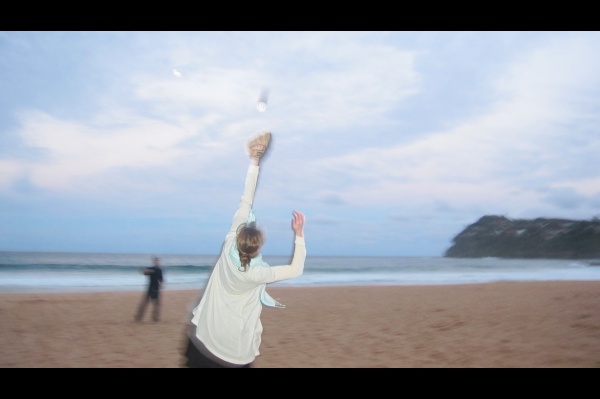 Amy playing Catch
In the evening we used the roof deck table to play beer pong, Chris, Marcy, Marcus, Stu and I played this awesomely fun game. If you have never heard of it you probably weren't in a fraternity and didn't live in America. The idea of the game is to throw a ping pong ball into a cup. If you get it in the other team have to drink the beer that is in the cup. It is a fun drinking game –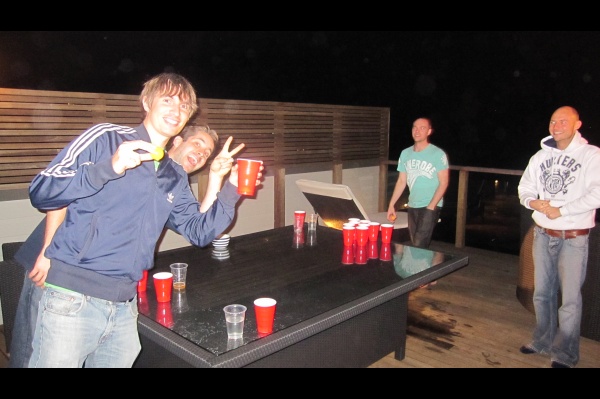 Me, Chris, Stu and Marcus playing Beer Pong
The house and some pretty strict rules, one of them was that if we forgot to take a bin out then there would be a $60 fine for each bin they had to throw out themselves. So when Marcy played pretend baseball with a carrot and came within inches of throwing it through the window we counted ourselves lucky as that probably would have been a small fortune to repair, you can see the action in the video.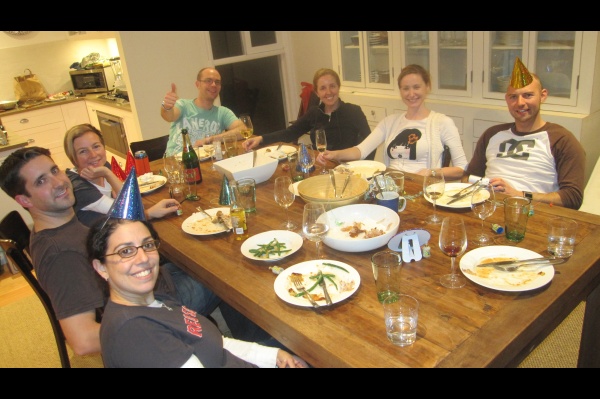 The Gang around the table
So overall a very memorable 30th, the next one of the weekend group is Hugo's…. in just over 29 years!!