We arrived after what felt like a very short flight (got on plane, had something to eat, watched mighty boosh episode, went on the internet, went to sleep, woke up, had breakfast, went on the internet, landed) and IT WAS HOT!!!! Yes!
We got out of the airport with no queues or hindrance whatsoever and then got in a taxi and headed for our hotel. The friendly hotel people upgraded us to a room with two balconies on the 53rd floor, it is absolutely amazing!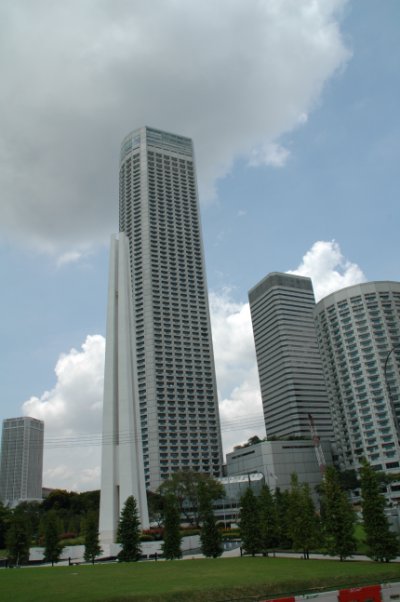 Very Tall Hotel!
It is just opposite the original Raffles Hotel so we went over there for the obligatory Singapore Sling cocktail in the 'Long Bar', which has a very slippery floor as it appears customary to eat monkey nuts and throw them on it!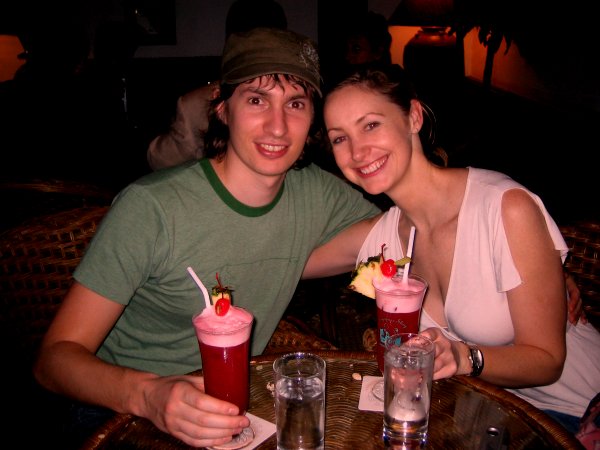 Amy and I in the Long Bar drinking Singapore Slings
After a mental nights sleep in the highest hotel room we've ever been in (woke up at 5am, had a shower, watched tv, went back to bed and couldn't wake up until 10) we headed off for breakfast, although it seemed we had missed breakfast as all we could find were pastries! We then walked over to 'Sun Tech City' where the City Sight Seeing bus left for a tour of Singapore. It was funny because the directions we had was "yeah its in Sun Tech City". Sun Tech City is practically a city as its 1km long and encompasses 5 towers all about as high as Canary Wharf!!! We found it in the end and got on the bus for free thanks to my mum having connections at work.
We got off at 'Little India' as it is apparently very similar to India. It is kinda of similar but a lot cleaner (compare picture below with second picture here), that is probably due to singapore being the cleanest city in the world, we had not seen any begging or litter anywhere! The smells of all the different spices and shops was amazing and so was the fish and meat market.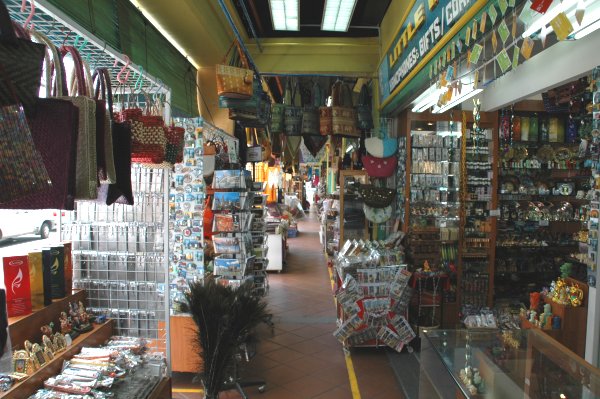 Street in Little India
So then we headed back on the bus and went for the entire 'heritage city tour', which took us through the city and into China Town, which had just celebrated their new year so some of their decorations were still up –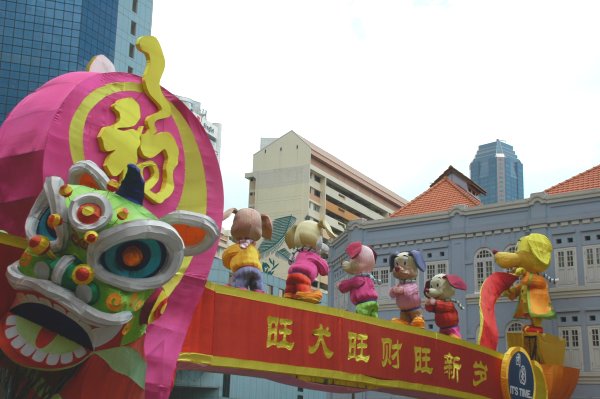 China Town – Year of the Dog
When we got back from the bus tour we hopped on the 'Duck tour' operated by the same company, it took us out into the harbour and past the Merlion which has the head of a lion and the body of a fish.
CBD from Duckboat
I won a ducktours duck beak thing for guessing correctly the amount of floors in the tallest hotel in Singapore (ours).
After going back to the hotel (which was connected to Sun Tech City via a subway/shopping mall) and having a little sleepy, we got on the very easy to use transportation system to Orchard Street, which is probably the best shopping street in the world! It is wall to wall shopping malls with all the latest brands and high tech gadgetry. Some stuff is pretty cheap as well! I picked up a new bag that I was going to get in 'stralia for about £60 less than I expected to pay.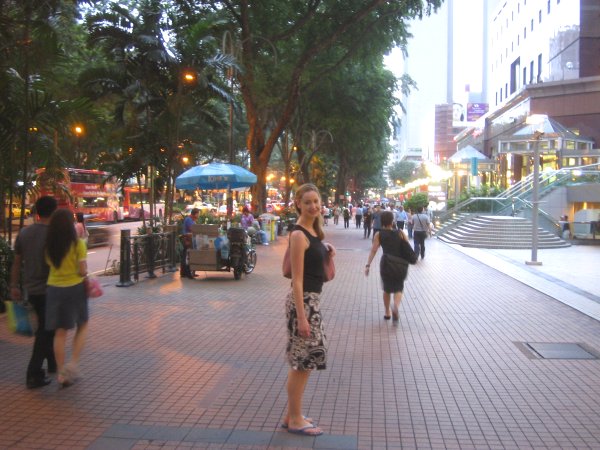 Amy on Orchard Street in Shopping Heaven
After a hard shop and buying a tripod (probably didn't bargain it down as cheap as I could have), we headed back towards our hotel and found a nice little "asian fusion" restaurant, set with a waterfall background and a church above it and had Thai type food and some Lychee Martinis.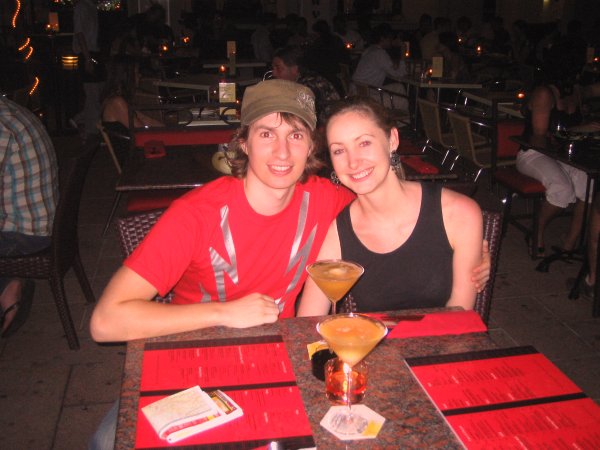 Lychee Martini
Afterwards we headed up to the bar on the 71st floor of the hotel and had another Lychee Martini (and felt a little drunk afterwards). It had a great view but I actually think the view from our balconies was nicer!!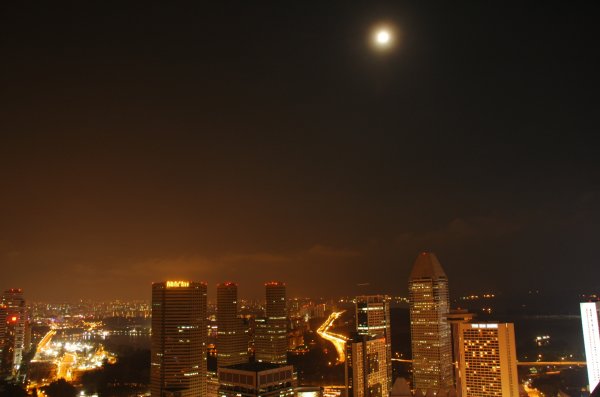 View of the Moon from Balcony 1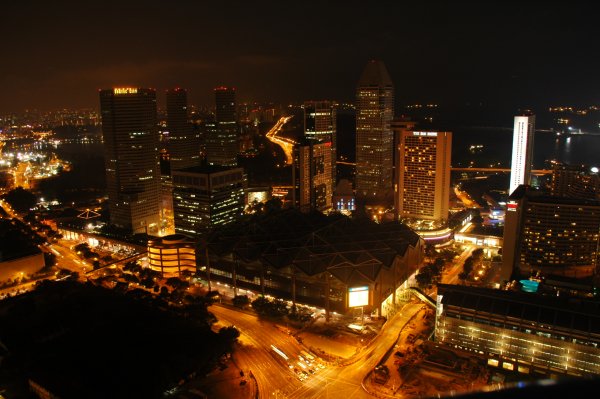 View of Street from Balcony 1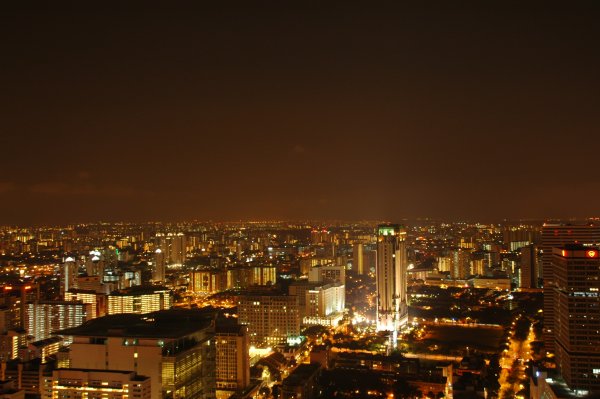 View of Street from Balcony 2
All photos taken with my new tripod! Amy and I have had an excellent whirl wind trip in Singapore, it has been great fun battling with feeling absolutely shattered and wide awake at the same time! We have seen some cool stuff and have had a nice little holiday here!!
I've got enough footage for a video which I will no doubt put up here when I get back or if I get time in 'stralia!