Five years ago today I wrote the first ever blog post entitled "The Guns of Love Disastrous" an ode to a Smashing Pumpkins b-side on the 1997 single "The End Is The Beginning Is The End". I probably picked that title because I was listening to the track at the time. G2007.com is half as old as Google.com but with significantly less revenue. In fact Google Adsense (the advertising that is shown on pages that are referred from search engines) has returned me a whopping $150 since August 25 2006, however, G2007 is not about the money it is about letting people know what is happening, an online picture book with a slight sprinkling of narcissism.
I had big plans for the 5 year anniversary to do a site redesign but then I forgot about the 5 year anniversary and found out 2 days before about it. So I thought I would do a quick review of the last 5 years –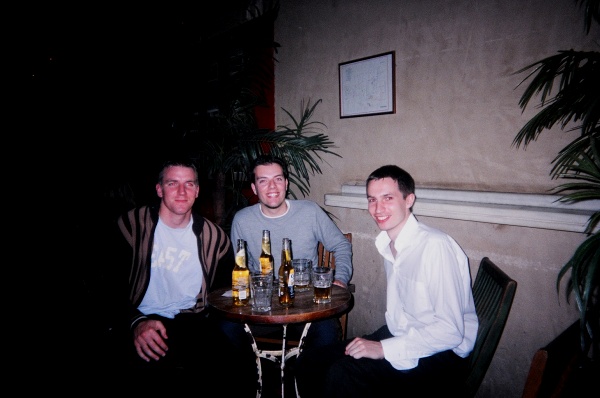 November 2003 – Kim, Gin and Me in Madrid on Holiday

We spent a long weekend in the Spanish capital. One of the things I will remember from this trip is trying on a jacket in Zara and liking it putting it down for 5 seconds then going back to get it to find it wasn't there anymore and then to find Gin with a Zara shopping bag with the jacket in that he'd bought for himself. 5 years ago and I'm still not letting that one go.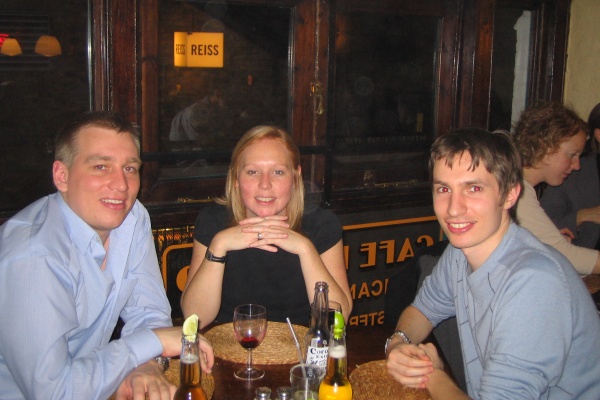 February 2004 – Matt, Emily and Me in London

2004 was a pretty big year on the G2007 blog and really made it fun as I got the opportunity to travel to India for work for two months as well as go to Australia for a year.
India was great fun working in Signature Tower, Gurgaon with Nitin, Vijay and Tony (who's real name I cannot remember). This is a video that is available somewhere on G2007 but I couldn't find it when looking for it so I doubt it will ever be found by anyone else trying to look for it. It was about 43 degrees when I made this little video.
[flv:http://s3.amazonaws.com/G2007/ItsBoiling.flv 640 360]
Tony and me Outside Signature Tower with Pigs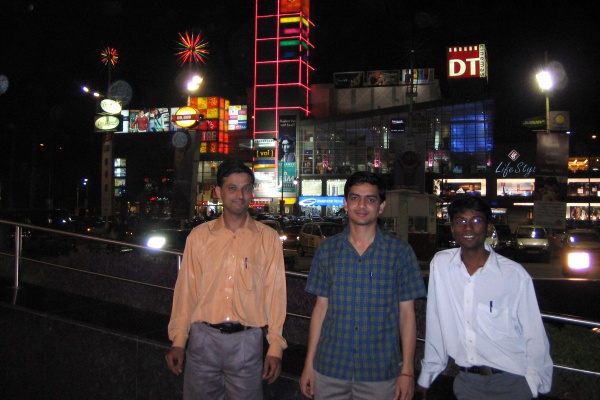 March 2004 – Tony, Vijay and Nitin in Gurgaon India
After two months of taking malaria tablets and generally not feeling too well from the heat but loving the time in India I went to Australia for a year to relax and do something a bit different. When I got there I had to find somewhere to live and I remember ringing Andrew (Cooster) from the hotel I was staying in, getting half way through the conversation and the phone cutting out. I didn't bother ringing back until the next day when luckily the room was still available and so began that fun!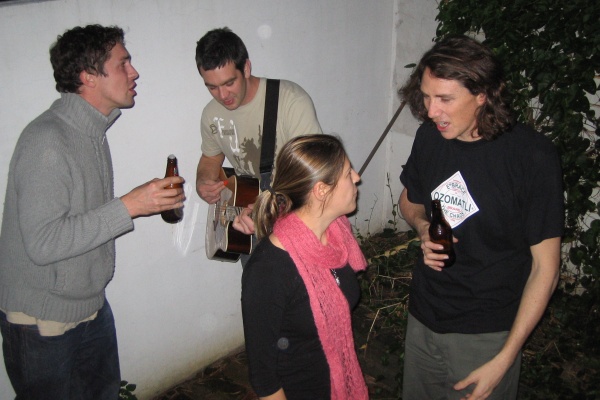 July 2004-Matt, Chris, Esther and Andrew (Cooster) – Bourke Street, Sydney
2004 was the year I got into surfing and have loved it ever since, many times were spent with Magnus and Faisel down the beach paddling for our lives trying to catch waves day in day out!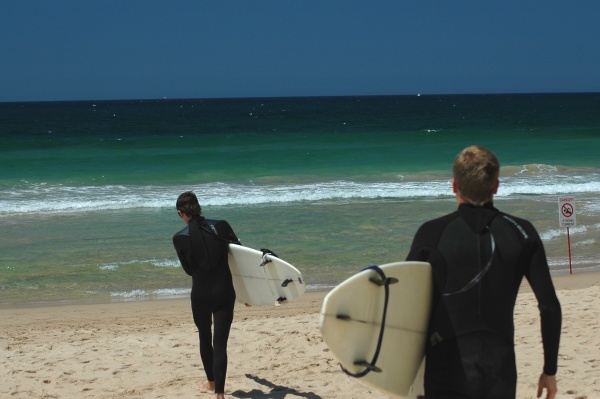 May 2004 – Magnus and me learning how to surf
I still use the very same wetsuit although it is falling at the seams!
I also was lucky enough to have Gin, Karine, Mark and my parents visit me all around December that year.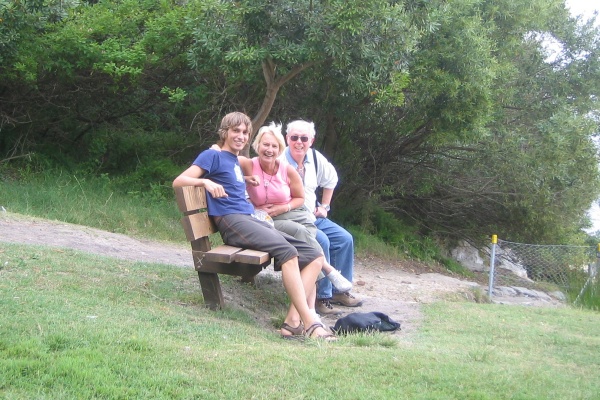 December 2004 – Me and Parents in Vaucluse
After some great months spent in Australia I decided to head back to the UK, via Japan and Canada. This made the trip back fun and also allowed me to complete a "round the world" adventure, flying East out of England and returning from the West.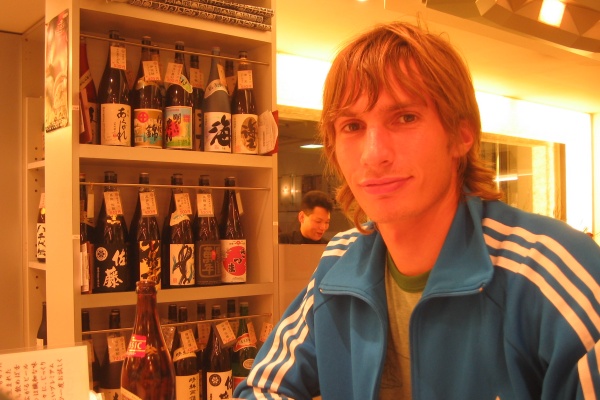 May 2005 – Tokyo, Japan
After a couple of days in Japan it was off to Canada where I spent 2 weeks in Vancouver where I went a bit starbucks crazy. They say in London wherever you are there's a rat within 2ft of you, in Vancouver they say the same but for Starbucks instead of rats. I also spent two weeks with cousins in Halifax which was great.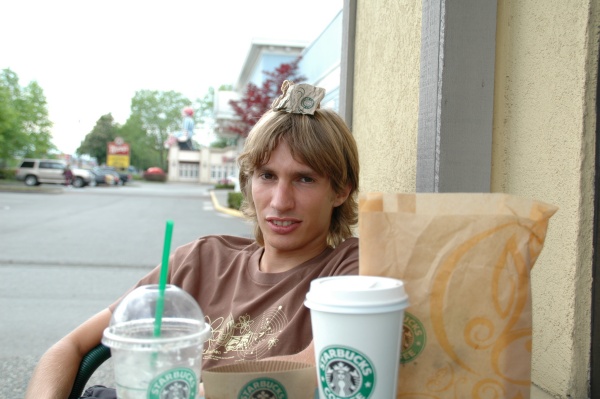 May 2005 – Starbucks Crazy at Cloverdale, Canada
I returned to London and was eager to carry on the surfing. My friend Faisel who I'd met in Australia had also moved back to London around the same time so we carried on the surf tradition by going down to Newquay (a six hour drive) and meeting up with Fizzer's Uni friend Davey for surf trips. Most of the time the waves were too small, the atlantic just didn't have the power in the summer that the pacific seems to be able to produce, but it was fun times anyway.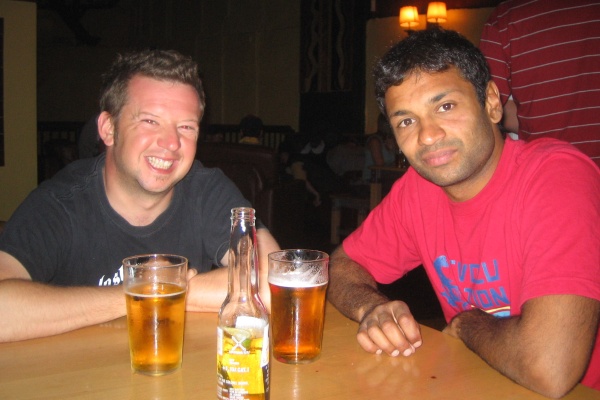 June 2005 – Davey and Fizzer Newquay, England
Mark got me a job back at the old company I used to work for before I left for Australia and this is where I met Amy. We kept it a secret for a while mostly to cover up our secret beer drinking trips away to Amsterdam –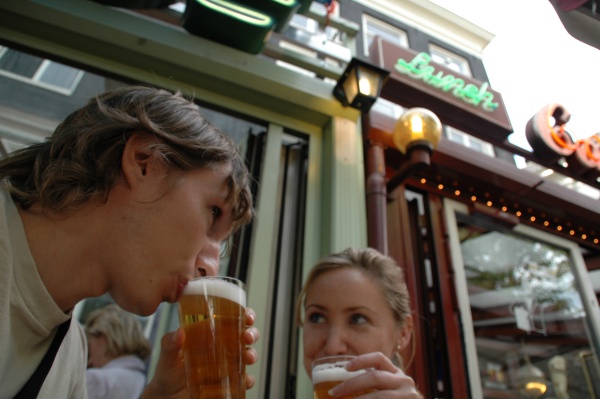 September 2005 – Amy and Me Undercover in Amsterdam, Netherlands
Karine and Mark, who also had their baby Monsieur Felix earlier that year got married in Nice, France. It is still one of the best weddings I've ever been to, a thousand times better than any wedding pictures you see in OK! magazine of the rich and famous –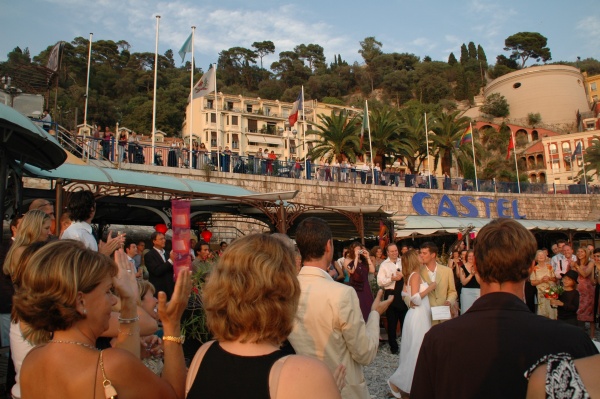 September 2005 – Karine et Mark kiss on the Beach Wedding, Nice, France
As the year went on Faisel and I kept a brave face on as the English summer crept into the English winter and the water got colder and colder.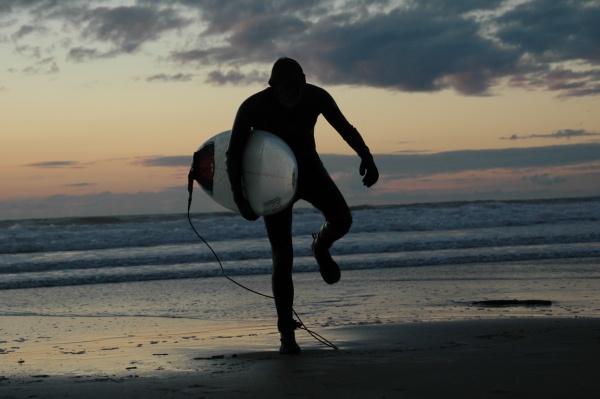 October 2005 – Still Surfing but Getting Ridiculously cold, Wales, England
Annoyingly, somewhere in early 2006 the hard drive failed on the laptop I was using, taking a load of pictures with it, the first photo I have that is not already on G2007 is from September 2006! Well in that time, I had moved to Sydney with Amy! Mostly thanks to Marcus putting me in touch with a recruitment agent that got me a job and a work visa in five days. The first thing I managed to do when I arrived here was dislocate my shoulder, which wasn't must fun neither was the 12 months it took to really get back to where I was with the surfing.
Simone and Stu were kind enough to let us stay at their place whilst we trawled the real estate market for somewhere to live. We eventually found a little unit in Manly.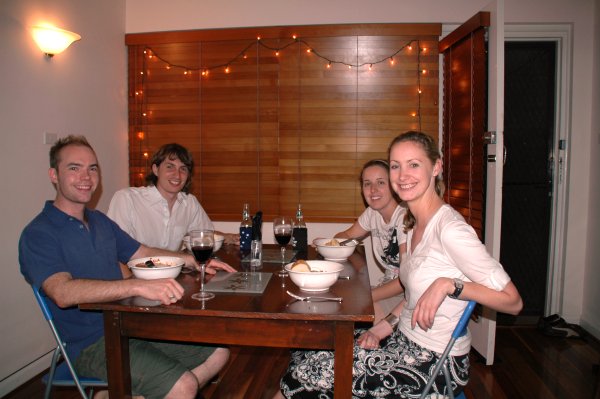 March 2006 – Simone and Stu in Mosman
We had a little holiday in the year to Fiji which was excellent fun, we also went to Brisbane for Amy's sisters wedding. Unfortunately original pictures aren't on my computer anymore. That will teach me to backup.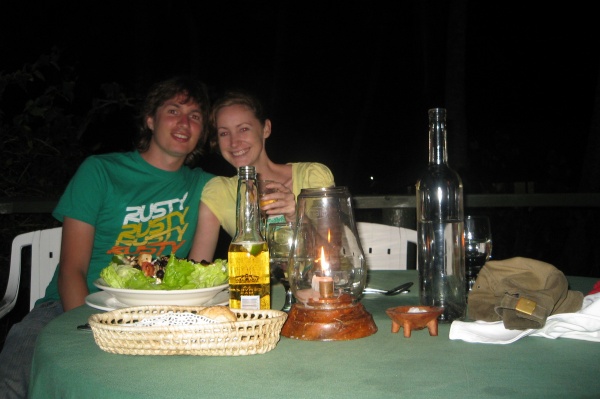 October 2006 – Amy and Me in Fiji
Christmas 2006 was spent at Amy's parents house in Brisbane and my parents and their friend Marion were over as well.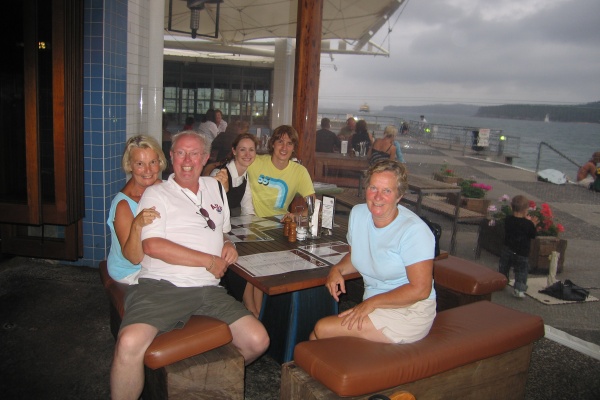 January 2007 – Parents and Marion at the Manly Wharf
January also saw the arrival of Andres and Yami to Australia from Argentina. We spent a month with them and did camping and spent a lot of time on the beach!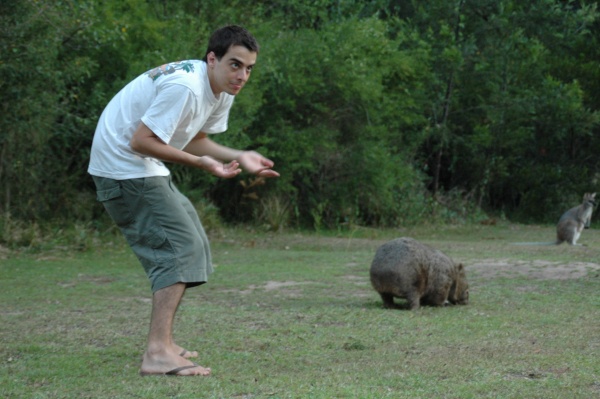 January 2007 – Andres with a Kookaburra and a Koala at Coolendale
Mike and Rach our intrepid friends hired a cave, yes, a cave for Rachels 30th Birthday. When you imagine a cave you picture a dark small opening that bats live in. This cave is in the Blue Mountains and is a bit better than that. In fact we went again a year after but it wasn't for Rach's birthday but we got her a present anyway.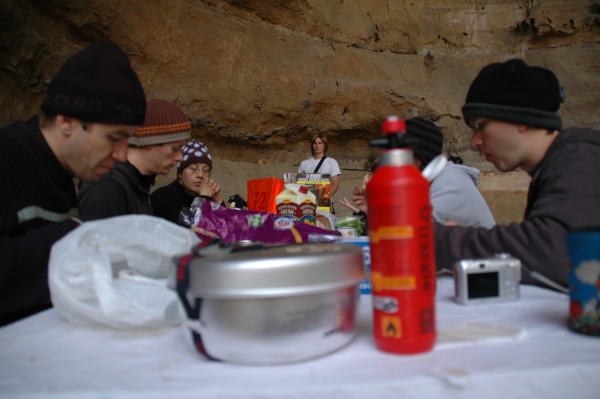 April 2007 – Rach's 30th in the Cave
Amy's sister Taryn and Wade also came down to visit us from Brisbane where we had a good time visiting the blue mountains (not sleeping in Caves this time) and going to some really good restaurants in Sydney.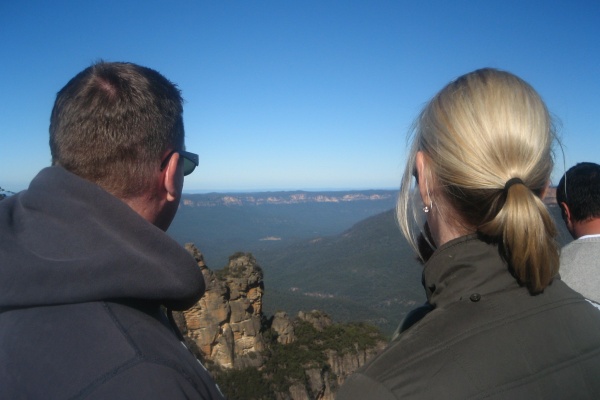 June 2007 – Taryn and Wade at the Blue Mountains
Carrying on a long tradition of trying to visit every restaurant in Manly, we went down to
That Christmas we went to England via China and had a trip to Prague. It was nice spending Christmas in England and getting the chance to see China, it was also great to meet up with my old mates from the village.

December 2007 – Me, Kim, Dino and Gin, Stratford-upon-Avon, England
We got back to Australia and it was so hot I missed the cold weather of China, England and Prague. In March we spent the most money possible on a dinner at Tetsuya's for Marcus' birthday which was great fun –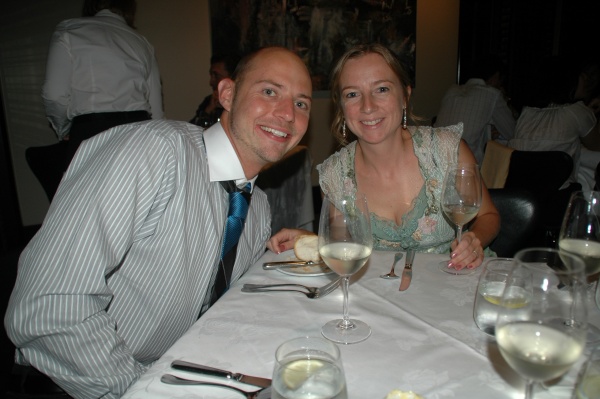 March 2008 – Marcus and Nancy at Tetsuyas, Sydney
We had a little holiday to Tasmania in May which was really fantastic as we seemed to get given free upgrades at every turn.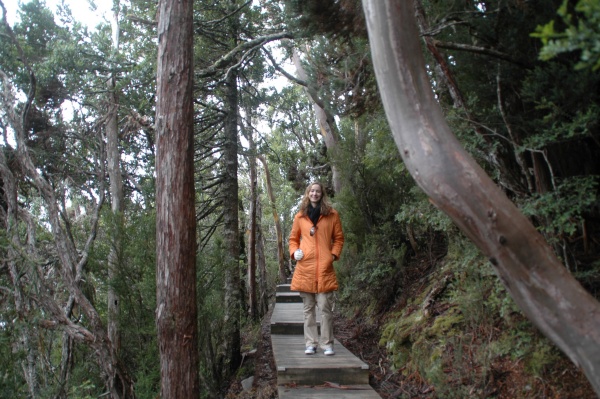 May 2008 – Tasmania, New Zealand
And then in July we went to Bali –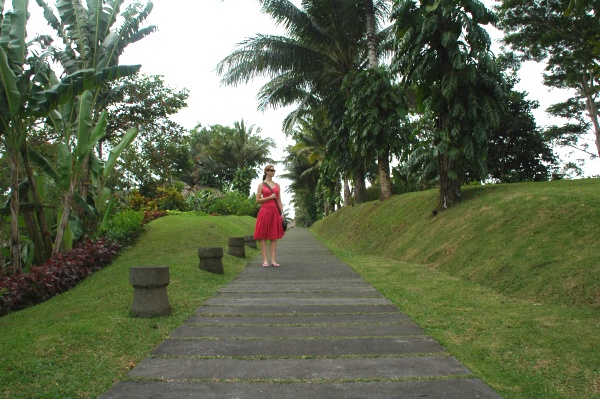 July 2008 – Amy in Bali, Indonesia
Well that was quite a uber post in the end. Look forward to doing Part III in 2013!!!!! There's loads more photos I could have added, if you really want to look at more pictures then checkout the archives at flickr, that have pretty much all the photos I've ever taken (and have not lost) that I think are good enough for the internet.