Terrorist Attack London - On the scene report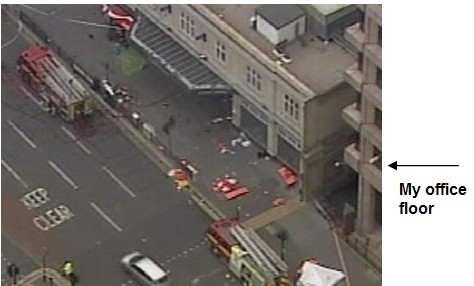 Picture from Sky News
All other pictures in this post are my own using my mobile phone.
The morning of 7th July was no different from any other. I headed out of the door at my flat at approximately 08h20 for the 15 minute walk to work over Tower Bridge, down Minories, across Aldgate High Street and into the office (see route here). I stopped off at Starbucks on Minories for a coffee and a raisin French pastry thing (nothing new).
I arrived at the office at approximately 08h45 and sat down, drank some coffee and began enjoying the pastry I had bought. I checked my work inbox (zero emails as per usual) and began running through the 'todo' list that I created the day before. The office was pretty quiet at this time, people normally arrive around 09h00 or just after, today was a bit different because the London Underground had major disruptions to some of its services, namely the Northern Line (not terrorism related but also not unusual).
I was sitting in relative silence when the entire building started to shake for approximately 2 seconds. A girl behind me looked out of the window which faces Aldgate High Street, thinking maybe a truck had run into the foundations. I looked up at the roof because it sounded like someone on the 2nd floor had pushed over a filing cabinet or something very heavy had been dropped. I ignored it and went back to work.
Five minutes later and a fire engine arrives outside the building and parks up outside Aldgate Station. Our interest in the office begins to build, I started to hypothesize that maybe a train at Aldgate Station had derailed or had hit the train wall. Another fire engine arrives, then another and another until it reaches six. I took this photo at 09h18 from the window of my office looking down at the Aldgate station –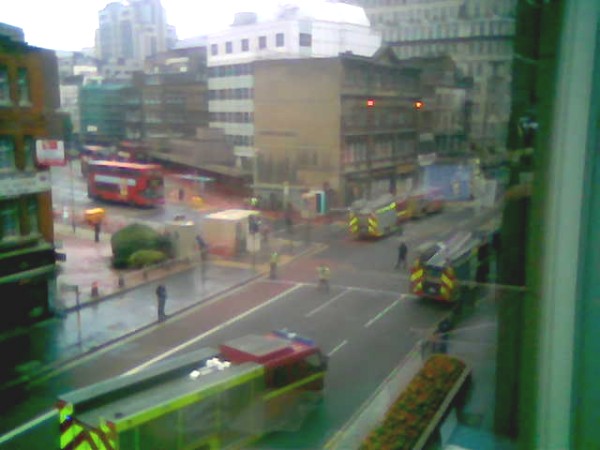 Looking down at Aldgate Station from my office at 09h14
A single ambulance arrives a few minutes later and a women runs towards it wearing plastic gloves looking a bit paniced. This raised my and the people around me concerns.
Minutes later the alarm rang in the building and we evacuated to the street. The general flow of people was flowing around to Aldgate Station. This did not appear to be a good idea because this is where the incident appeared to be happening. A few of us decided to walk against the flow. Aldgate station is an open air station sunk into the ground. I looked over the wall into the station from the road and two underground trains were stopped at the station and nothing else seemed to be happening which lowered my concerns.
We headed to a street called Houndsditch, away from the incident. Many people were saying it was a power surge that caused two trains to crash at Aldgate, which may have caused the shaking we felt in the office.
We arrived at a Starbucks on the corner of St. Mary Axe and Houndsditch and had a coffee. We connected to the Internet in Starbucks and all made a couple of phone calls with the limited connectivity we were getting to people who were unaccounted for as well as friends and family. We were all speculating what had happened, police, fire engines and ambulances were still firing down the streets all around us (we were located inbetween Liverpool Street and Aldgate).
My parents were at home and had BBC News 24 on and told me that a bomb had gone off on a bus and on the underground, it seemed pretty unbelievable at the time. Whilst I was on the phone an undercover Police/Government Agent came up to us, flashed her badge FBI style and told us to get out of the area. We walked South through the heart of the City of London, which was scarey but no other way around, Liverpool Street and Aldgate were both sealed off. All buses in zone one were closed down because of the threat they carried bombs, here they are all parked on Leadenhall Street –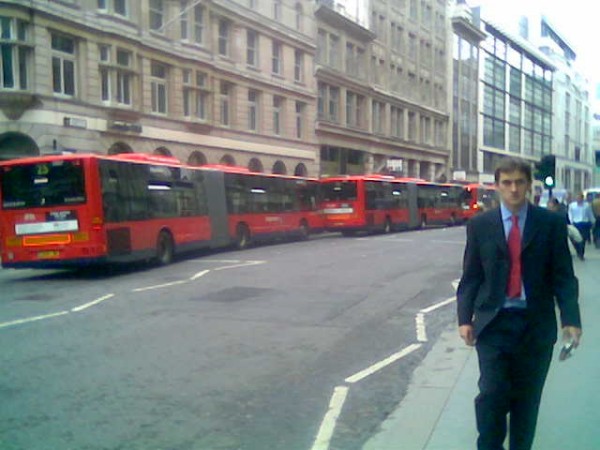 Possible bomb threats
We headed through the back streets of London and tried to keep away from big buildings such as the Swiss Re tower which we had just had to walk past. Here are a couple of people in the street watching a television through a pub window –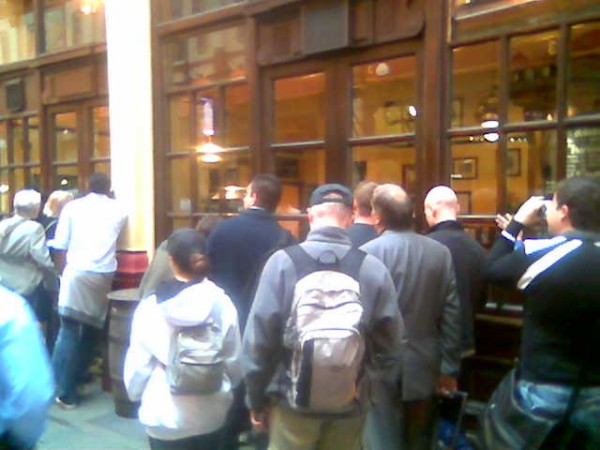 What's going on?
We headed into a JD Wheatherspoon pub on Bishopsgate where the television was showing BBC News 24, it was saying a bomb had possibly exploded on Houndsditch, the street we had just been on drinking coffees at Starbucks, we were very thankful to the undercover agent that told us to leave the area. It turns out nothing happened on Houndsditch.
We watched Tony Blair at the G8 Summit in Gleneagles give an announcement along with a lot of other people in the pub at 12h00 –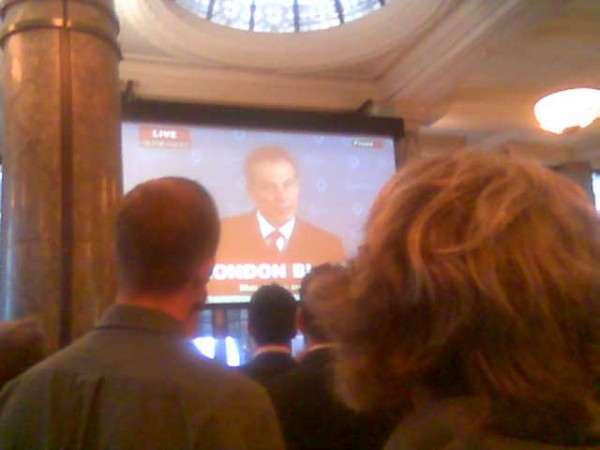 Blair: Terrorists won't win
The Metropolitan Police Commissioner told everyone in London to stay where they were, so we set up camp in the pub and had a few beers and some nachos. After a while we decided to head South of the River and out of the City of London. We looked out the door and saw this –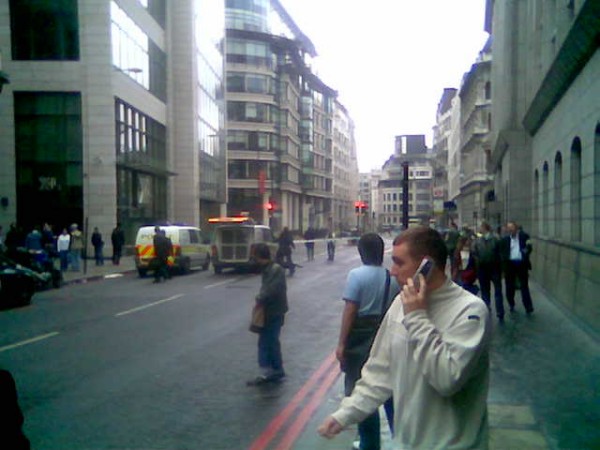 Police Dogs Search for Bombs in Bishopsgate
Finally the road cleared and I headed over London Bridge with a couple of buddies from work, along with a lot of other people heading out of the city to overline trains to get them home. I met up with Mark who gave me a spare front door key for my flat (I left the front door key in my bag which is in the office in Aldgate) and I headed home, which is where I am now six hours later and I can still hear sirens in the distance. I admire the British public for the calmness in the situation. The video shots from America in Washington DC recently when a light aircraft was heading towards the capitol showed people running aimlessly in all directions, I did not see anything like that today, just a lot of calm people. Terrorists won't defeat us that's for sure. See you at work tomorrow. More news here.