This will be the last post of today I promise. Truth is I have a soar throat and don't want to go to a smokey pub with the guys and make myself feel worse, especially as I have a 10 hour drive on Thursday to Yamba. I went to the beach with Fisel the other day (after a night of drinking) got in the water, got out the back and just sat there and duck dived the occasional 4-5ft wave that the ocean slapped me around the face with. Each time I did it I felt a little bit more like I was going to throw up, so, after trying to ride one wave and failing miserably, I headed back in and went home.
The next day I got to the beach and the waves were around the 3-5ft range and crashing into the sand. I sat on the sand with surfboard in hand and rash vest on watching for about 20 minutes as people got smashed by the dumpers as soon as they got up, so I decided to head back home… without even getting my feet wet.
Today I opened the surf report and it reads – 8ft+ with gale SSE winds then in the afternoon strong SE winds are on offer. Well you would have to be nuts if your out there. Surf reports shouldn't dictate your life as they aren't always right but this one scared me too much.
So maybe I'll go surfing tomorrow, although I doubt it, this is the 24 hour forecast, Sydney is the red dot, the dark green is a 5 metre swell, that's 16ft which is 13ft more than I like.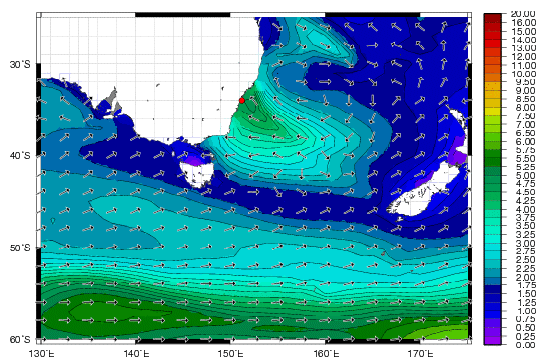 16ft swell on the Sydney coast – nutters only
On the same note my parents were in Hawaii on their world tour recently and took some photos on the beach at North O'ahu in the Hawaiian Islands. These were about 20ft out the back apparently –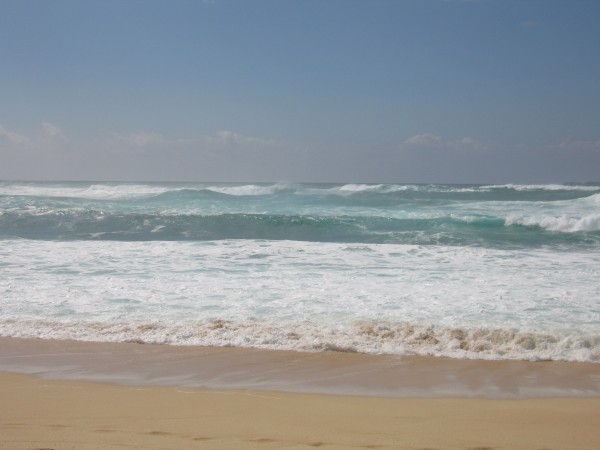 Hawaii Surf