Amy had not been on holiday for a while and really wanted one. So I said for a surprise why not organize one and not tell me, a bit like when we went to New Zealand for the engagement. So that is exactly what we did, Amy booked it all and didn't tell me where we were going.
At our engagement party Nancy and Marcy told me I was going to Adelaide, I honestly thought they had spilled the beans by accident. So I was all ready for a trip to a city in Australia I have not visited yet. Unfortunetly I kind of ruined the surprise when I picked up my passport holder to hide it before we left and it felt a lot lighter, both my passports were missing! I didn't tell Amy I knew we weren't going to Adelaide but I still had no idea where we were going which was exciting.
So we got to the airport and I read the checkin desk sign and it said Phuket! I was trying to figure out where that was, it is in Thailand FYI. So we got the nine hour flight from Sydney to Phuket airport. I still didn't know exactly where we were staying so it was fun to be whisked away in a car at the airport, which took us to a port, where we got on a tiny little boat and headed out into the darkness to one of the islands!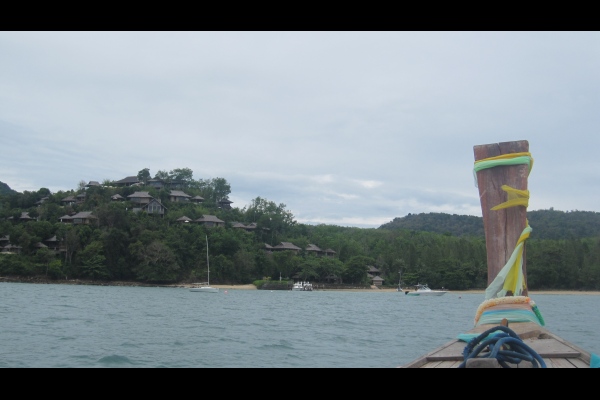 Six Senses Yai Noi
So it turned out we were staying in a lovely little cabin on an island called Ko Yai Noi at a resort called Six Senses. It was an amazing little retreat and we had a great little hut complete with a swimming pool, indoor shower, outdoor shower, bath you name it –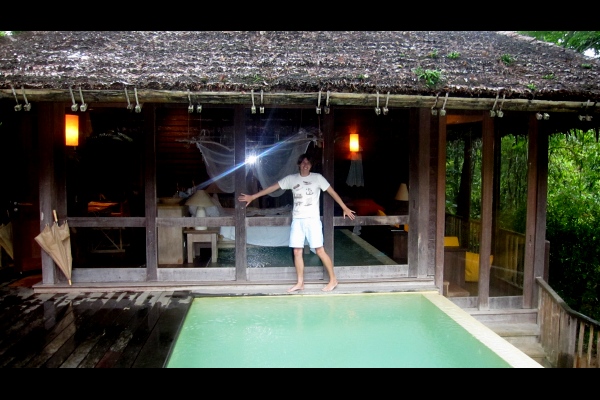 Our hut and pretending not to fall in the swimming pool
Now unfortunately, the weather was not on our side. Thailand decided it was going to have the worse weather in March that they've had in  30 years. It was supposed to be the dry season but it was not! We did have some nice days of weather and we took advantage of those ones when we could. We made a trip out to Hong Island on one of the little boats which was fun.
We had a funny story from there, but first here's Amy enjoying a nice cold bottle of Corona that we'd got packed for us as a picnic underneath a Tsunami warning siren beacon –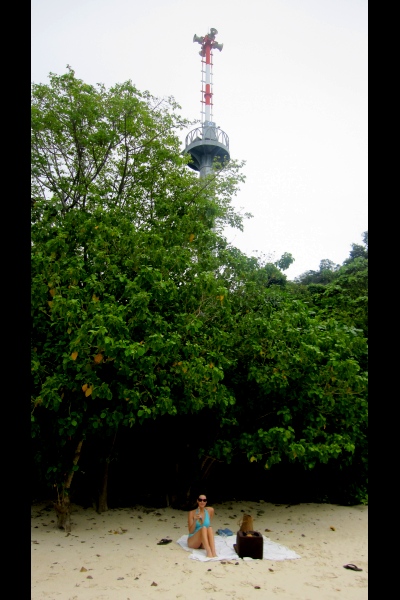 Amy enjoying a Corona under Tsunami Warning Beacon
So when we arrived on the island I was so busy taking pictures of the Tsunami evacuation route signs and making videos of it I didn't notice the "No alcohol" sign. When we walked back from our picnic which involved drinking some booze I read the sign and it said "fines include one month in prison or 1000 baht fine ($30)". If we'd got caught I was really hoping they'd let us go back to our cabin and get the $30 as I didn't fancy one month in a Thai prison!!!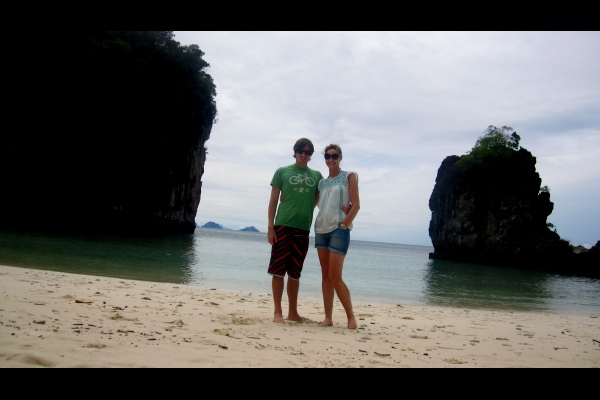 Amy and I on Hong Island blissfully unaware of our crime
On the penultimate night of our stay on Ko Yai Noi island, it was looking like 50/50 chance that we would be able to leave. It was ok because we were going to a hotel on the mainland and not back to the airport. Some people on that day were forced to stay and they couldn't fly back home which would have been a nightmare. Fortunetly on our last day the boat was operating , although I wasn't looking forward to it although I got the impression it was a bigger boat taking us back as we had to drive to the other side of the Island to get on it. When we got there though it was the same mini boat we came on which made me a bit nervous although the waves weren't nearly as bad as I imagined them to be.
We sat in the back of this trailer to get to the other port on the Island and it was like we were being evacuated from a disaster zone. In the resort it didn't feel like this the realities of outside were a bit different –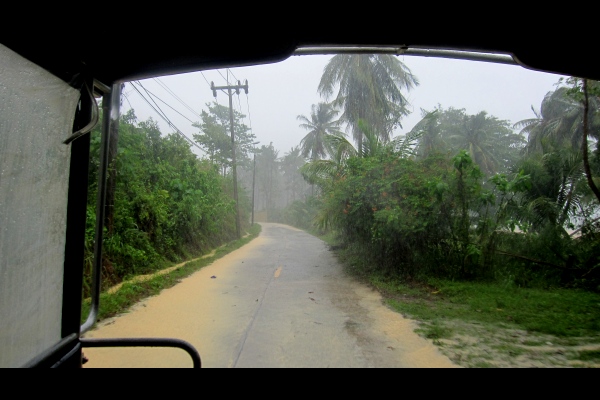 Ko Yai Noi Evac.
So we made it back to the mainland which was a relief and moved onto a new placed called The Pavilions Phuket, which was renamed from The Phuket Pavilions for what I imagine would be SEO reasons.
It was just off Laguna Beach and meant we could get out and about and do things in the poor weather. We headed to some malls, they had Zara in one of them, Australia still doesn't! We even went to a show called Simon which was really tacky but brilliant at the same time. What made it more fun is that a lot of the audience were Chinese and whenever the lady-boys sang a Chinese song the crowd would go crazy. Not so much for the western songs.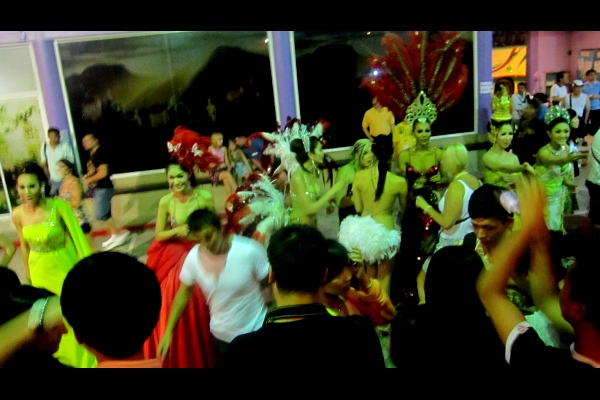 Simon Show Phuket Lady Boys
So that was our holiday to Thailand and it was really good fun, we've also got a reason to go back now as we'd like to see it in the Sun!!!! Altogether a great little break. I've got enough footage for a video which I'll create soon.