Andrew and myself got some cheapo tickets in the Virgin Blue sale at Christmas. We got return tickets to the Sunshine Coast for $100, which is pretty cheap considering the taxi to the airport is $30. The Sunshine Coast is in Queensland, we were to stay in a place called Mooloolaba and Noosa for the 6 day excursion. I got there a day earlier than Andrew because I booked my flight too late and ended up having to spend one night on my own in the 'backpacker hostel' that we were staying in at Mooloolaba. It was my first time staying at a 'hostel' in a 'shared dorm' so I was a little nervous at first. It turned out I had a four bedroom dorm to myself which was a nice and easy way of breaking into the scene. Backpackers are either non-drinkers or have no money, as most of the people who looked like my age just sat around watching TV or reading books. This trend continued for the rest of the holiday! I made a two minute video backed with some French music, check it out –
I hired a Hyundai Getz from Europa Car for $30 a day which was fairly reasonable and big enough to fit the short board in the car. The shortboard I own is 6'7 and I have never really been able to surf with it – that was all about to change……
So the first night I spend actively trying to make polite conversation with people in the hostel. 'Hello' is as far as it got, sometimes I managed to ask one question such as 'where are you from?' but apart from that people seemed to want to keep to themselves. Most of the people also happened to be English, which makes me worry about going home. Are we normally, as a nation, this unfriendly? It might have been because I was not on the oz experience bus so was 'out of the circle'.
So Andrew showed up the next morning – we went back to the hostel in Mooloolaba and then went straight to the beach with Andrew's bodyboard and my surfboard. Bad news – the waves were not really happening on the Mooloolaba beach, they were about 1ft. We had lunch at some Sushi joint that was run by Queenslanders, it was rubbish, I don't think you could call it Sushi. Andrew had a rice and potato wrapped in seaweed which he named 'The Starch Bomb'. I remember the day before from the plane seeing an Eastern facing beach around the corner with much more surf than this Northern facing one. So we drove to this beach around the corner (which I have forgotten the name of) and went out in surf, which was a bit better but no where near the 4-10ft Andrew was looking for. However, I took the board in the water and cut down the face of a sick1 right hander and I had Andrew as a witness. He will probably tell you it was not as impressive as I thought it was, but I am fairly sure if there was a picture of it you wouldn't know I was a non-pro 🙂 So my holiday was already made, I can now surf shortboard, a truly magnificent level of surfing to get to.
That night we had Barramundi with salad whilst our new backpacker friend, Ruth, had boiled carrots, vegetarian ham and noodles (mmmm nice). I felt sorry for her and gave some of our salad to her. The 'Oz Experience' bus showed up in the evening and we had some roommates in our Dorm. Some guy from Chile and another from France/Greece, we had an entire evening of political discussion – the French/Greek guy ended up giving us some presents from Greece at the end of the evening – some little Greek pot. We then headed into Mooloolaba to a club called 240V. It was really awful, Queenslanders (who Andrew calls 'Banana Benders' because they don't do anything up there apart from bend the Bananas they grew) seems to be about 5 years behind New South Wales, who in turn are about 2 years behind London. So we were listening to hard techno music in this club, which was weird….
The next day the surf report on coastalwatch said the waves had got even smaller. We left behind our hostel in Mooloolaba and headed for our new one in Noosa. Noosa is a really nice little town in the day time, here is our hostel 'halse lodge' there –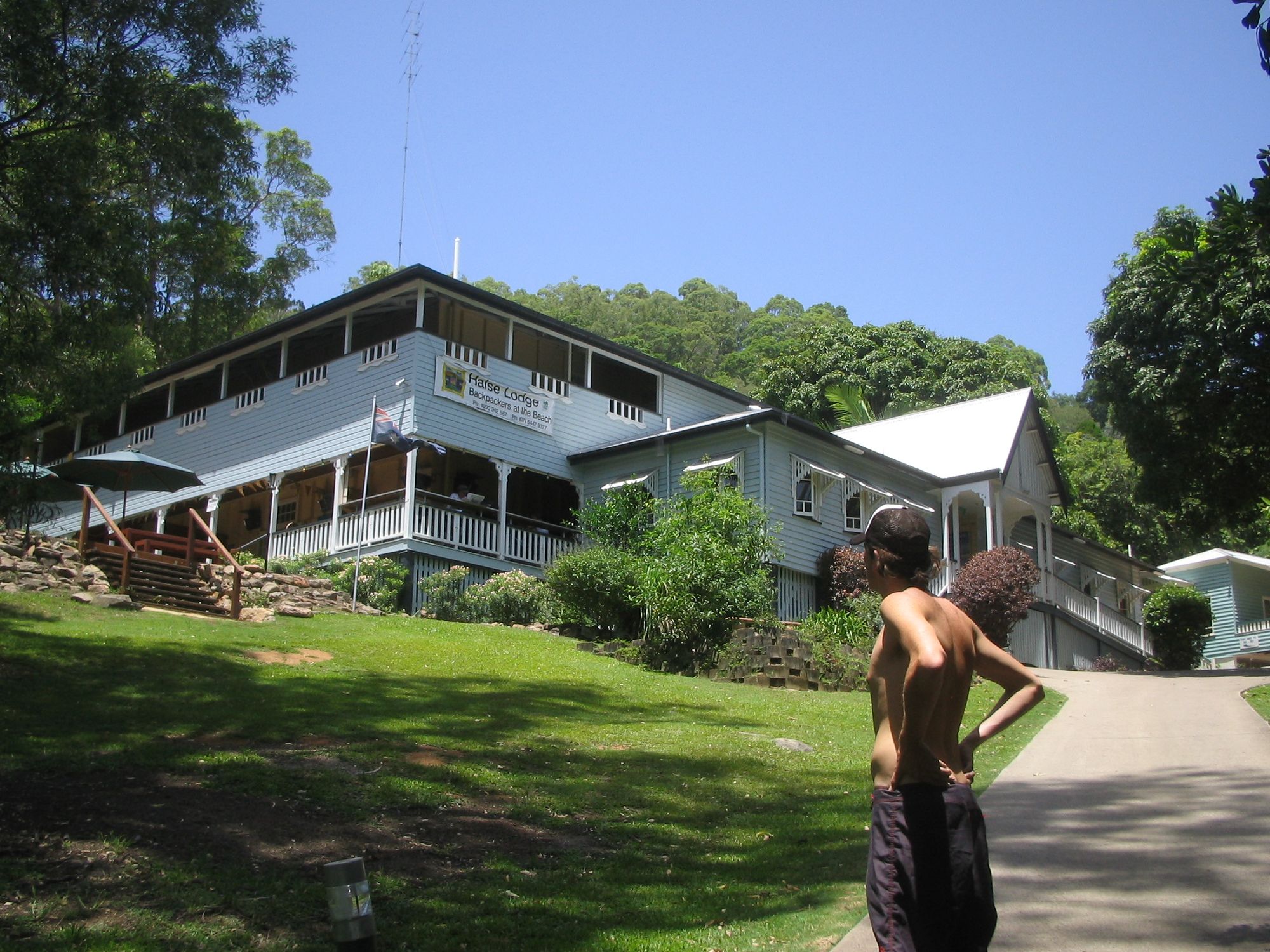 Softboard hire was free in the hostel here (rather than the $40 a day in Mooloolaba) so because of the lack of waves we took one of these down to Noosa beach (which had practically zero surf). I got up on a few anyway, although nothing was going to top my right hander the day before –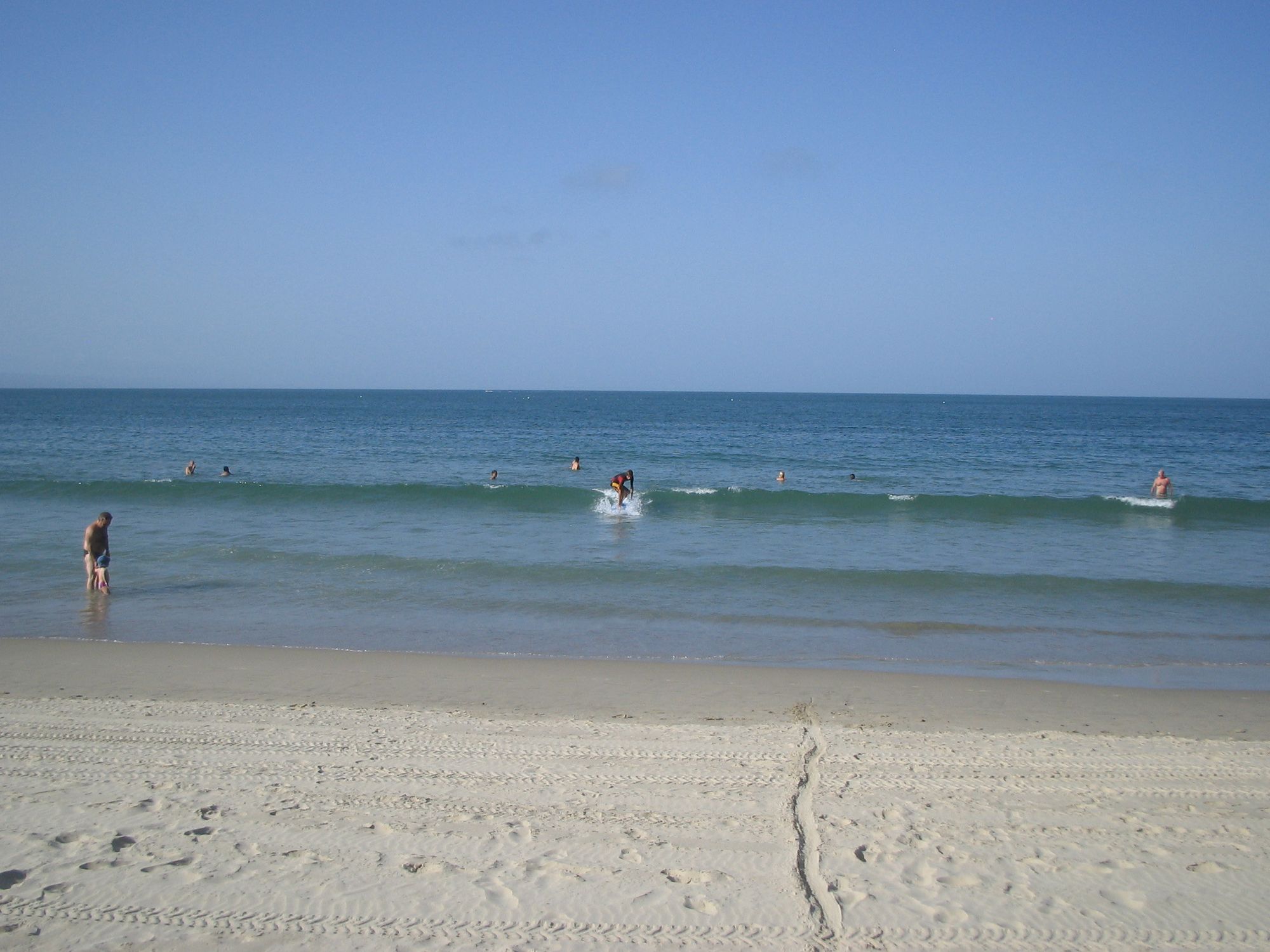 So that night Andrew was going fish crazy again and decided we should have a seafood feast. After the mission of trying to find Fish in Noosa (see video) we finally had one of the best fish meals ever. Here we are preparing it with all the other backpackers making their pasta/noodles in the hostel –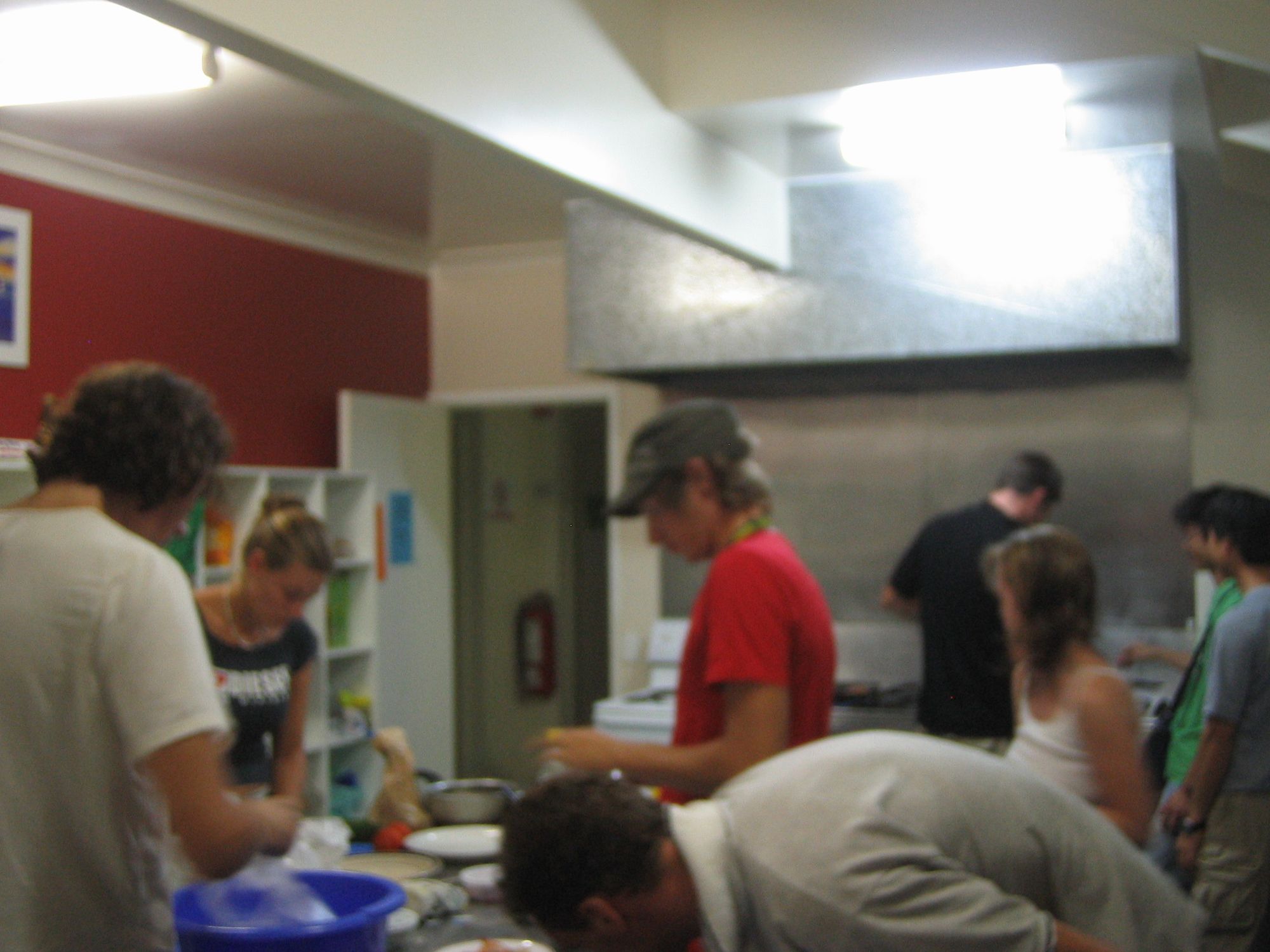 Here we are actually eating it –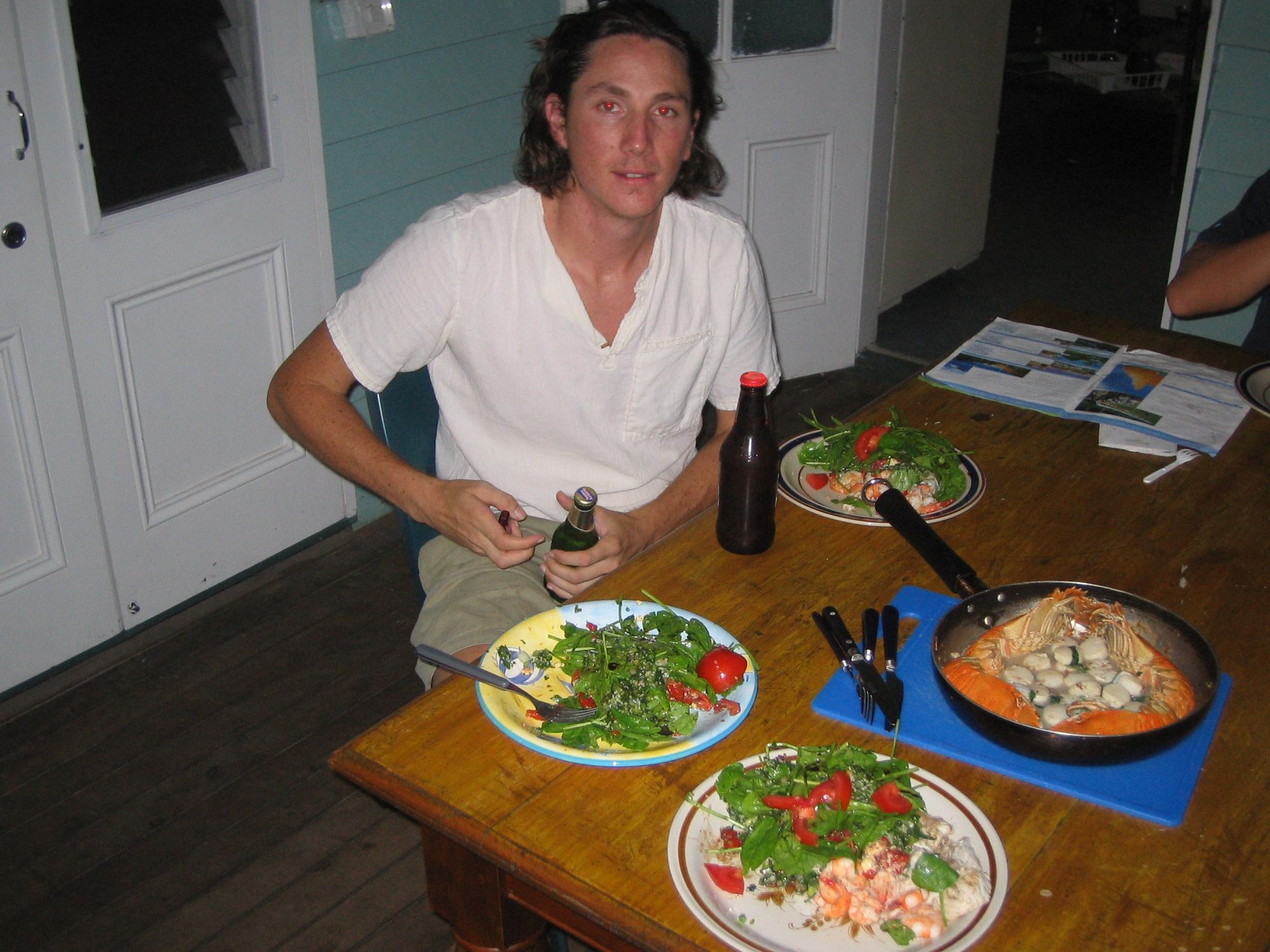 It was Friday night so we went out downtown and it really was not going off. The place seemed dead.
The next day we headed down the beach again, we walked a bit further down where the was a little bit better surf. I took the shortboard out again and got up a few times, although the waves were not up to it I went back to the softboard for practice. I made a surfing friend who told us that Koala Bar was 'the place to be' in Noosa. So that night we went out to Koala Bar which was packed full of banana benders. I don't think they like tourists very much, even though most of the income from this town comes from them. We tried to get into a placed called 'Reef Bar' after going to Koala, but they didn't except my identification (driving license) even though it is perfectly legal to do so. We went to another club downtown which did let us in and was much better, although the banana benders were beginning to get aggressive and Andrew nearly got into a fight with one of them, so we went back to the hostel at about 2am.
Sunday and the surfing was not happening so we drove back to Mooloolaba to stay in the hostel there for the last night. We bumped into 'Ruth' out backpacker friend and she told us that since having some of our salad she had started to eat properly again. We attempted to go out but nowhere was really going off, so we headed back to the hostel. Watched some movies and then went to bed. Next day was hometime where we narrowly avoided missing the plane after spending too much time eating apple stroudel in some mall.
Notes:
1 – 'sick' in surfing terms means good as far as I am aware.
PS. Anhdres made me a new banner – he rules.