Last weekend we went to Melbourne to celebrate Simone hitting the big three zero. Being in my mid-twenties it was an incredible experience of things to come for me in the distant future.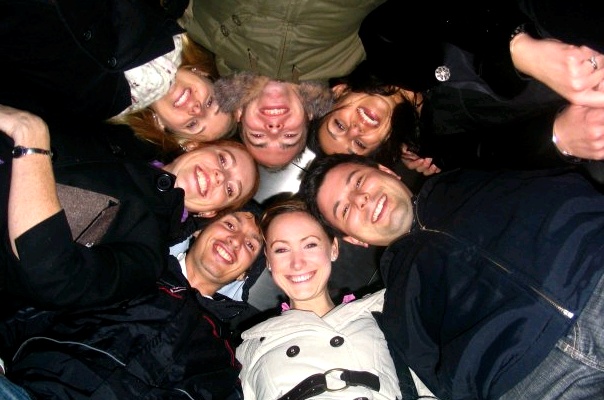 The Gang
Amy and I flew down early in the morning on jetstar, a cheaper airline that doesn't actually fly you to your destination but actually to an airport somewhat close to your destination. So we got the bus that takes you from Avalon to Melbourne. It was just a shuttle bus but the driver obviously takes pride in his job so every 5 minutes we would get some information about what we were passing. So we now know that the nationwide distribution centre for k-mart is located just outside of Melbourne, where the Australian Army live firing range is and where Little River Band got their name.
We got to the hotel we were staying at in Elizabeth Street and met up with Simone, Roxanne, Tasleema, Stuart and Justin our fellow hotel mates and birthday celebrators. The hotel had a very vibrant orange colour on the walls which made me think it was perfect for Bhanglassi to stay at if they ever tour down here. Maybe a band photoshoot for Rollingstone, OK or whatever magazine at that stage of their career is covering them.
We headed out down to the south bank and hired bikes to ride around in the glorious sunshine it was a great time and also some good exercise. We then headed to the roof bar that Amy and me visited last time we were in Melbourne for a couple of post-bike drinks which was great fun.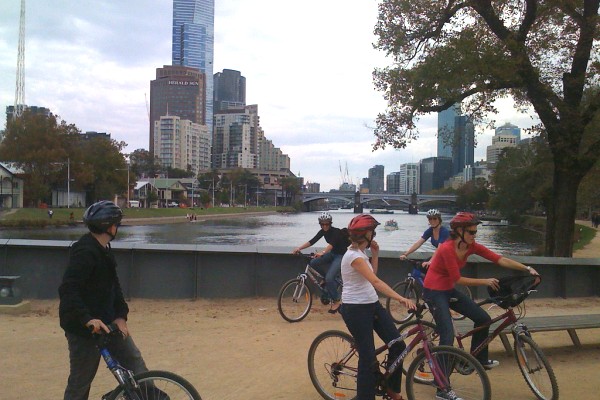 Melbourne Bikes
That evening we went to St. Kilda and had a fantastic "mexican inspired" dinner after much searching around for something to eat. We were all fully stuffed and really tired from our early morning flights so we headed back to our hotel and fell asleep.
The next day we were up early for a visit to the Queen Victoria Markets, which was a bit like Borough Markets in London but on a smaller scale, here's Amy buying "3 Cheese for $10" which was great as the portions were huge and a great appetizer for later that evening.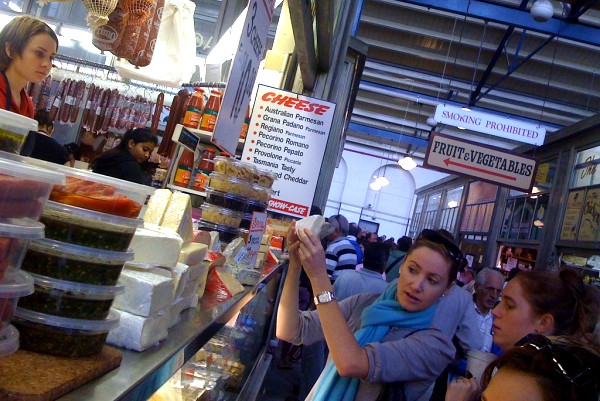 $10 Cheese
We went to a place called Fitzroy for a lot of shopping fun. Justin went crazy buying clothes out doing all the girls, I ended up buying a top from Myer and Amy bought me some chocolate which was really nice. Fitzroy is a pretty trendy place, it has a lot of posters and stickers eveywhere so I couldn't help adding a bit of Global Surfari fun to it –

GlobalSurfari.com Street Team
My favourite part of Fitzroy was probably the ATM crime scene –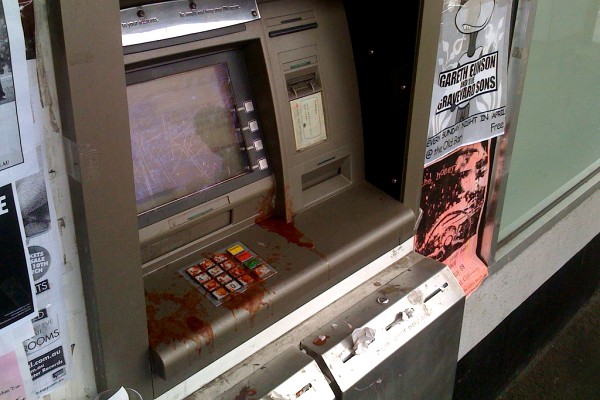 ATM Carnage
One of my personal highlights of the trip was to find out J's works for a well known coffee company that only has 85 stores in Australia but 171 in Manhattan and even more in London. He gets a staff discount so we went there and got some coffee and I got explained what coffee machine they are using as well as getting some tips on the coffee machine I should get at home. Here we are outside the coffee house –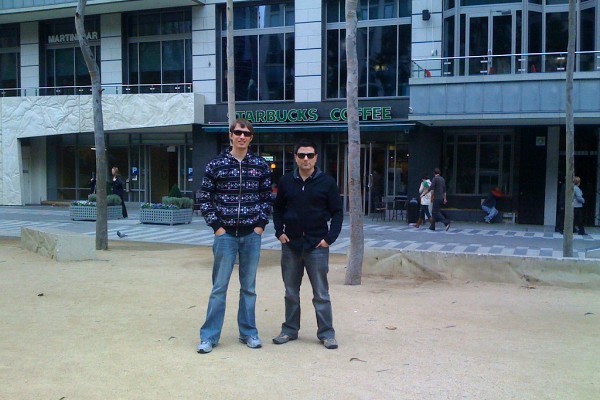 Outside the Coffee House
That evening we went to The Long Room for tapas dinner and a multitude of cocktails, it was really good fun and we ate some great food and had an excellent waiter, we then moved on to 'The Supper Club' where we had a game of 'guess the most expensive bottle of wine on the menu' which turned out to be a 1986 bottle of Château Latour coming in at just under $12,000. I was reading a story in the Economist on the plane about the global food shortage and how a billion people earn $1 a day – which puts it into a rather sad perspective at the waste of money that would be to drink.
After a great weekend it was time to go back to our little airport in the middle of nowhere, here's our plane coming in to pick us up –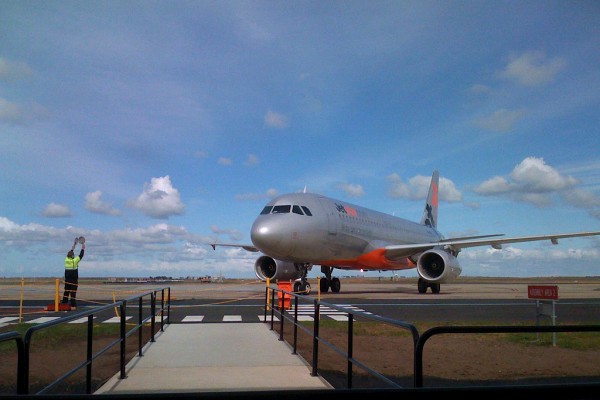 Lets fly Jetstar
A great weekend!