This weekend I attended a social gathering for men only. No, I have not become a Mason, I went to Mark's stag. This stag is going to seem fairly tame, but I have spared you the details to prevent embrassement for all (Mark especially). I set off after work on Friday and got on the tube to head up to Greenford to meet the guys for the canal boat trip down to Camden via the Regents Canal, which was opened in 1801.
We hit the pub by the canal and we all had to down a bottle of smirnoff ice, we all did it but felt very sick (I'm never doing that again), Mark had to do it twice and I was impressed it did not make him sick!! We then drank more beer and then had some tequila and then some more beer and then some cocktail type drinks.
Here's Mark with the bill from the night –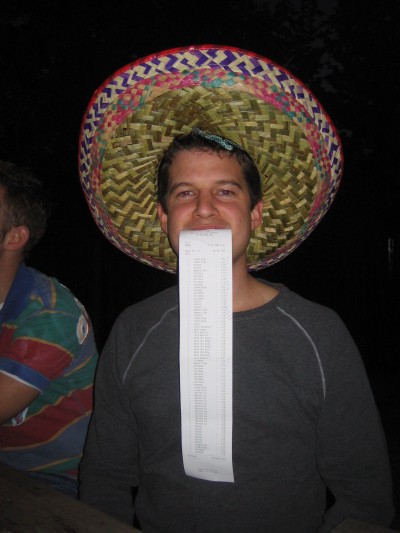 Who's Paying?
The next day we got the boat going and I spent most of it laying on the roof letting the gentle rain hit my face and hopefully using the same trick as used on the boat trip in Australia to prevent myself from being sick. The 'scenery' from Greenford to Camden is like nothing you'll ever see. It's basically mostly industrial, we went past power generator buildings, graffitii covered falling down buildings and such and noticed an incredibly large number of coconuts floating in the river. When we finally started to make our way into Little Venice and Camden I took over driving the 12 man (long) canal boat. For some reason this coinceded with us passing two police boats and about ten police officers on the canal walkway, of course I almost crashed into the police boats and narrowly avoided hitting a tree. The police were giving us funny looks so we waved at them. Is Edwardo going to be sick? –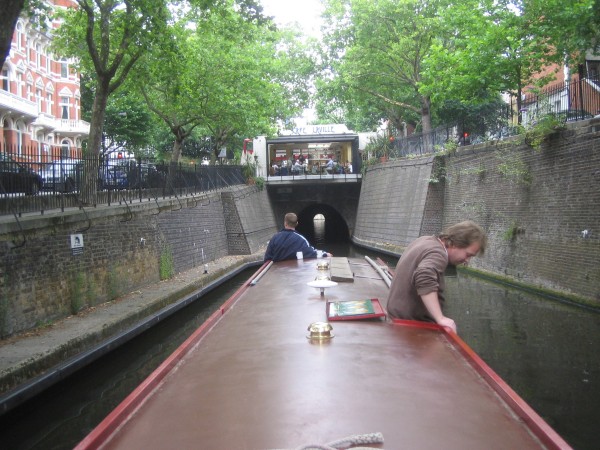 Light at the end of the tunnel
We then headed up Primrose Hill for a couple of drinks and some chillout time. We had a game of baseball and ultimate frisbee, which I've never played before but was really cool!! I wouldn't mind playing it again, might look to see if there's a team I can join.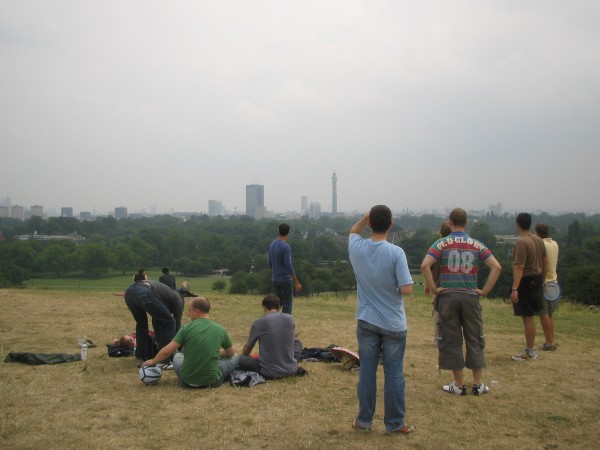 London
After wearing ourselves out playing games in the park, Ed, Si and myself headed into Camden to get something to eat and ultimately end up having another beer, which didn't go down very well!! I was going to leave some of my drink in the glass that Si bought for me, when he offered to give me 20p to see how far I could throw it. So I drank the rest of the drink.
We headed back to the barge and got ready for the evening of entertainment that was ahead of us. The destination was Jongleurs Camden, it was a comedy night followed by a disco. Obviously the stag had to wear something stupid (undisclosed) and we all wore gangster hats that made us look more like family butchers or cricket umpires. We had two spare tickets for people that didn't show up, so we recruited some girls to take them off our hands, shame for them they had to sit with us for the entire night and wear the cricket umpire hats!
Anyway to cut a long story short this is how that night ended for Mark –

Still got the hat on!!
On the way back to the boat I snapped this photo with some exposure under one of the bridges down the side of the Regent's Canal. In an attempt to stop heroin users from shooting up but also do something artistic they have installed UV lights under the bridge which reflect off the water but give this kind of crazy effect as if the water wasn't even there or that the lights were actually on the bottom of the canal. It was very cool, especially after a load of alcohol –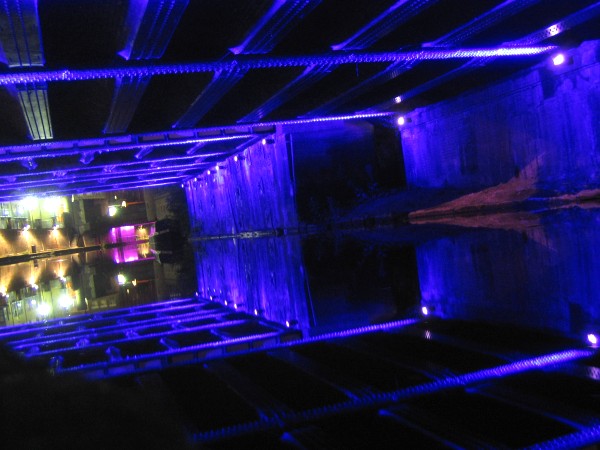 Crazy
The next morning and the first thing Mark said when he woke up was "That keg of beer should have exploded more when we opened it, that girl would have got more beer on her top then" but that is another story!