Spring, Summer, Fall, Winter and... Spring
After signing up for a book of 10 tickets to the Sydney Film Festival I have decided to keep this site interesting and do some film reviews.
The first film viewed was 'Spring, Summer, Fall, Winter and… Spring" as part of their World Cinema line up, here is a general synopsis of the film –
"A masterpiece of Zen-inspired minimalism, Spring, Summer, Winter, Fall… and Spring, focuses all of its energy, intensity, and attention on a tiny cast of characters and the single, resplendent location of a temple floating on an isolated lake. Most magnificently, by focusing so simply but so obsessively on the natural world, it attends to what the great German film theorist Siegfried Kracauer called the true vocation of the cinema: the redemption of physical reality… The film's principal structuring device is the change of seasons. Beautifully interlaced with the seasonal backdrop is a second structuring device, a story that follows the life of one young monk who ages through its five episodes."
The film has no more than 20 lines of talking so don't let the fact the film is Korean put you off. The film contains some great cinematography, with some, what can only be desribed as, beautiful scenery of somewhere most probably in Korea.
I really enjoyed this film although it did feel like it was dragging on. For this reason this film gets –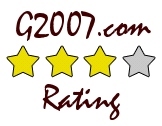 Look out for more film reviews in the near future.