Singapore Grand Prix 2023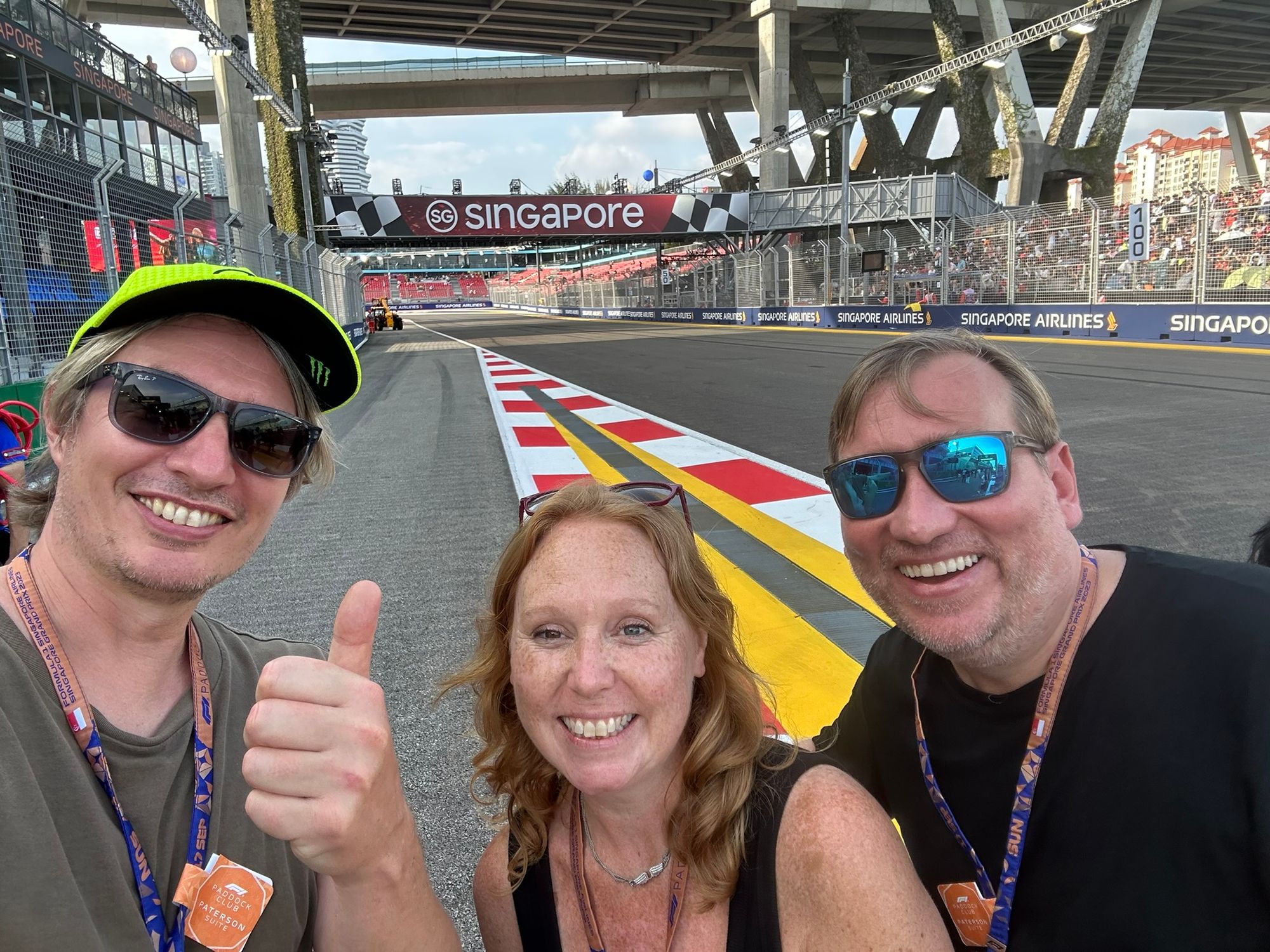 Matt, Emily and I had an idea back in around 2019 to go to the Singapore GP for Matt and my 40th birthdays. We booked hotels and tickets for Singapore 2020 and then it all unceremoniously got cancelled thanks to Rona. So we planned it all again and made it to the 2023 Singapore GP.
This year as well as last has been a bit of a total dominance of Max Verstappen and Redbull, with Max sometimes being 30 seconds or more ahead of the rest of the racing cars and also Redbull have won the last 15 races. So this Grand Prix couldn't have been any better, potentially the best GP of the season and we got to go to it in person, so lucky!
I arrived in Singapore at around midnight local and headed for the Marina Bay Sands, where we were all staying for the duration of the GP. It was still busy at midnight but I met up with Matt for a drink on the rooftop bar of the hotel, it was very exciting being in Singapore. The hotel was really nice as well and had excellent logistics.
The next day was GP day, we had tickets for Twenty3 which is actually now at turn 19. It was a surreal experience we got there and didn't really know what to expect but it was brilliant. Free drinks and food and multiple restaurants that were also free. We went to the female chef restaurant Pootong which was absolutely amazing. We also watch the GT and Carrera Cup cars going around they were incredibly loud. We walked around the zone we were in and happened upon Lewis and George from Mercedes doing an interview on stage so we got to see them which was great.
FP3 was first time seeing F1 cars. They are not as loud as the Carrera Cup cars interestingly but look almost terrifying, hard to explain but they have an almost unnatural presence on the track with the driver being visible. They are clearly super high down force and appear to have absolutely no body roll when cornering and braking, they basically look like they are on rails. The amount of air you can actually hear moving around when they go past shows how important all of those aero upgrades and wind tunnel testing time are for these cars and teams. My least favourite looking car was the Ferrari, it's the "wrong" red and the side pods look weird. The McLaren black livery was cool but the nicest paint tone was probably on the Aston Martin team cars.
When FP3 was over we walked back down to the main area and watched Boy George do a set. The evening was like being in a dream where two different worlds merge, one minute watching F1 next minute at a Boy George Culture Club concert!
Next up we were on to qualifying itself. We positioned ourselves on the roof and luckily got possibly the best position to watch cars from on the entire circuit. As a budding car track enthusiast I was absolutely amazed at the speed cars came out of the last turn for the final straight when they were on flying laps. Some drivers looked smoother than others, Lewis and Max were extremely smooth out of the final corner. Being smooth is one of the first things race instructors tell you at the track. Lando had a totally different line to almost everyone else out of the final corner, he didn't use all of the track, maybe a shorter path but it must have had more steering input, he qualified P4 so was doing something right!The Haas cars and George Russell nearly always came out of the corner looking like they were going to loose it.
I filmed a slow motion video of George and was about to show it to Matt when Stroll right in front of us lost it and had one of the biggest crashes of the season! On TV it feels very removed but the sound of a crash is awful in real life and we didn't know if he was ok for awhile. It was also made worse by the dread that the McLarens were going to smash into the wreckage all right in front of our eyes. It actually made the rest of qualifying quite stressful, no drivers took the last turn with any less vigour. George I'm sure came so close to doing the same thing multiple times afterwards.
After what was a thrilling night we went back to the hotel, unbelievably knowing it wasn't even over and we got to do it all over again for the race the next day.
The next day we had Paddock Club tickets which basically is as good as you can get unless you know someone who knows someone at the teams. We walked a different route into the building and immediately walked past Carlos doing signings. We then walked into the really awesome area for Paddock Club and saw top chef Clarie Smyth. Emily shouted out "top chef!" And they asked us if we were going to her restaurant which we did and had amazing food.
I didn't realise Paddock Club and Paddock Pass are different so we couldn't actually walk around where you see them on TV but we could walk around on the balcony just above it, not all tracks have that access with Paddock Club so super lucky to be able to see it all. Which was actually better I just really wanted to do some driver and people spotting. We saw practically everyone we wanted to see from the balcony. We got to see Lewis do his fashion walk in, Max walking around, Riccardo walking around with his hand bandage all of the Sky F1 team doing TV work. I also saw a girl who I thought must have been a driver WAG but wasn't so sure as she walked back and forward down the paddock for hours maybe in the hope of becoming a WAG. The only people we didn't see who were on our target list were Toto and Brundle!
We then got to do the pit walk. This was really awesome as we were right in front of the pit boxes and close to some of the drivers. They did practice pit stops and used their powerful wheel guns that are incredibly loud, almost ear damagingly so. Then we had front row to the drivers parade, it was hard to get their attention and look at us but Yuki, Alonso and Max did, I think because I shouted Maxy which no one calls him. I tried Osci with Piastri but it didn't work.
Next was the race itself, it was really hard to find a spot but we got them in an air conditioned room behind glass, so quite comfortable and not as loud. It was a great race quite hard to follow because I wanted to see the cars go past and follow it on the TV screens but it was very hard to do both! The final laps when 4 cars were battling for pole was awesome, they were all so close at the end when they went past it was fantastic!
We then went back to the hotel right up to the roof bar and watched the Robbie Williams concert f1 put on from a very long distance away.
The next day we had a free day with no more F1. Emily and Matt booked a holiday to Krabi to the same place Amy, Oscar, Evie and I were just at. They did it all in a food court in about 15 minutes which was amazing, I think Amy spent two years researching and booking it for us (thanks Amy). That evening we went to CUT by Wolfgang Puck, Matt and I shared the meat tasting plate one of which was easily the best cut of meat I've ever tasted ever. The Ferrari team principle was also in the restaurant at the same time which gave us one last F1 connection for the weekend.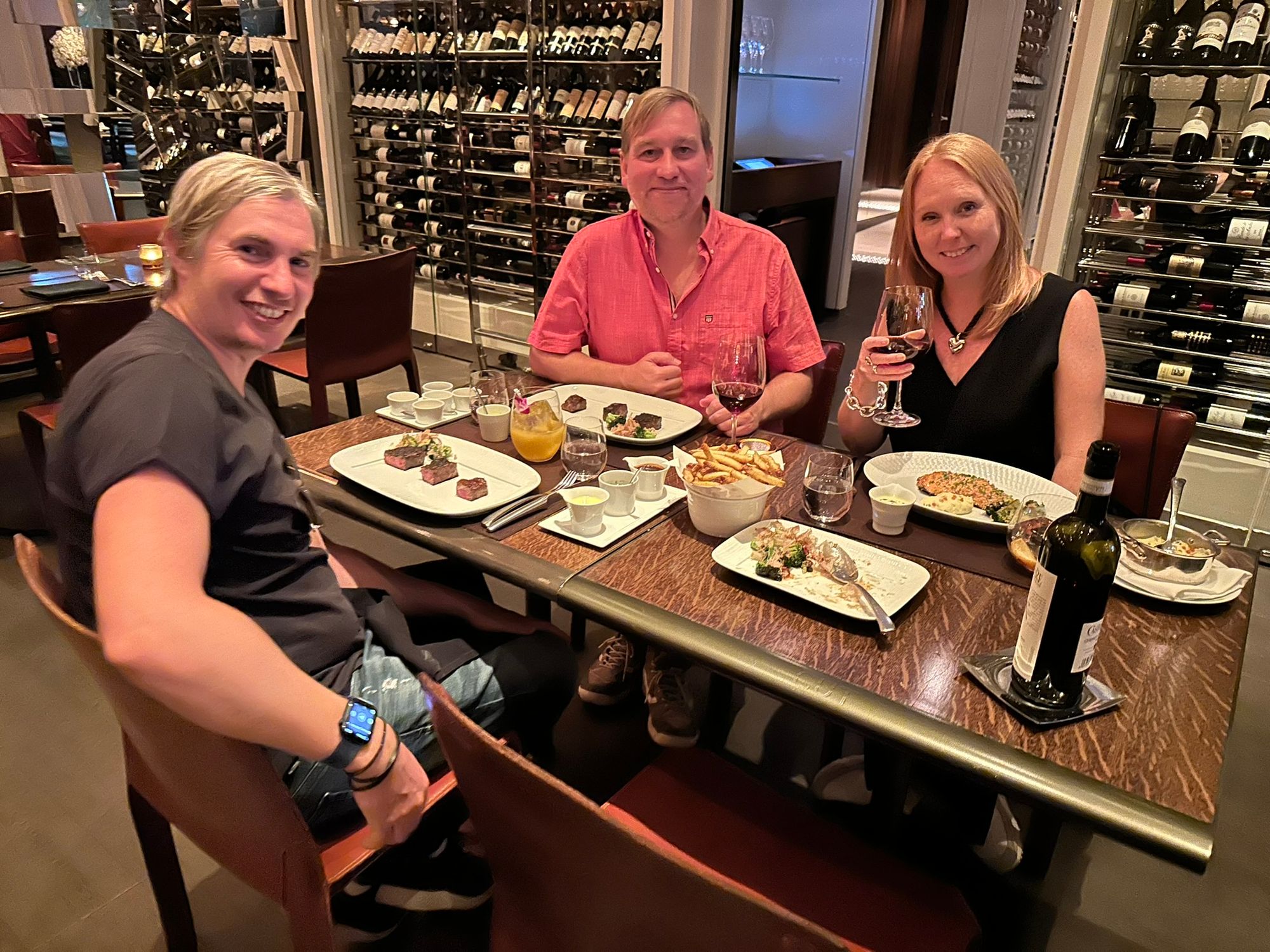 The overall F1 experience was awesome, the only downsides are the access, we walked 32km in total on Saturday and Sunday and sadly some of the people who go. Free booze basically meant some people were messy on Saturday. Not so much on Sunday but Sunday was a lot busier and had a bit more of a corporate schmooze feel and we really had to make sure no one tried to steal our window seats off of us, which is a bit annoying considering the cost of paddock club. Emily and Matt are now in Rayavadee with Oil who is the fantastic lady that looked after us on our trip there for a few days and I am heading back to 32° Sydney! Hard to top that as an F1 experience!