I have pretended that I am a tourist in my own home town. It's pretty good fun actually, you see a side to the town that you don't see as a local. Here is the supposed birthplace of Willian Shakespeare –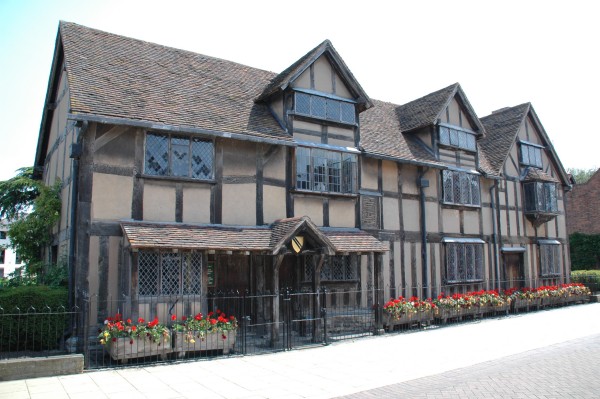 Shakespeare was a playwright and poet from the 16th century. More information can be found about him here.
I went on the Stratford tour bus for free as my mum does the talking on the bus, here she is telling everyone about Shakespeare and the town –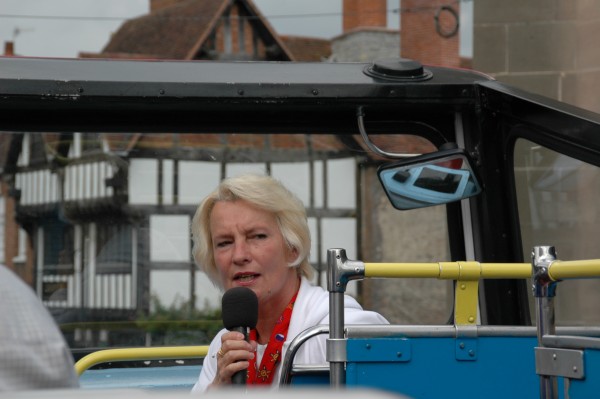 Startford is also pretty popular with swans, a few years back there weren't any in the town because the river was so filthy. They drained it with some machine and got rid of all the junk and now the swans have come back. Here are some baby swans, which are correctly referred to as Cygnets. –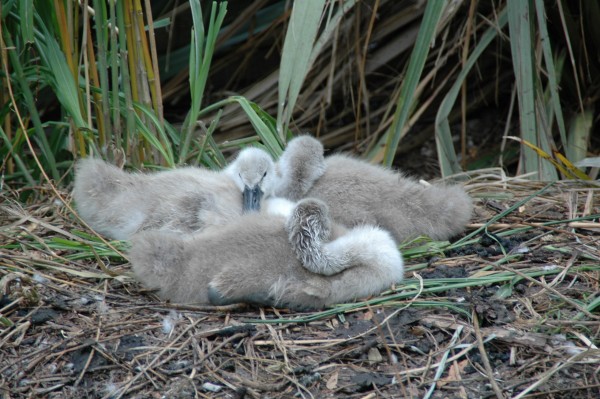 On Thursday night I went out for a couple of cold beers with some of the guys. It was a long time since I saw the guys so it was pretty funny Jon, Si, Gin, Al, Kim, Neil, Barts and a few others were out. Kim says he preffered the 'computer brewer' when I had short hair. Here are Kim, Gin and Al sitting outside of the One Elm on a beautiful evening –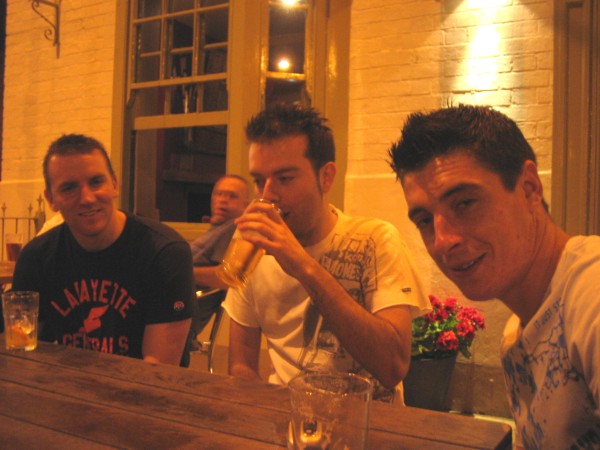 British Booze Culture
Later that night we went to a few other bars and Kim used a technique that he developed in the Congo and Amazon to entice Monkeys out of the trees but in town he used it to try and entice the ladies, sadly it didn't work. We then saw the violence of Stratford-upon-Avon in full swing and the police roll up and execute some kind of zero tolerence policy. We went out the night after and saw this happen again, actually we were a bit too close for comfort the second time and I thought we were going to get restrained and arrested ourselves. I tried to take a picture on my phone and was told by some people (who I knew but didn't recognise at first) that this was not happy slapping (a new disturbing craze in England).
So yes its time for a video!!! Here is some of the action from Thursday night, it contains Kim's Congo whistle, police bust (which is similar to the one in Kings Cross Australia (see bottom of page) – funny how Gin is in both of these videos even though they were made 16000km apart) and a disturbing insight into what happens when you have a digital camera, a lot of alcohol and a shopping market that fails to implement the 'one in front' scheme. –
On a surfing note (as there always is one) The Independent Traveller has a feature by Alex James about a surf trip to Monte Velho, Portugal for £380 for three nights which includes flights, accomdation and four day car hire, details of the package are here, anyone interested in doing this or something similar in the summer?
Well that is it for Stratford-upon-Avon, next stop London, England….