Seri Bali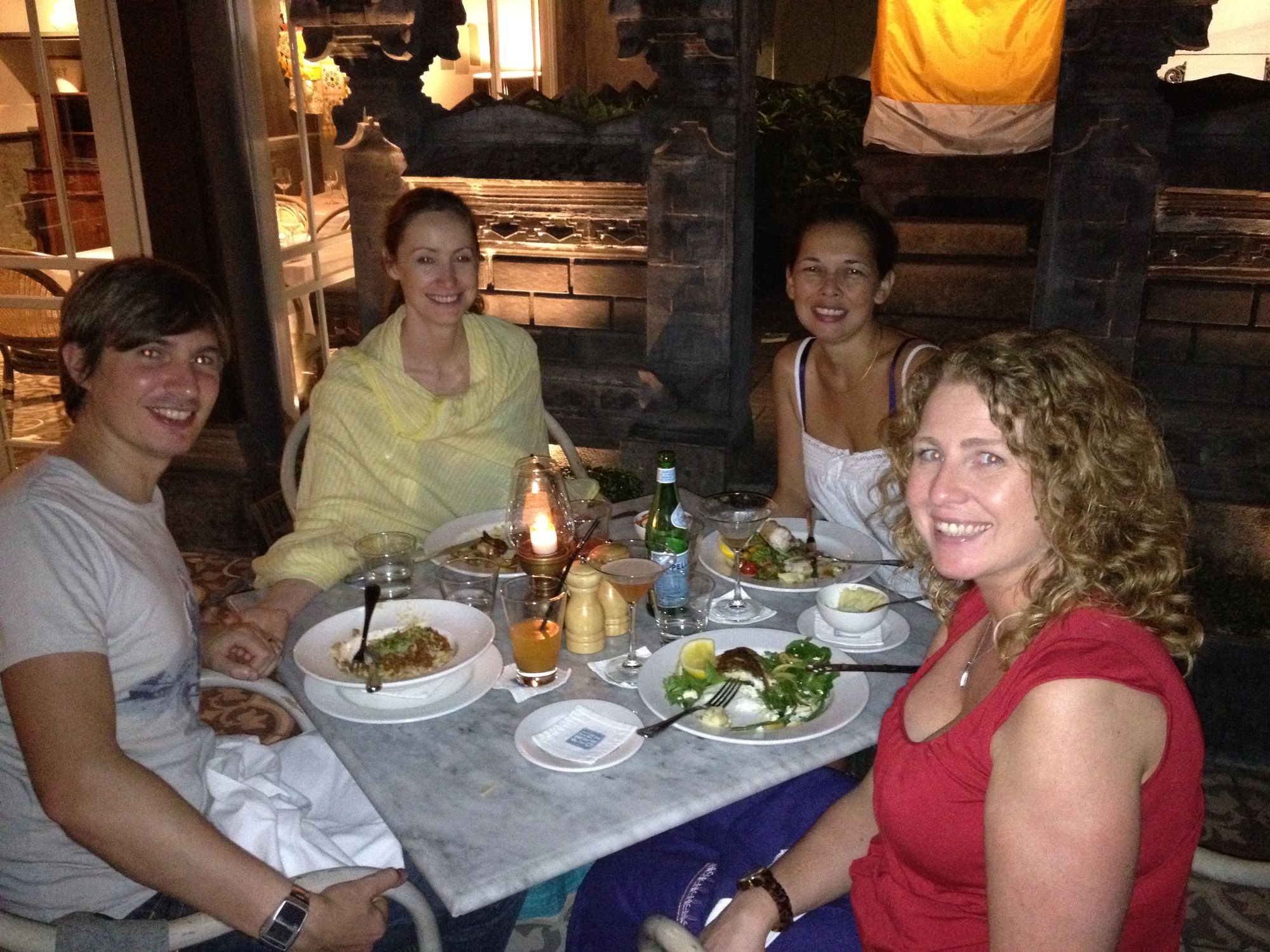 Last month we went to Bali for the second time! We were lucky enough to stay at a friends hotel/villa in Seminyak, sort of the same area that we stayed in last time. This time we came out with Lorraine, Fi, Ilissa and Greg. Lorraine lives in Manly but the others all came in from Hong Kong and are friends with Martin who part owns the place. Bali has undergone so much development since we last came that it was hard to see old locations we recognized as lots of new restaurants and buildings have appeared.
We flew into Tuban airport which is about 6km away from Seminyak but takes a good 1 hour to get to thanks to the infrastructure issues. We got through customs really quicky thanks to some pre-arranged meetup we had and headed to Seri Villas to meet up with the HK crowd, it was quite late when we arrived so we had a few drinks and then went to bed. I got myself re-acquainted with Bali and remembered all of its funny quirks, like not having pavements for pedestrians but instead just open holes and gutters and loose bricks that if you didn't concentrate on where you were going results in injury. Sometimes I'd walk around annoyed at the westerners that take their children on motorbikes without wearing helmets as if because your on holiday it's totally safe to do that!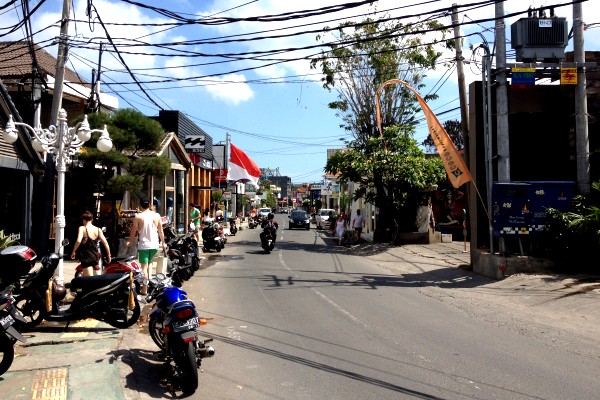 Typical Bali Street (dangerous)
The shops are fun in Seminyak, you can't really tell which ones are legitimate or not, for example one shop I found was called AVEDA, I visited the exact same shop in Japan and we have some of their shower gel and shampoo in the bathroom but this one didn't sell anything like that, just dresses wrapped in plastic bags. I didn't take a photo of this store but this guy did.
One of the first places we visited as a group was Ku De Ta, which is a well known beach hangout in Bali, it is really good to go to for a drink and something to eat. We had some day time cocktails on our first day which was really nice. The next day I did a marathon walk down the beach with Greg and Ilissa down to Kuta (which is a bit like Benidorm but for Australians) and they made me eat in a dodgy restaurant, luckily though I didn't get food poisoning. That night we hit the W hotel, which was really cool. There was a wedding on the roof and so later in the evening they had some "throw safety out the window" fireworks display which was good because we got to be  really close.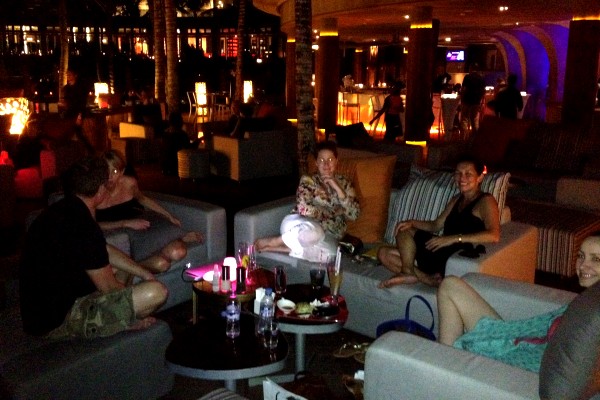 Everyone at the W Hotel Seminyak
The next day was my birthday! The hotel staff knew because we gave them our passports and I also think Amy might have told them. They were really nice and got me a cake with a personalized message on top, it was very nice although the chocolate cake was so huge it lasted us the rest of the holiday!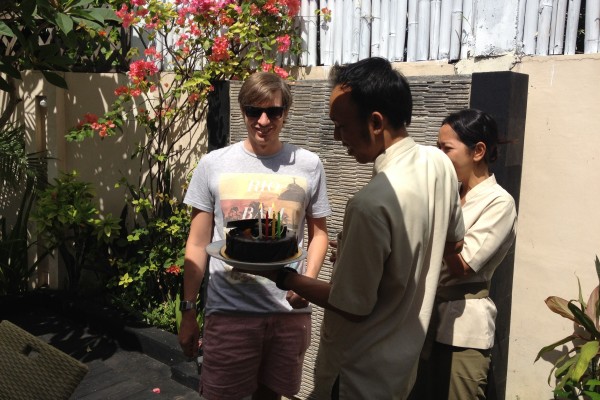 Birthday in Bali with my Bali T-Shirt and the really nice staff
That night we went out to a restaurant called Living Room which was at the bottom of our street and really nice.
The next day we went out to meet up with Lorraine's friends who live in her building, we ended up having some nice drinks at a bar looking over the beach with their other friends who was here with his brother, who turned out to be one of the guys from 4 Poofs and a Piano, a group that used to sing on the Jonathan Ross talk show when it was on the BBC!
We made a trip to Ubud and also Kintamani which I remember last time being truly an amazing site. Even though it takes hours to get there and you do the obligatory stops at temples along the way it really is amazing to see Mount Batur which last erupted in 1968 and as you can see from the picture the lava flow is still visible (black bits on the mountain).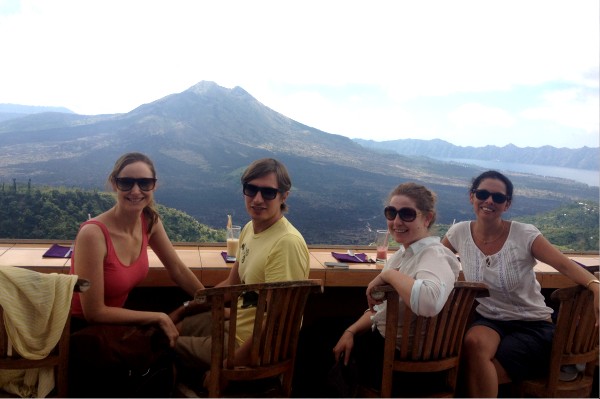 Amy, me, Lorraine and Fi at Mount Batur
One of our favourite places we went to for dinner was a new restaurant at the bottom of our street called  Petitenget Restaurant,  Petitenget was the name of the area and this place had some of the best food. We went there for dinner on our second night and decided to go back a few times for breakfast.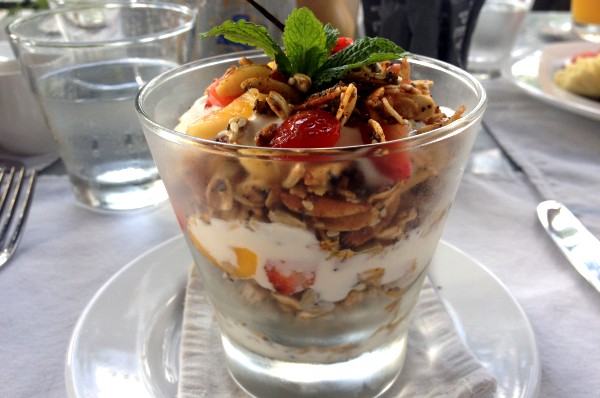 Breakfast at Petitenget Restaurant
We could feel the end of the holiday getting closer, and the HK arrivals were leaving a couple of days before us. So before Fi left we went up to Bvlgari Hotel which is in Uluwata and a hour drive from Seminyak. It was a really nice hotel and although it wasn't quite the same vibe as Ku De Ta or Potato Head it was a great place to have cocktails, enjoy the view out to see and have some amazing tapas food.
Here's Amy and me enjoying ourselves there –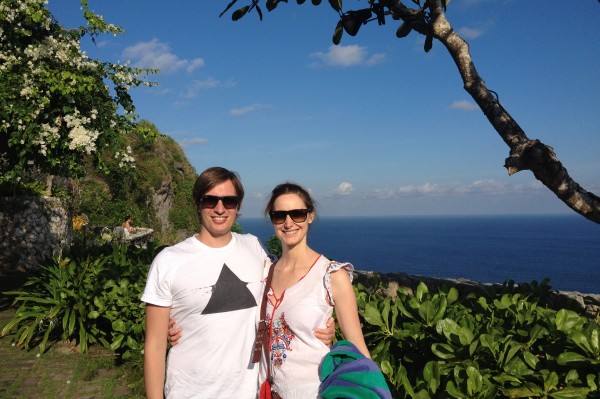 Amy and me at Bvlgari Uluwata
Bali was an awesome holiday once again, the food was great and it was sunny and warm the entire time. On our last night we went to a fantastic more family orientated restaurant where we had wine, starters, main courses and two deserts for $20 each which living in Australia is impossible!
Can't wait for trip number three to Bali someday 🙂