Hot off Seal Rocks 2006, comes Seal Rocks 2007! This time we broke last years 13 people record with an estimated 28 of us!
The place has become extremely popular in the last few years; even we could notice by the amount of camp sites there were on the weekend. It has been on the TV on holiday programs and Canon used it to promote their HV20 camera. Of course, most of the popularity is probably due to the 4.3 million* daily readers of G2007.
Check the video, the music is by one of my favourite bands, BhangLassi –
Higher Quality Windows Media Download (36 meg)
In the video you see a tree getting chopped down, don't worry it was not to make more room for tents and 4WDs but it looked like it was rotting in the centre and so would have been a bit of a hazard. Actually it was pretty funny when they were chopping it down, Marcus, Dan, Mez and myself were sitting around our camp next to the tent and car, and the guy was chainsawing through it. Half way in the other guy said "woo woo wooo…. the winds blowing that way" and pointed towards us, the tent and my car. That is why in the video you see the truck pulling it along as it comes down.
This was the first time that we visited Seal Rocks where the main beach behind the camp site was not like a washing machine, in fact it was the opposite, a beautiful clean beach with lovely waves breaking (although a bit too close to shore to surf).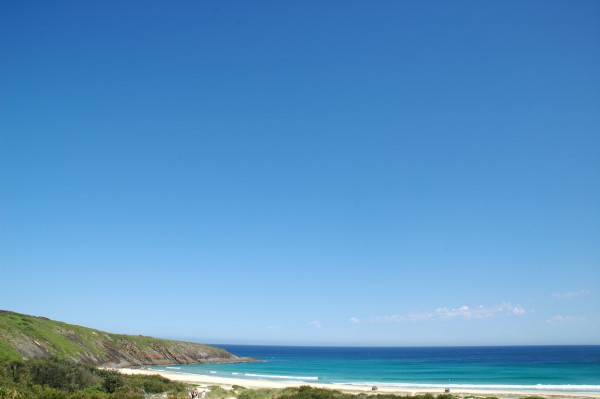 Sunny Days and Clean Water
It was a really nice trip and sad to be back, the video embedded in this post sums it all up. If you have the time and bandwidth, the high quality version is well worth the download (it's 3x the size but 10x the quality in my opinion).
* Estimate – actual readers may vary.