Met Gino at the airport at 20h00 in a terrific thunderstorm. A nice way to be introduced to Australia, it's not sunny all the time!! I got Gin a donut which he turned down, I think in disappointment that it was not a better gift. After a few beers and very little sleep we were up at 06h00 the next day to meet Rach and Mike to start our trip up Australia. Our trip would cover close to 3000km of driving, one brush in with the smokies, 1 python and lots of spiders….
The car got us to Seal Rocks where we drank alcohol and played drums on the beach –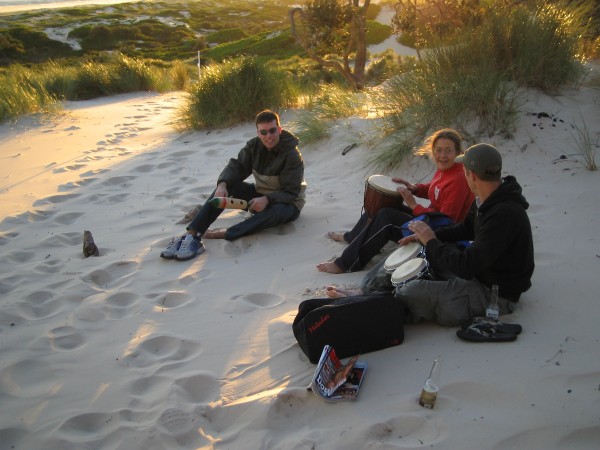 The beach was great but the waves were tiny!!! Which meant there wasn't much surfing to be done, which was annoying as last time the waves were perfect and I didn't bring the surf board 🙁 I did manage to get some waves though so I was happy.
There was loads of Kookaburra birds near our camp. These birds are very nice but when they make noises they sound like monkeys. Which is a bit strange!! Here are three that were above the camp –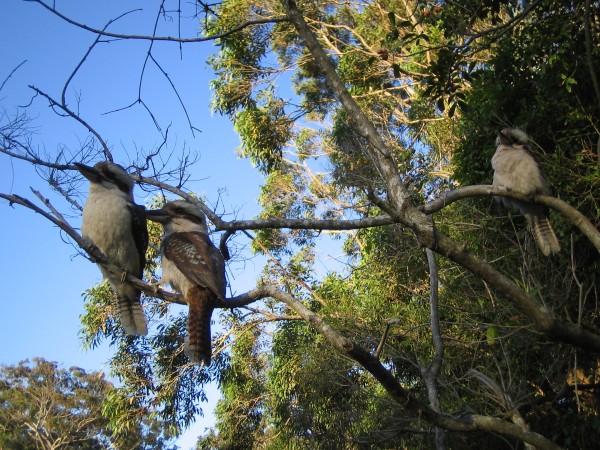 We actually nearly almost killed one. It sat on the car door while it was open, I shook the car to see it move up and down and the door started to close. The Kookaburra didn't notice and the door slammed. He was lucky not to lose any feathers!!!! Rach and Mike left for Sydney on Sunday afternoon, leaving Gin any myself, the unprepared campers to try and stay alive for the next ten days. R&M let us borrow some of their camping gear which was key to our survival. We hit the road in the searing heat for Coffs Harbour. The police pulled me over for doing 110km in a 100km area, I had budgeted for a speeding fine but did not get one in the end, I gave him my word as an English gentleman that would stick to the limit for here on it, which we did. As for Coffs Harbour, I can recommend not going to this place ever, it really is rubbish. We had dinner at this place called 'Scoffs' and my Barramundi was still raw in the middle. I was nearly sick. It had have a Motel Forumlae 1 which was $47 per night, so we stayed in this (we already had enough of tents).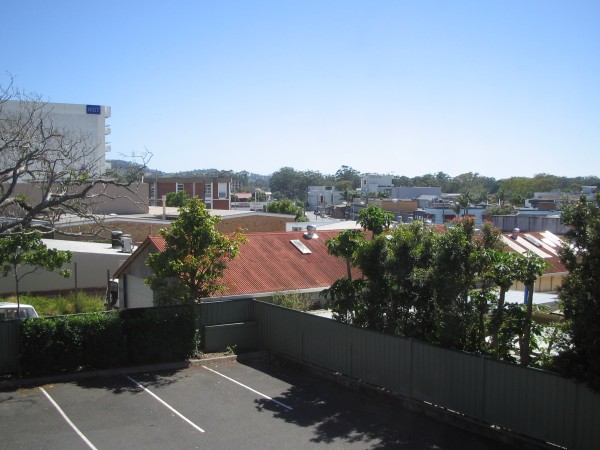 Hicksville (Coffs Harbour)
We decided to go straight onto Brisbane from the terrible Coffs Harbour visit. We did some 'scenic drives' whiched required going on boats to cross rivers, this was great fun. After about 7 hours of driving we finally arrived at Brisbane. After searching for the Motel Formulae 1 again we passed a dead body on the street, someone who had jumped off the top floor of a car park. I managed to only see one body in six years of living in London, in Brisbane for no more than 2 hours and I had to witness a gruesome death.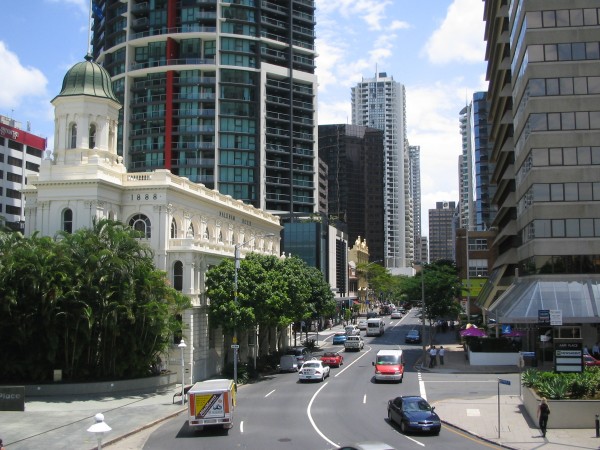 We did a tour of Brisbane, a city of 1.6 million people. It seems to be waiting for something to happen, 2010 maybe. We ate Sushi pretty much exclusively in this city, which Gin say he really likes now.
After two nights in Brisbane we set off for the next long drive to Fraser Island. This was the real highlight of the tour. You can only drive on the Island in a 4WD. The Vitara is well and truly equipped for this task, although it is a 1989 model so I was also fairly concerned it might break down, and then we would be really stuck!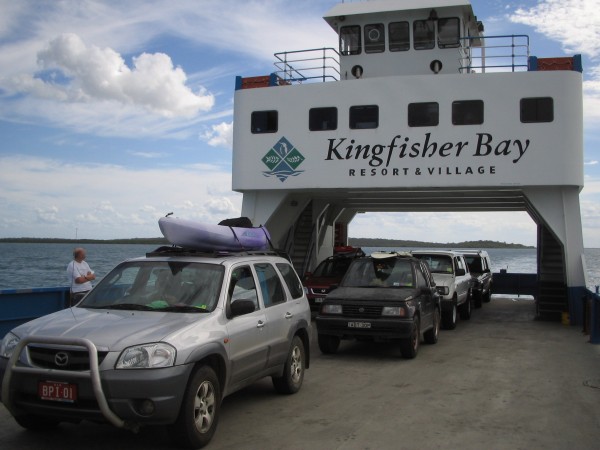 The black Vitara with all the other 4WDs heading over to the Island
When we first got onto the dirt tracks a vehicle was stuck up ahead of us. After recently becoming a 4WD expert (thanks to the problems I had last time) I let these guys use my tire pressure pen to work out their tyre pressure. Although in the end this wasn't going to help as the car was an all-wheel-drive not a four-wheel-drive. A huge difference and not suitable for the Island. Here are the Canadians/French/Kiwi's stuck in the sand –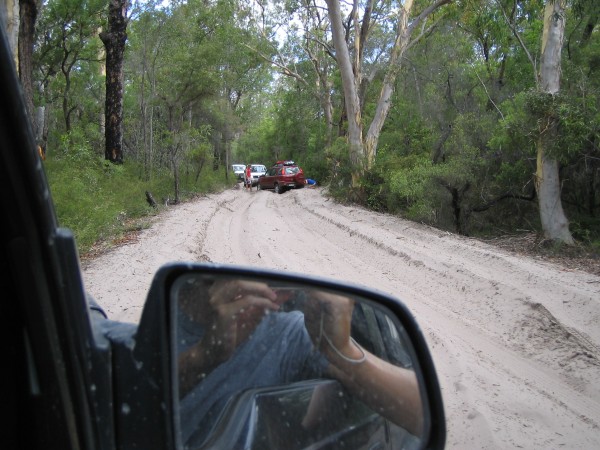 We met up with the group a bit later and found out that it took them 3.5 hours to get the car off the Island and they had to spend one night in a hotel before they were able to find a more suitable vehicle. It must have cost them a fortune!!!
The roads were extremely treacherous but really good fun in the car. The trees were also amazing, here is Gin in the car with his ozzie hat on one of the tree enclosed roads –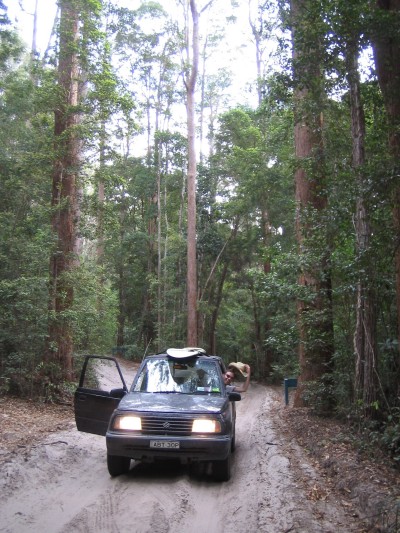 We got to Central Station which is where we set up base camp for the next 3 nights. Mixed into the forest –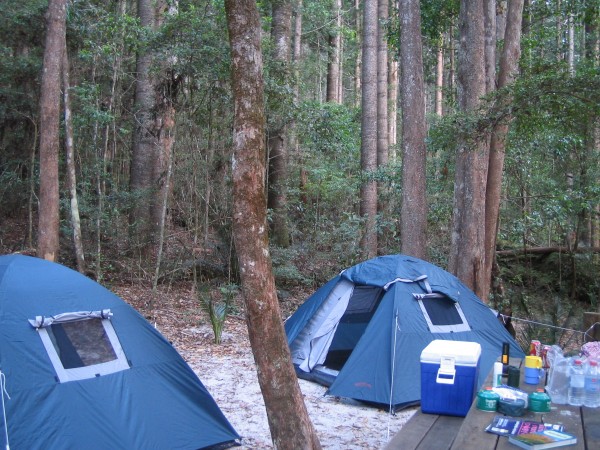 The camp site was cool but there were these annoying flies that when they landed on you wouldn't get off and then injected there nose into your skin. The more annoying thing was they could bite through a t-shirt so covering up was not enough. We had to plan the hours we were at base camp very carefully to prevent getting bitten by one of those horrible creatures!!!
We set off on our first full day on Fraser Island to Lake Birrabeen. The entire island is sand and these fresh water lakes just rest on top of the sand. The sand was so white and the water was very warm it was absolutely beautiful. We spent most of the day here before heading to Lake McKenzie, which was full of tourists and not as good (nor was the water as warm).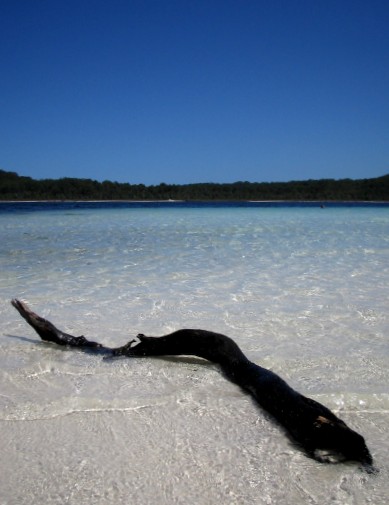 Lake Birrabeen – the water was warm and the sand was white – a paradise
We headed back to base after a day of sunning and some serious off road driving (we would eventually get burns on the hips from seat belt chaffing going over all the bumps) and made chilli con-carne for dinner with rice. A delicious end to a nice day.
The next day it was time to do some beach driving. We were not given a tidal chart (they don't give you one if you leave Australia from River Heads which seemed strange) so we drove to the tourist information center to get one. Most places on the Island are signposted, so, it would say 'Eurong 6.6km' although it would feel like it would take an age to get to those places because of the low speeds that the off roading required! We even met this fella on the road during the drive to the beach –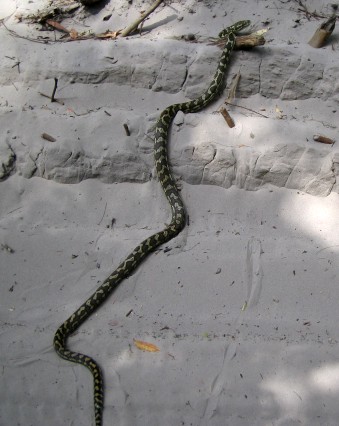 Python Danger
The beach is a proper road (providing the tide has not come in) and it also doubles as an airstrip. Here I am with the motor on the 'hard shoulder' –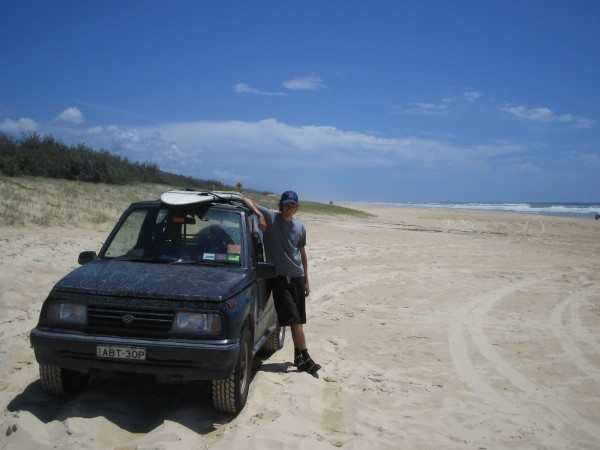 And here is a Plane also on the Beach –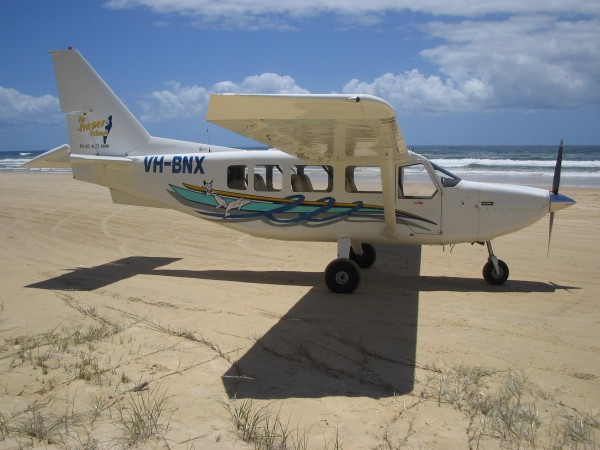 We visited some Creeks and looked at a boat wreckage and then headed back to the Lakes before the tide came in for an afternoon of relaxing in the water and Cheese and Crackers. Next day we were off the Island, the rain started to come in so we drove back to Sydney (staying a Motel Forumlae 1 once again) in 2 days. A good trip up the coast and out of NSW state for the first time. More touring coming soon!!!