Last weekend Amy and I went to Port Douglas for a little pre-credit crunch escape. Port Douglas is a three hour flight north of Sydney which in the Southern Hemisphere means it gets warmer when you arrive. The sea was 27 degrees but still felt cool at first because the temperature was in the thirties.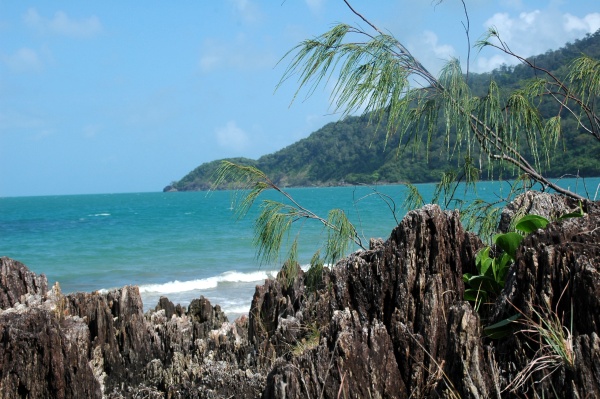 A Beach somewhere in the Daintree National Park
We arrived at Cairns airport and got to the Thrifty desk to pickup the hire car which I'd managed to book using both my car insurer NRMA and Qantas Frequent Flyer, rather than giving us the car we wanted we were "upgraded" to a Mitsubushi Pajero, it felt a bit bad for the environment having this vehicle as there was only two of us and all we had was our cabin luggage suitcases but we were living the American dream. The car was great until we were driving it back to the airport and it decided to disengage ABS, ASC and put on that red light with the exclamation in which I think means "stop immediately".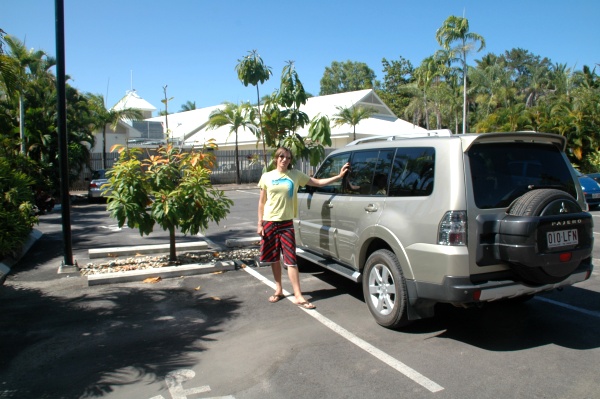 Miami Vice
First we visited Palm Cove which is like a town built for tourists and retirees, it is totally on the beach and has some fantastic little cafes and restaurants. We went in one for breakfast and Amy asked the waitress for a bottle of the water for the table, she wrote it down and then asked if we would like a glass with it, we said yes and hoped that was not the sort of conversations we would be having the rest of the weekend (In Brisbane once I got asked if you need to use a straw to drink a cappuccino).
We went back in the evening to visit a restaurant in Palm Cove, a 30 minute drive South of Port Douglas (which was where we were staying) called Nu Nu which was fantastic and was competing with the Nautilus Restaurant in Port Douglas, so we visited that one as well, out of the two restaurants I would have to say they probably tied, Nu Nu had better food but Nautilus had much better decor (it was in outdoors in the rain forest).
On one of the days we did a road trip to the Daintree National Park via the Mossman Gorge, which was basically a big Gorge with water running through it – totally unexpected! Here is Amy at the Gorge –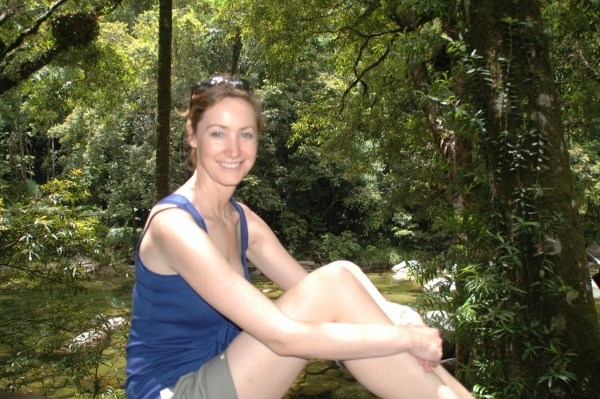 Amy at Mossman Gorge
We then pushed on to the Daintree which involved getting a boat across a river and having to read all the crocodile warnings. When we actually got into the Daintree we visited some amazing beaches and rainforests. I kept a close eye out for crocodiles and stayed close to shore with the risk of killer jellyfish, good to see though there was a bottle of vinegar on stand by –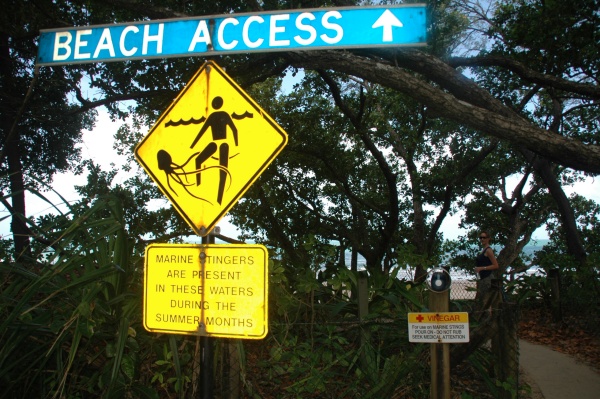 Another Worry Free Day at the Beach
Because the sea seemed a little bit too dangerous to go in I decided to use the hotel swimming pool instead, however after going for a quick swim and then falling asleep on the sofa underneath a fan and waking up with a soar throat that still won't go away. Google gives 140,000 results for "soar throat from swimming pool" and 83,800 results for "soar throat from air conditioning" so I am none the wiser as to the cause.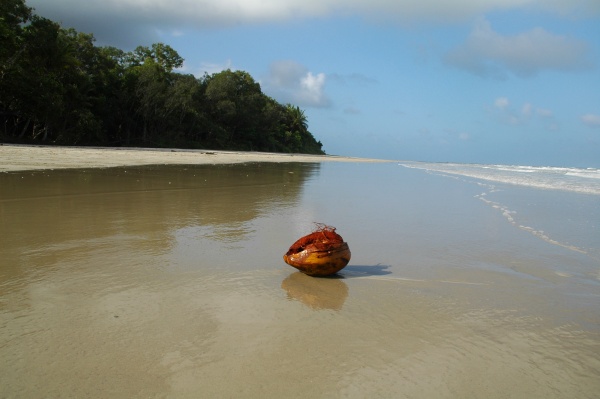 Castaway
Apart from the intense throat soreness it was a great little get away! Looking forward to the next get away now which is Rach and Mike's engagement party at Seal Rocks