This weekend Amy's sister Taryn and Wade paid for us to fly up to the gold coast to celebrate Amy's 30th which was very nice of them. We stayed at there beach unit which is literally on the beach (the surf was about 5 metres away) which was absolutely fantastic – a surfers dream!
I drove to the airport on Friday but got stuck in rush hour traffic, basically meant a traffic jam from Manly all the way to the airport, it was ridiculous and so took twice as long as I expected it to take, therefore I had to leave the surfboard in the airport carpark or else I wouldn't have been able to check my surfboard in – I literally got to the airport, met Amy and then got onto the plane which was already full of people. The surf would have been fun but I got a lot of body surfing in which was good fun as well.


View from the Balcony
When we first arrived Baby Z and Amy celebrated with a Bottle of Moët and some pizza which was very nice –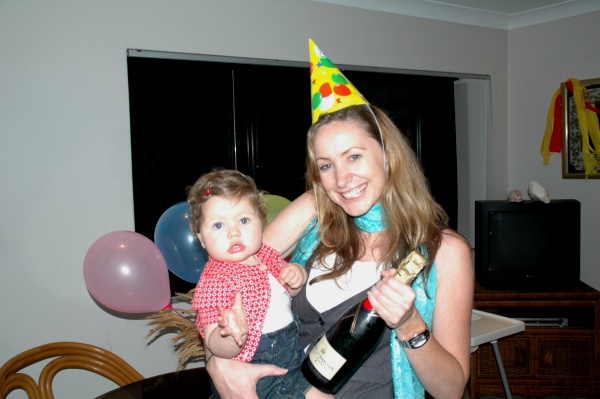 Baby Z and Amy celebrating 30
That night we went to sleep with the sound of the ocean outside which was very soothing. It was strange when we came back to Manly as we can't hear it and I thought made it harder to sleep without it.
The next day Sam, Elliot, Cooper and Ali came down for some beach time, it was a beautiful day and the surf was nice. I helped out with the sand castles –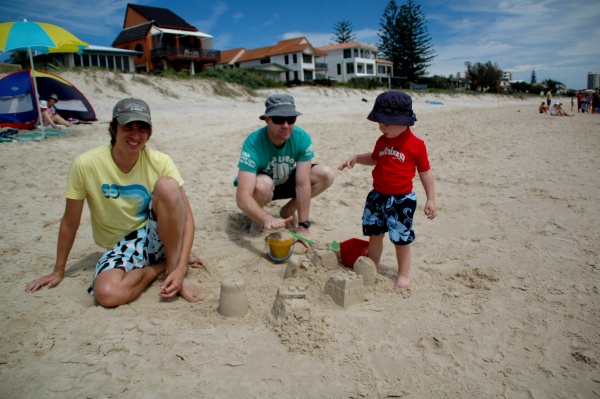 Me, Elliot and Coop Building Sandcastles
Afterwards we met up with Amy's parents for dinner at the Burleigh Heads Surf Club which was very nice and located pretty much in the sea at Burleigh Heads –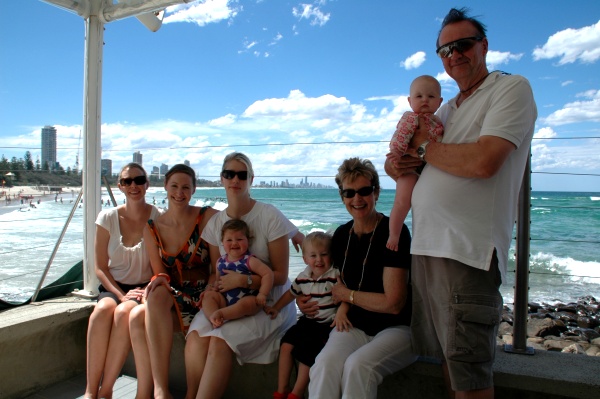 Birthday Girl, Parents, Grandparents and Kids – Burleigh Heads
It was a very tiring day of swimming, celebrating etc. that we went back and had a sleep, however it wasn't long before we were back into party mode again. Taryn had bought some funny eye brows from a joke shop of some description and we drank some Grandin, a fantastic drink of rigorous grape selection and a 12 month secondary fermentation.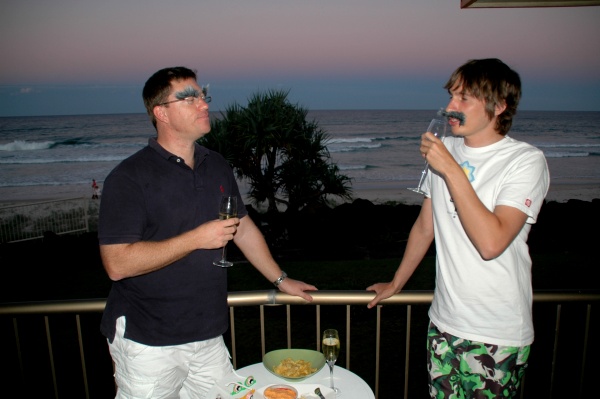 Eye Brows and Moustache and some Grandin
The next day was our last day but we started it like our first by going to the beach and enjoying the weather. Little Z-Unit had her first day in the water the day before but ended in a few tears, Sundays beach session was much more successful for her. I must have spent ages in the water as it was so much fun just going under and riding the waves I felt like Jean-Marc Barr in Le Grand bleu. Here's how nice the beach was –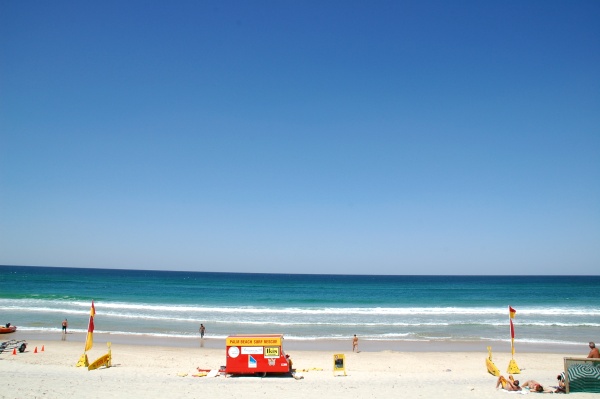 Inbetween the flags at Palm Beach QLD
We had lunch at the Palm Beach Life Savers club which was very nice but Wade didn't win anything on the raffle, he was one number off with one of the draws which more or less sealed the fate to not win.
We then had to prepare ourselves for out trip back to NSW. We got taken on the scenic way back via Currumbin, Kirra, Snapper Rocks, D'Bah and down a road called Boundary Street where one side is Queensland and the other side is New South Wales, which must be very confusing as they are in different time zones.
Back in Sydney now and it feels cold and we wish we were back at the beach unit. A fantastic weekend.