Nürnberg not Nürburgring
If there's one thing I'll learn from the couple of days spent in Germany, that is that there's no such thing as the Nürnberg Ring, a fantasy location that I had wanted to visit on my trip over. Apparently the Nürburgring is some 400km away. The reason for going to Nürnberg was for work and so I was invited to go over with Mark and Dave for the trip.
Here are Mark, Dave and myself enjoying some fish food (which I was sure wasn't good to eat pre flying) at Stansted airport before taking off –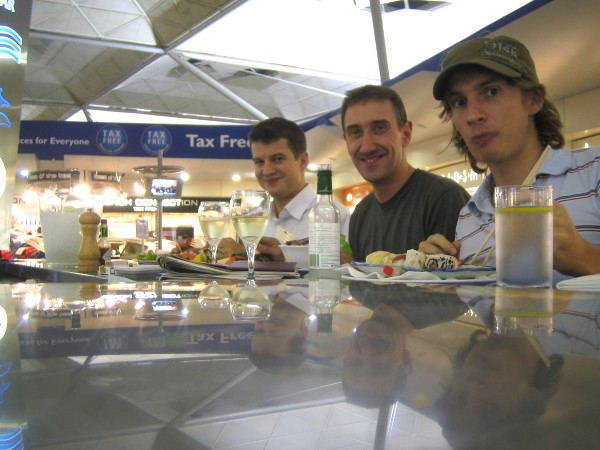 Cheshire Cat
We flew Air Berlin who are probably the worst airline I've ever flown. They wouldn't let you take a bag as hand luggage even if it was the right size if it weighed more than 6kg!! We boarded the half empty plane and flew over to Nurnberg. The next morning, early and before the working day had started we took a very short tour of Nurnberg and visited the towns best attraction; the castle. Here is Dave and Mark outside the castle –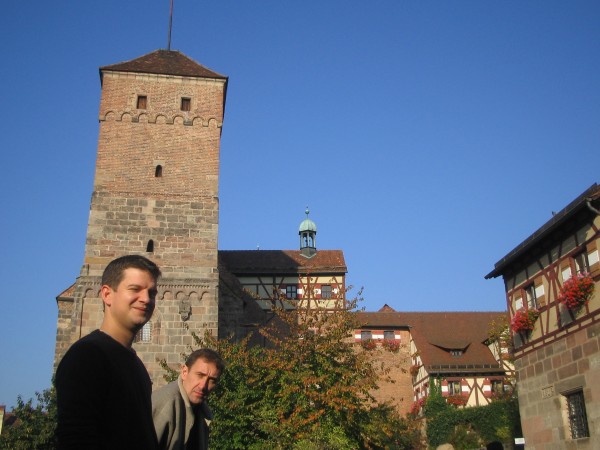 The Castle
I can't talk about the work stuff really because that's all corporate corporation stuff, but here is a shot of my German collegues having a fast paced game of that game where you have to smash the puck towards each other. This was in a rock bar somewhere in Nurnberg on my last night there which was great fun –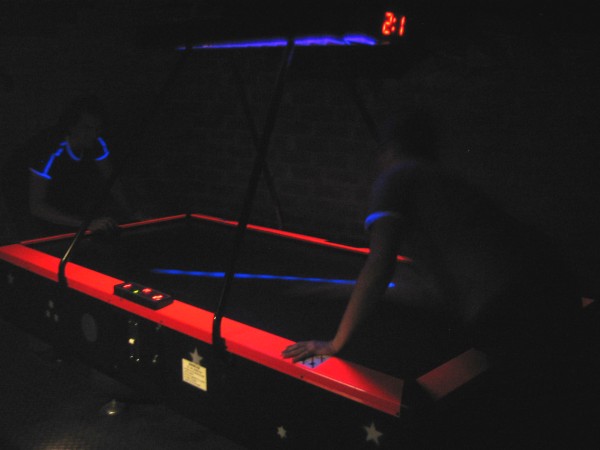 Disco Lights
The flight back with Air Berlin was pretty funny. I got told by the overstressed checkin desk lady that the flight was to make an unscheduled stop in Leipzig (North East of Nurnberg) before continuing for London. I asked the sales desk if there was any compensation for such a diversion and landing 2 hours behind schedule, however, I was told "no". I fell asleep for most of the flight anyway so it wasn't too bad. However, on approach to London I noticed that it was a fairly foggy evening. I was concerned that the pilot was suffering from 'get-there-itus' and really became concerned after seeing the plane make some last minute adjustments as I could see the lights of the airport not too far away. The plane hit the ground hard and some people gave a little shriek, the plane then hit the ground again and came to a normal stop which everyone was happy about. Some child on the plane shouted to his mate sitting a few rows back "I think that was a crash landing!". I was more nervous about the landing after recently watching this video of an MD-11 crash landing in a typhoon at Kai Tak, Hong Kong 1993 (do not watch if you are even remotely scared of flying).
Over and out.