Last weekend a group of us from work did the Nike 10k run in London's Hyde Park. I did this run last year with Mike and Rachael in Sydney, Australia and dedicated myself to doing it again. The problem was I did not do any training for this one as I've mostly been doing swimming and so my target of getting into the high forties time wise was not going to happen. I did a practice run 5 days before but ended up hurting my leg (not psychosomatic) so was not really going to push to get a good time in the London run.
I ended up doing the run 1min 50secs slower than last year (56minutes 57seconds) which I thought was pretty good considering the lack of training. Here is a picture of me just before crossing the finish line –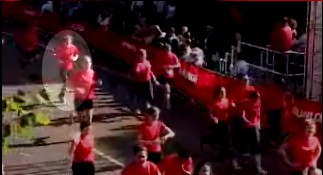 Target Acquired
You can watch the video of crossing the line here (about 11 seconds in). Notice the funny walk at the end, that is because I was worried my time would not be picked up (as it wasn't last year) so I stepped over the special time reading machine in this comical manner!
My legs ache a bit now but I think its done them good! All the team who did the run with me all managed it and were happy with their results! Well done team!