Mountains, Zoos, Farewells and Sir Richard Branson
I have completely lost track of what days I have been doing things. I blame Gin entirely for this because he has an insatiable appetite for booze and drags me into this vicous grey cloud of drunkenness. So much so that when I went surfing with Magnus the other day, for one of our last ever surfs I could not get out to the lineup because I was so unfit (a dry cough didn't help). So this entry might seem a bit all over the place, it is not my fault.
Gin and myself drove up to the Blue Mountains for a quick tour, I'd already been there so it was for Gin's benefit really. Tiina was supposed to come with us but she sleeps for 16 hours a day and unfortunetly our leaving time must have been in her sleep time. She is leaving soon so I bought her a packet of Glucodin tablets to try and keep her awake for longer, I ended up having to take a couple myself as I have this dry cough caused by air conditioning they use over here. I got about 3 hours sleep the night before from continuous coughing up of nothing. Although I did get to sleep the entire journey back as I got Gin to drive home.
Next night I went out with Karine, Charmaine, Mark and Gin to the opera bar on the wharf, which probably made it day 14 of continuous drinking. Hmmm I wonder what has caused my alcoholic intake to triple in the past 4 weeks –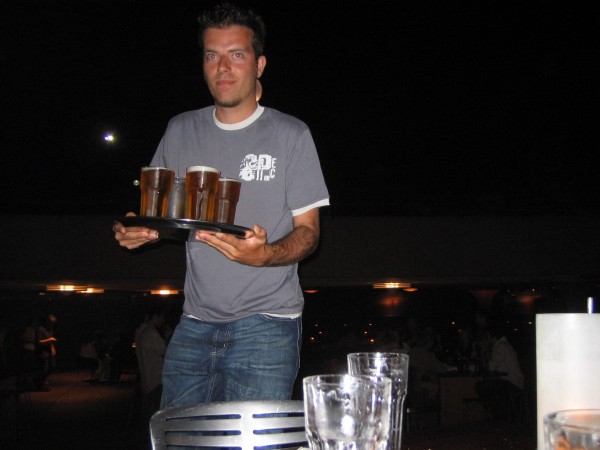 Gin buying booze at the Opera Bar
We met Mark and Karine on Bronte Beach one day, it was really cold (in my opinion) but it didn't stop us burying each other in the sand (except for Karine she is pregnant after all). I don't really like the feeling of being buried but it was fun anyway. You can really feel your pulse shooting around your body when you get buried in the sand. We then proceeded to dig the biggest hole in the sand you could ever imagine. This ended prematurely after one of the lifeguards told us it was dangerous and people had died digging holes. Which to be honest seemed a little bit over-the-top as he was telling it to us as we stood next to our 2ft hole and our average age was about 25 and are all around the 6ft in height mark.
Gin, Cecile and myself went to Taronga Zoo another day. It was a deceptively hot as we sat in the sun to watch the bird show at 3pm, the highlight of the Zoo –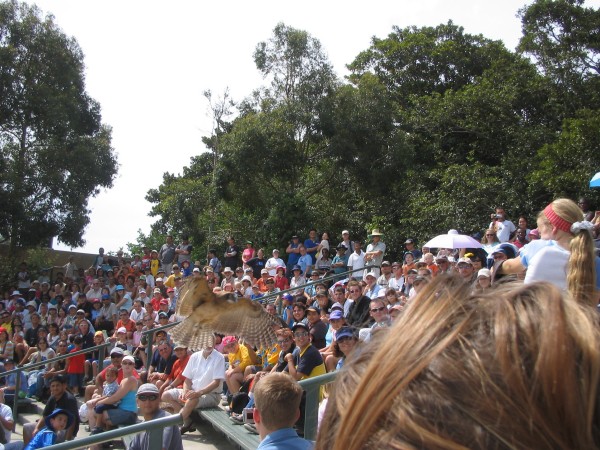 An eagle about to land on a very scared girl's arm
Mark and Karine's last night in Sydney came far too quickly. We met them in the Fitzroy pub that is in Woolloomooloo and had a few jugs!! –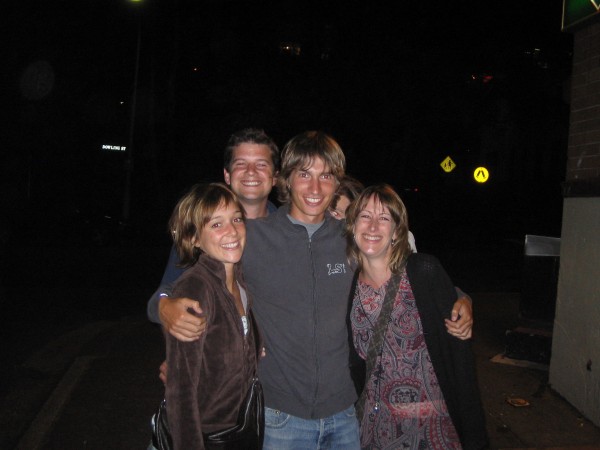 Cecile, Mark, Me, Andrew's Eye, Karine
We then had Pizza at Sydney's 2003 award winning pizza restaurant. This was a real test for Gin as he rarely eats italian food outside of Mamma and Papa's house or Italy. Thankfully Gin thought it was pretty good (cooked on open fire and had a thin base) here we all are having a great time in the Pizza place –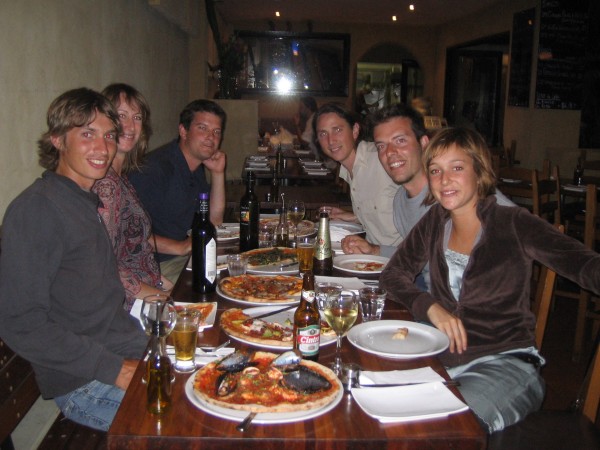 So I said goodbye to Mark and Karine and that was sad. Although I cannot wait until that start of September 2005 for their wedding in Nice (France), it is entirely going to rule – and I also get to go to France, j'adore la Francais!!
Gin's last day today and Cecile, Gin and myself did a bit of walking around Sydney to get some final pictures and walk across the bridge and see Kirribilli. On the way there we saw Sir Richard Branson on a boat. He was a bit of a hero of mine when I was younger so it was funny to see him in the flesh. I have no idea what he was doing but obviously it was something a little bit dangerous. Here he is on a rowing boat outside the Opera House. He said "hello" and no one answered, I think someone might have waved. He then said "see you at the Opera House" and they sailed off, followed by about 30 camera men. It is not often you see a billionaire that has been knighted by the Queen and owns a company that may be one of the first commercial ventures to put people in space as tourists. Here is the crazy guy himself (in the black t-shirt) –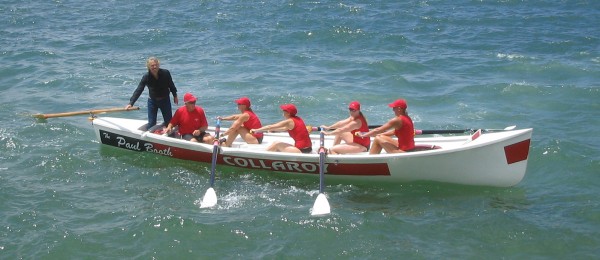 On the note…until the next time.