Update: The Manly Daily, Manly's finest investigative journalism newspaper, reported that a Fairlight unit was engulfed in flames after a resident left clothes to dry over a heater while she was out. A women who lived directly opposite called the fire bridge as smoke was pouring into her flat, in the commotion, Bubbles, her black and white silky terrier escaped. So everyone in the Manly area please keep your eyes open for Bubbles.
I'll be honest, not that much happens during the day when you are at home. However, today was a little bit different. Just before lunch I started to smell plastic burning, I looked out of the window to see the building opposite was billowing smoke out of the side –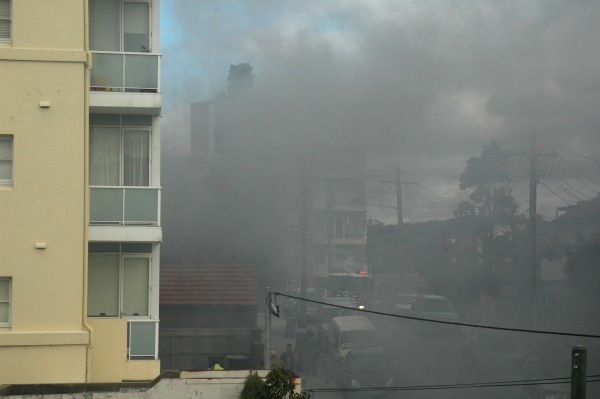 Fire Engine on its way in the background
I can only imagine it was a "slow emergency day" for the Fire services as within 10 minutes there was six fire engines from as far out as Crows Nest. There were also three police cars and one ambulance.
The situation became so intensely dangerous that, at one certain stage of the unfolding events, this police officer blocked off access to the one way street with these four traffic cones. This was highly necessary.
Cones layed down as an extra precaution
Thankfully no one was hurt (to my best knowledge) and within one hour the emergency was over, names had been taken down and a full enquiry will no doubt be under way.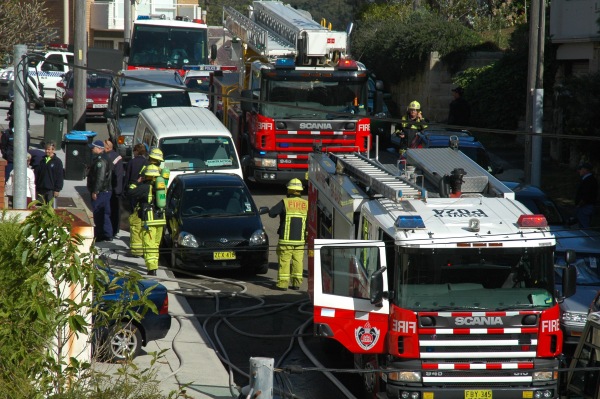 Fire Under Control – Manly Safe Once Again