Holidays from work don't typically last 45 days so it's probably obvious now that I am no longer on holiday, but I am still in Australia! So here's how that happened:
One day whilst on the beach with Marcus he talked about his agency offering him sponsorship. So I gave them a call, told them what I do, lined me up an interview and before the week was out had a contract job downtown and a visa to stay in Australia until 2010*! The job is cool, it is doing C# .net programming! I had ended my current contract in UK just as I left so the timing was perfect. Although sorry to everyone I did not really get to say goodbye to, I kind of went on holiday and didn't come back which is a bit weird I suppose but when the moment comes you have to take it. If anyone wants to buy a red Audi A3 let me know!
I would have been too sad to say goodbye to Amy and she was going to move to Sydney anyway, so we have moved in together in a nice little flat in Manly. A bit of a nightmare finding somewhere to live which is furnished (very few and far between in Sydney). Thanks to Simone and Stu for letting us stay in their spare room for so long, we owe them big time.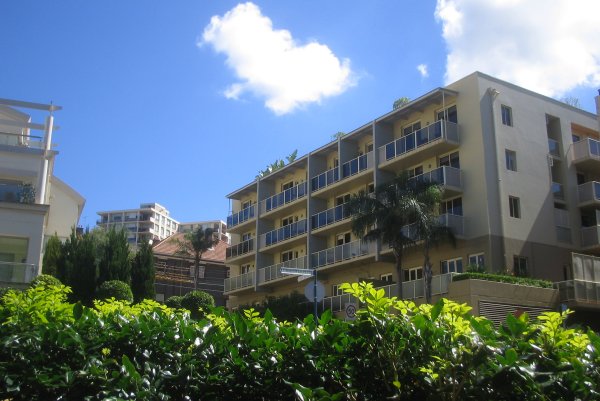 We are on the 3rd floor (2nd if your English)
Here it is from the Wharf –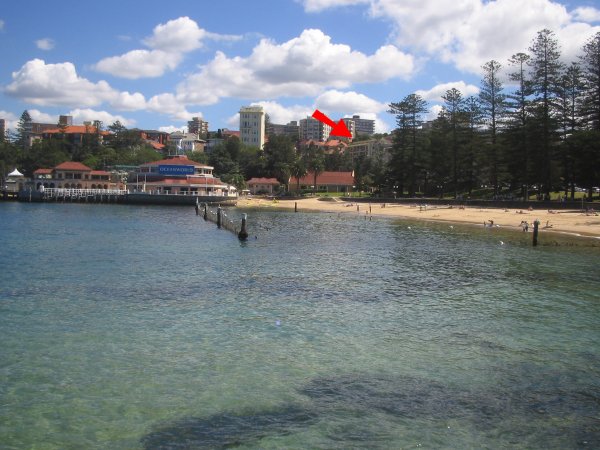 Closest I've lived to Sharks (Ocean World)
and again with a view from our balcony at night time (you can see the Manly ferry at the wharf)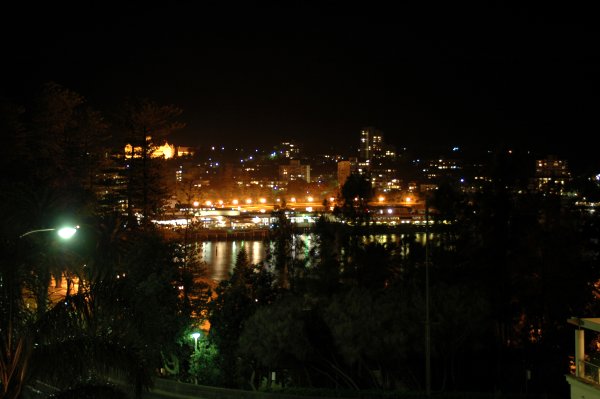 Our balcony view!
Here's the living room, the black wire is for the little speakers on the cabinet and is not a permanent fixture –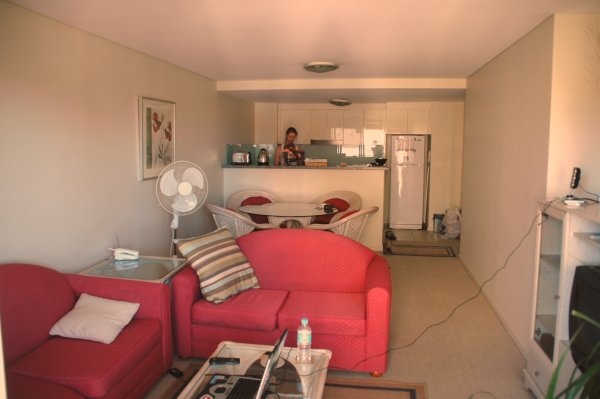 Living Room with Amy
So yes, now we live 5 minutes walk to one of my favourite beach breaks, rather than a 5 hour drive! Although one problem is that I have another month of physio before I can even go out in the water! Oh the irony! I also visited the surgeon who told me that there was an 80% chance of it happening again. Which isn't good, as it's possibly the most painful pain I've ever felt.
Journeys to Sydney are more like a bit of an adventure. The quickest way to work is on the ferry which always reminds me of trips to Calais, France from Dover in England without Duty Free. The other morning Amy had to go to the gym really early so we were some of the very few people on the Manly ferry that morning. I took my camera and took some pictures of the early morning light.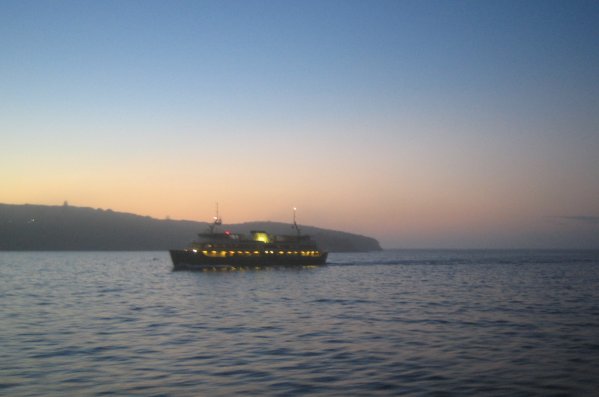 The other Manly Ferry just before we pass the heads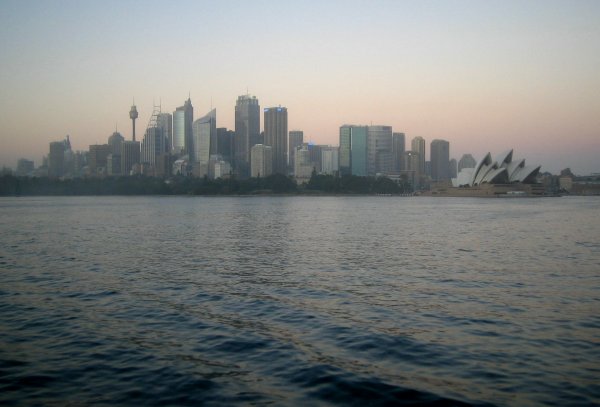 Sydney 06h30.. on the way to work
We celebrated Simone and Stu's anniversary with a dinner at Milson's Point just under the harbour bridge just by Luna Park. It was a nice night out and also a bit surreal eating right under the Opera House!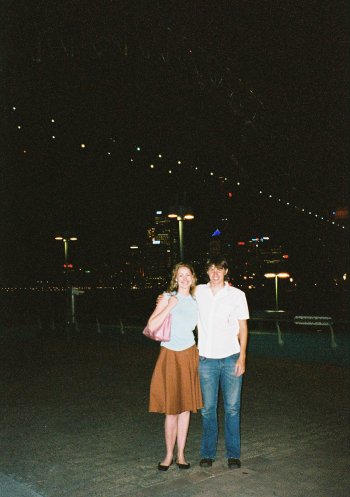 Amy and me @ Milson's Point
So to wrap it all up with another final little comparison picture (my favourites) –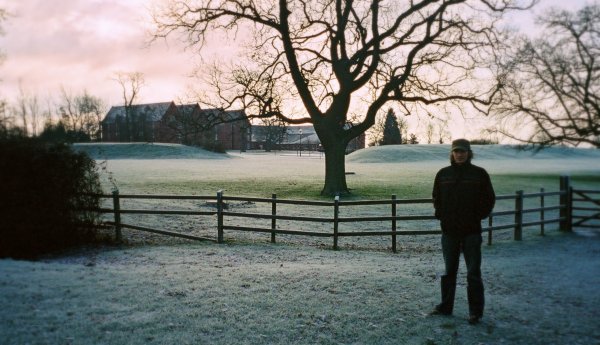 The cold cold harsh English winter in Warwickshire, England – February 2006
vs.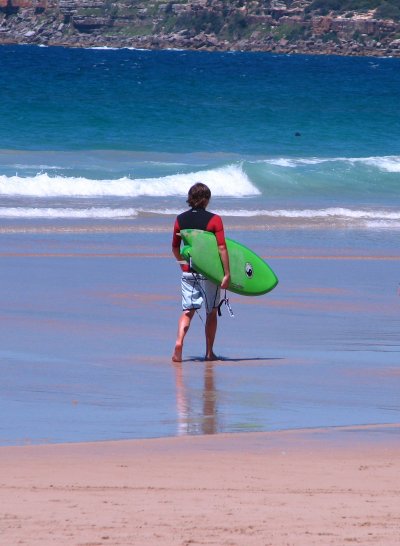 Going out with the green fish (pre injury days) Freshwater, Australia – March 2006
Looking at that last picture, I'll never go out surfing when it's like that again. "High tide the wave of your life, low tide the end of your life" says the Rip Curl tidal chart attached to the fridge which I'll be paying a lot more attention from now on.
Peace out for the time being, I have to get back to my physio exercises and do loads of stuff getting everything sorted out. Then I will finally get time to sort out some videos, I have lots and lots of footage to make some cool stuff with.
Also our flat is only one bedroom but one of the sofas is a fold out bed so everyone is welcome to come and visit whenever they want!!! And Sydneyites, stay tuned for the house warming!!!
* I have to work to keep the visa.