Last weekend we celebrated Christmas at Leura Dairies, an award winning eco retreat in the Blue Mountains (although there's nothing eco about my 45 minute showers), a very similar trip to the one I wrote about 4 years ago to the day. Doesn't time fly! Here is Amy in Leura downtown where it really did feel like Christmas –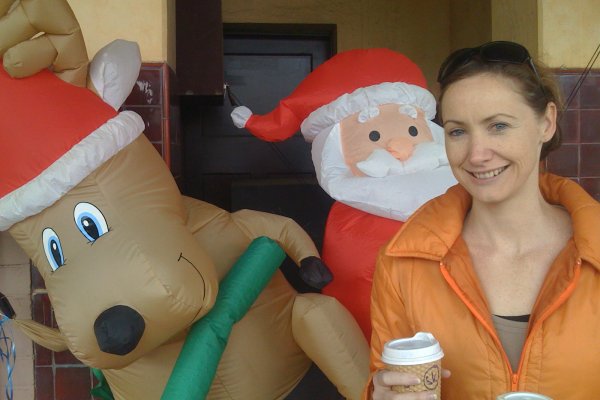 Amy with Rudolph, Santa and a Cappucino; the life blood of Champions

Rach had organised for us to stay at Leura Dairies which is a converted dairy which had a main house, a workers cottage (where Amy and I stayed) and a studio apartment – and also an out door hot tub!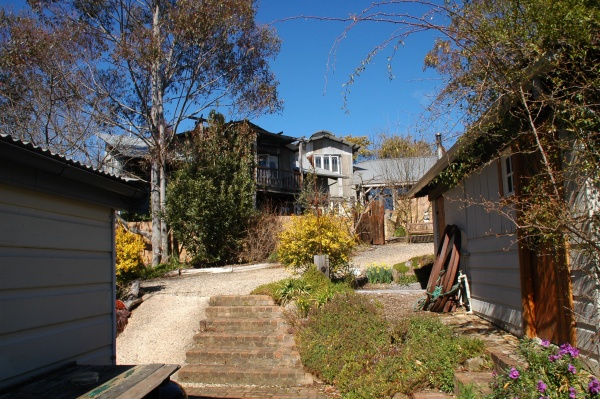 Leura Dairies
We drove up after work on Friday taking the express toll route out of Sydney, it is a fantastic way to get out of the city as it is very fast but the downside is its about $20 worth of tolls! It was cold up in the mountains but warm in the house so we relaxed and had a few drinks with the 17 other guests we had for Christmas!
The next morning Matt played us a potential new track for the band BhangLassi which was great and we had breakfast in dribs and drabs as people got out of bed in the morning after a heavy night of boozing. After burning myself on the grill cooking bacon Amy and me headed up to Leura where we looked around the shops and then headed to Echo Point.
Echo Point is underrated as a spot, kind of like the poor mans Three Sisters, it is one view point down from the Three Sisters at Katoomba but offers the same view, you also get to see the Sisters from a different angle, rather than real close up. Here's Amy and me in the way of the view at Echo Point –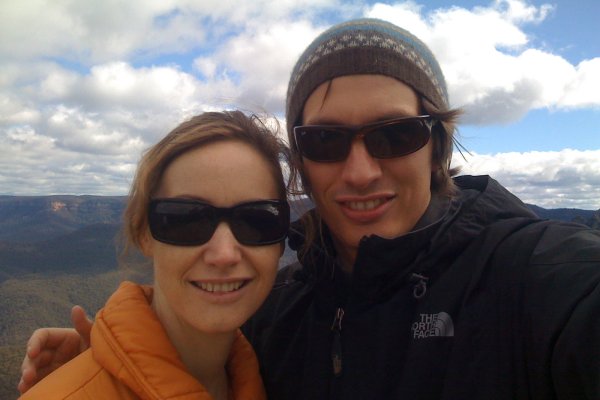 Echo Point Far Away in Time
We got back and dinner was already being prepared, cooking Christmas dinner for 19 people is no easy task. We talked about how hard it must have been in our grandparents days when they had families of 12 and had to cook like this everyday (although not sure they had Christmas Dinner everyday). Everyone was given a certain task to do Amy's was to make a starter and mine was to make a dessert.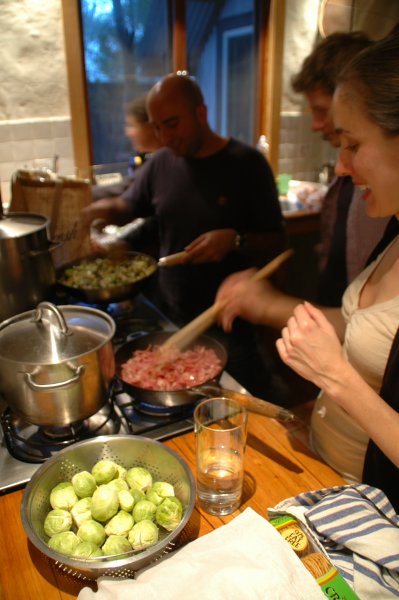 Jacqui, Sleiman and some Brussel Sprouts
Christmas evening was great fun, things started to get a bit crazy with Christmas Hat making which Mike was really into and Alita's creative side meant we had some fantastic creations –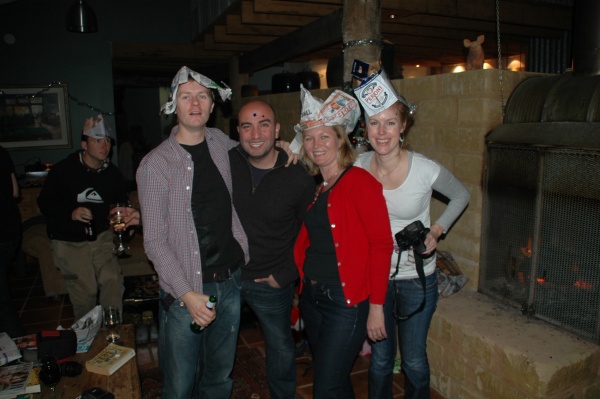 Mike, Sleiman, Alita and Mel – Crazy Hats
When dinner was ready we had the Christmas tunes pumping out of the ipod and the fire was roaring it was very Christmas like, except for the Australian guests who thought it was a bit strange (particulary those from Queensland Mel and Amy).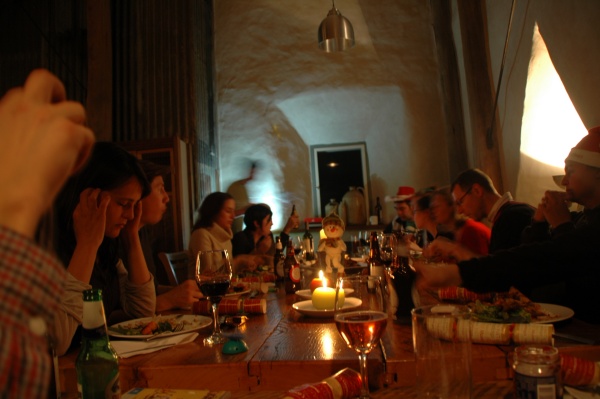 Christmas Dinner
We held a secret santa game where we sat in a circle and a person choose a gift, they opened it and if the person sitting to the right of them wanted it they could take it it was a great way to do secret santa. I got some playing cards and Amy got some Brazil Nut Body Butter from the Body Shop.
After dinner we played the game which I invented with Amy (although it may have been invented before hand I'll have to look it up) where you use an iPod or iTunes and you play the first 2 or 3 seconds of a song and you have to guess the name of the song and the artist and for bonus points the year. To finish off what was already a fantastic evening the subbuteo was ironed out and a championship was help – we even had stadium style spotlights for the games –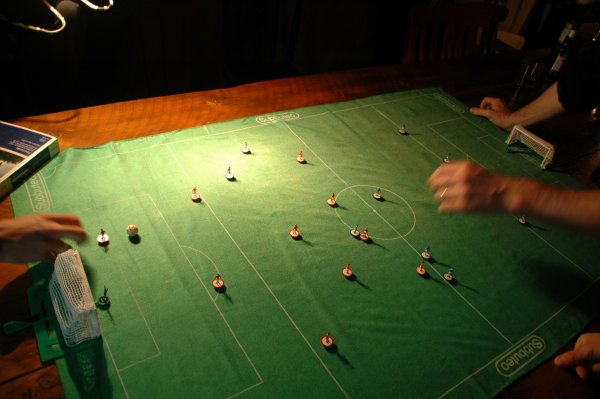 Subbuteo Championships at Leura Dairies
A fantastic weekend I wish it was Christmas all year round!