Last weekend Amy and I got cheap flights to Tasmania. Where is Tasmania? You may ask. It is a small island located in the bottom right hand corner of Australia as you look at in on a map. I've added a picture of Australia and a reference for locating Tasmania below –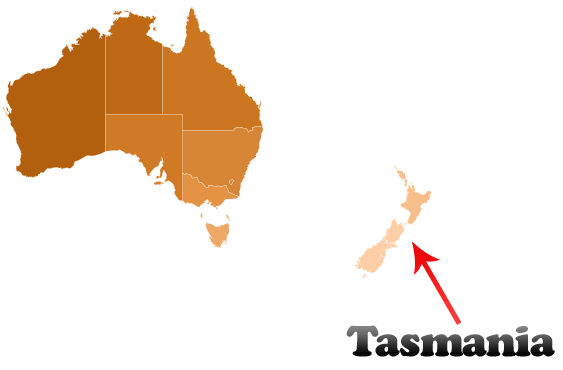 We got a fantastic deal on the flights and saved ourselves $20 each by getting the 'light flyer' option with jetstar, which meant that we could only take carry on baggage. We bought special suitcases that pass as cabin luggage but still carry a lot of clothes for $100 each, thus a total cost saving of -$80 each.
We booked a suite at the Cradle Mountain Lodge that was recommended to us by everyone so we needed a method of getting there as it was a 2 hour drive from Launceston, the airport we flew into. Our luck had started as we got a "double upgrade" on our car from the basic little cars to a nice Mitsubushi Lancer MI-VTEC. For all the top gear fans, I'd like to say it was a decent car, it was asthetically very nice and it was spacious and easy to drive, however, it lacked any real power and didn't really feel like it was doing anything when pushed to 100 from zero which felt like it took about 10 minutes. I certainly wouldn't recommend buying this model.

Hire Car with Hydro Plant in Background
We got to Cradle Mountain driving at dusk and nearly running over about 30 paddy melon's. We actually saw a Eastern Quoll on the road but didn't know what it was until later. After the "double upgrade" on the car we thought our luck had come to an end, but not so in Tasmania! The lady at the desk upgraded us from the room we had to the King Billy Suites. This was actually the room we wanted but couldn't justify the extra costs. It was probably the best hotel experience I've ever had, it had a double shower, our own jacuzzi and a fire place that was fun to get going –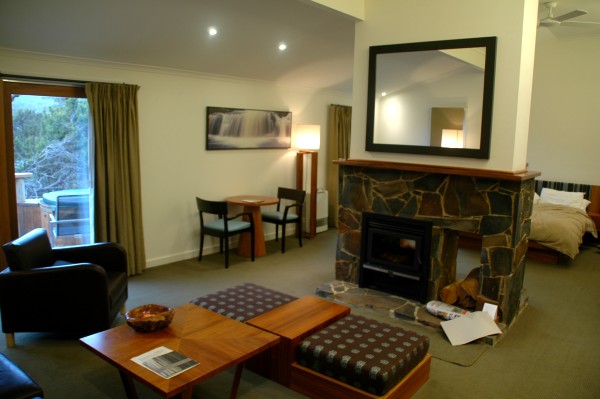 King Billy Suite
The next morning we walked down to the main lodge to get breakfast, the walk was down a little footpath and it was icey cold, we came across a lake which had a few lodges around it for this fantastic view –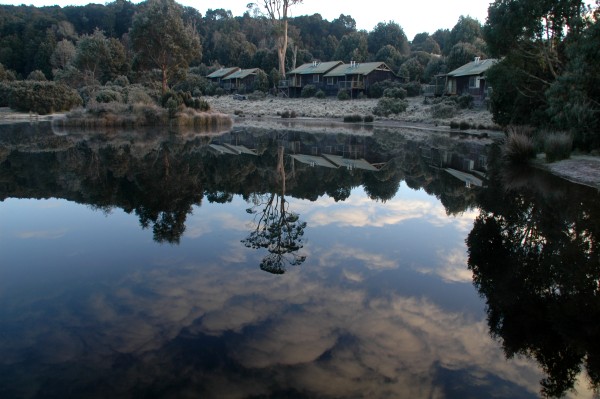 Lake in the Morning
After breakfast we put on our thermals and hats and coats which we have not done since going to China and the UK and headed down to the actual Cradle Mountain to do some endurance walking. When we got down there we settled on the 2 hour Dove Lake circuit which was a boardwalk around the outside of the lake. Taking all precautions I signed our names into the walkers registration book and we headed off. Cradle Mountain itself is fantastic and the walk lets you take in some great scenary, waterfalls and 'suicide rock' which was in the rock in the left hand of this photo next to the water (you can walk right on top of it) –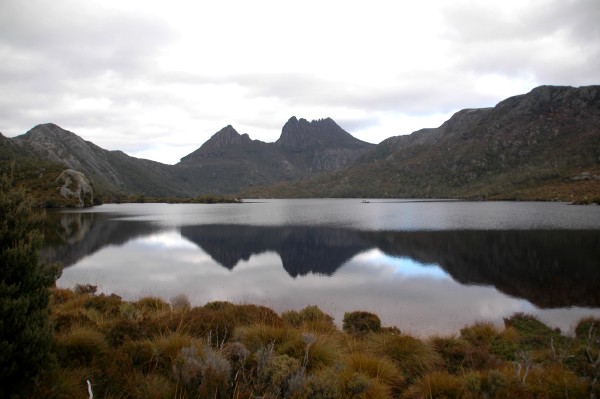 Cradle Mountain Itself
We were exhausted from the walk because lets face it we are no Rach and Mike so we headed back to our King Billy Suite and had a relaxing afternoon in the jacuzzi. Outside our door was a little paddy melon pademelon that was having a nice time eating a piece of apple –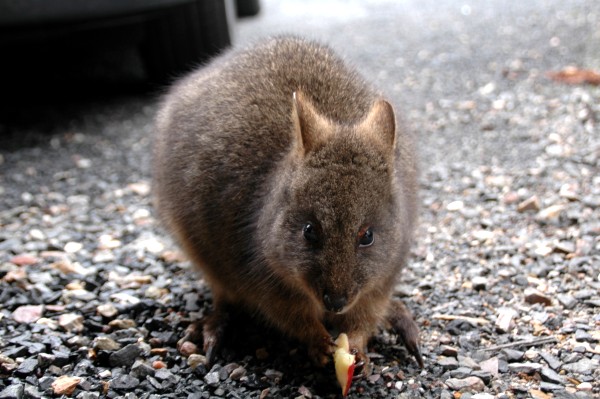 Cute Little Pademelon
That evening we went on a night spotting tour in a 4WD which probably had the worst window visibility vehicle I'd ever been in, however it was still good fun to drive around with an informed national park driver and shine bright lights into these little creatures eyes (they didn't seem to mind but I can't imagine spotlights shined onto nocturnal animals is very good for them). We saw another Quoll which was very lucky apparently and loads more pademelons. We then saw a wombat with a joey and another type of kangaroo different from the pademelon.
Here's me with the spotlight tour vehicle which deceptively looks like it has great window visibility –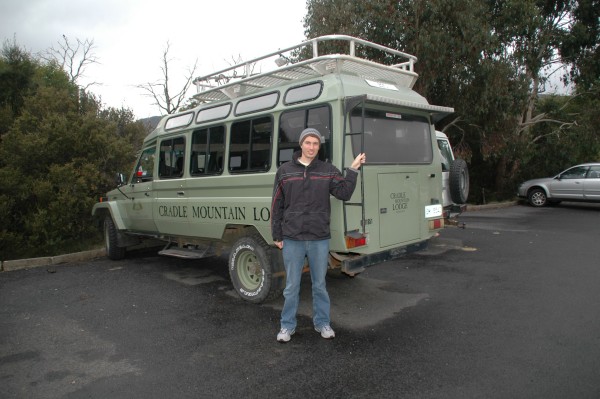 Cradle Mountain Spotlight 4WD
That night we went to the restaurant which was very nice, I had a pancake thing which had beans in it and lots of butter. I probably wouldn't have it again but it was good to try something different, Amy had Lamb which was very nice. To get a wine you go down to the cellar and choose one yourself which Amy thought was brilliant.
On our last day we did the shorter King Billy Track walk which took only 40 minutes and I found out that King Billy wasn't just the name of our room type but actually a type of pine. Here's Amy with the sign –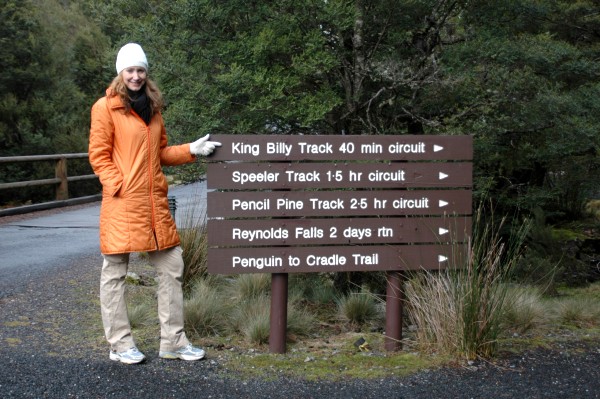 Amy and the King Billy Track
Our flight out wasn't until late so we drove up to the North of Tasmania to check out the wine region. It was very nice but not as bustling compared to the Hunter Valley. We also checked out Launceston town centre, it was a bit depressing to be honest just a high street and a Myer's that looked like it was stocking mainland Australia's rejects.
It was a brilliant weekend and vey relaxing if you ever get a chance to go to Tasmania and want a nice relaxing time I recommend the Cradle Mountain Lodge King Billy Suites and they didn't even have to pay me to say that! Video coming soon in High Definition!