Last weekend Lorraine and Matt were kind enough to invite us down to Helensburgh (pronounce Helensberg) for the weekend. Lorraine and Matt moved there a few years ago and have taken a lot of the Woolloomooloo crowd down there with them, Gaétane, Andrew, Chris, Esther, El, Al and their entourage of children.
Helensburgh is about 1.5 hours drive from Manly or about a 1 hour train journey from Sydney, making it within commuting distance if you work in the big city. Manly to Helensburgh feels like a long journey though because you have to go through the city and put up with all of the traffic that brings so it actually feels like a holiday by the time you arrive.
We arrived on Saturday morning and Matt gave me a tour of their house, Amy has already been down twice but this is my first visit to Helensburgh save for weddings and trips to nearby Stanwell Park. It's nice to have a house with lots of room and a garage where you can put things like bikes and cars! L&M also have this chicken that doesn't actually do much egg laying apparently –

Matt and Lorraines Chicken
It was my job to feed the chicken, which wasn't very hard, I just had to chuck food off the upstairs balcony into her pen. At lunchtime we headed off to the Helensburgh fair that was by chance happening that day, we bumped into all of the people we knew down there which was great and really nice to see them all again. Helensburgh fair had a "free books" stall where the books were free and Andrew got lots for his collection.
Afterwards we headed over to El and Alex's house for a cup of tea and to see their new place which they'd recently moved into down in Otford. It was a beautiful sunny day and a great opportunity to take advantage of the large balcony and garden they had!
Gaetane had organised a PechaKucha at the Otford tennis court hall that evening, which is basically where you do a 6 minute presentation with 20 slides on the topic of your choosing. I was getting ready to meet lots of new people and it turned out the majority of them were people I knew which was strange for a place I'd never been to before!

PechaKucha at Otford Tennis Court / Village Hall
That evening Lorraine and Matt had prepared a fondue, El and Alex also came over and we enjoyed cheese fondue, followed by steak and salad followed by dark chocolate Fondue, followed by Cognac. It was delicious and really good fun –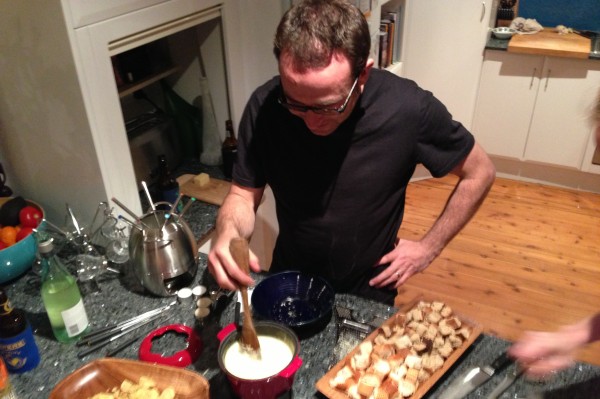 Matt doing Fondue prep work
The next day we headed down the coast to Coledale Markets, where Gaétane and Andrew were running their stall – Plat Du Jour – La Crêperie. It was great seeming them at work and to finally taste one of their crepes. I had my eye on the salted caramel one since the beginning and I give it 10/10.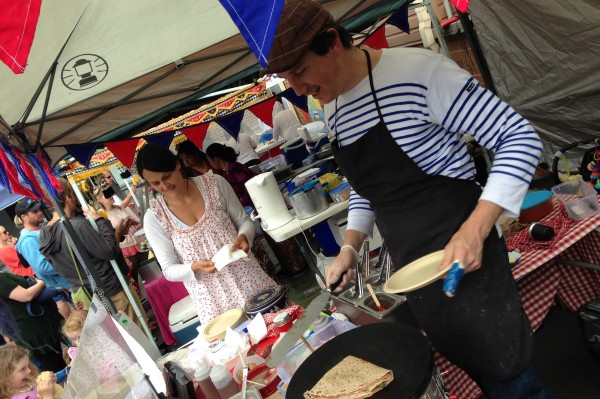 Gaétane et Andrew à l'étal de nourriture Plat Du Jour – La Crêperie
The Coledale markets had a cool sitting area and we sat in the sun and drank some coffee and tea with Matt and Lorraine before heading up the coast to checkout a pub and watch some hand gliders at Stanwell Park. Matt had asked if I wanted to try it out and I said I "wasn't ready" – we went down the beach to watch some landings and I filmed some on my phone. It wasn't actually windy enough for hand gliding apparently but one guy on a performance hand glider took off. Matt said to us, the worse thing that can happen is you land in the ocean. So we watched this glider come down the beach and then… crash into the ocean. He was lucky he was so close to shore and the life guards could help him as the seas were 4-5ft!
Here's a panorama I made on the new iPhone 5 of Stanwell Park and the South Coast from the top of Bald Hill.


iPhone 5 Panorama at Stanwell Park
That afternoon we popped in to see Chris and Esther at their new place in Helensburgh (5 mins from Matt and Lorraine) and then headed back up the coast to Sydney, popping in to Potts Point to visit Marcy and Chris and see their new car and then go to Chiswick restaurant to belatedly celebrate Chris' birthday (and give him his birthday gift).
A great weekend and looking forward to our next trip down the South Coast! Thanks for the hospitality Lorraine and Matt!