"Where do penguins keep their money…..where do penguins keep their money? In the snow bank…….it's a seasonal joke" – James Iha.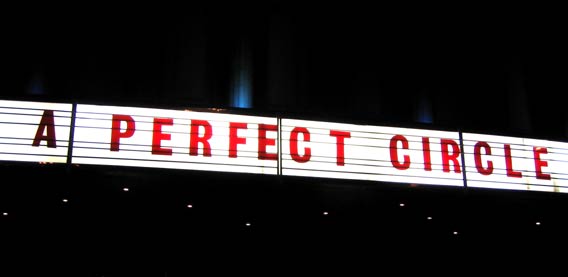 Auf Der Maur and A Perfect Circle – London 03/02/04
I headed west to go to this concert in the knowledge that the only reason I was going was because I was a Smashing Pumpkins fan and I wanted to see James and Melissa again, sad but true. Hate me for it if you want but a love for new bands has got to start somewhere. Melissa Auf Der Maur 'saved' the Pumpkins when D'Arcy left, if she had never joined, I may never have seem them live as the first concert I went to was one of Melissa's first in the UK.
When I arrived it was like stepping into a communist regime, I was stripped of my camera, it was replaced by a little purple ticket with the number '9' on, which looked just like a '6' when you turned it upside down – I'd replaced my $500 camera for this piece of paper!?! What sort of insurance was I going to get? The reason was "the band strictly forbids cameras". Ok so I was camera less and a little nervous.
I substituted t-shirt money for beer (Melissa's t-shirt on sale wasn't very good) and actually felt a little drunk by about 8pm – I'd put my 'camera replaced by worthless piece of paper' worries behind me. Melissa came out, she was wearing a white top with black leather skirt and brown knee high boots. You really can't fault her looks, added in with talent, moves and a bass guitar she is unstoppable!! Her and her Montreal band played a number of tracks off the album, I heard that she sang a French song in Holland, it wasn't to be here in London. The sound was excellent, I was concerned that her sound would be lower and muffled to give APC a 'wow' effect when they came on after, apparently this has been the case elsewhere. I think Melissa has to get her stage banter sorted, she said something like "here you are after dinner time, ready for your desert……raw". It was bucked tooth cute, if you know what I mean. One of my favourite tracks (that sounded better live than on the album) is 'I'll Be Anything You Want'. Among other tracks Melissa played 'Would if I could', 'Taste You', 'Skin Receiver' (I think) and she ended with Follow the Waves which got a cheer. Mr Iha came out for one of the tracks, it was great to see the two together playing! Excellent! I could have left when Melissa stopped playing, it was a good enough concert as it was. The person sitting in front of me did actually leave when Melissa had finished! The bassist of Melissa's band is also female, when the lights came up and Melissa went off she helped clear the stuff away – it was a funny sight to watch and think oO "I wonder if she will be in Melissa's shoes in the years to come".
Ok, APC, I had bought the 'Thirteen' album on Saturday morning, it is good, although sometimes the tracks merge into one. Maynard's voice is one dimensional in its sound but unique and amazing all in one hit. On stage James was to the right of Maynard on a platform, Josh to his left and Jeordie and Billy infront. I have no idea what Maynard looks like, the lights were never on him, people taking photographs were escorted out of the room (I imagine to be lined up infront of a firing squad Saddam Hussein style). His silhouette looked like a younger Ozzi Osbourne – it was all very bizarre. Maynard does have an excellent voice, and it would be hard to tell the difference between a studio track and a live track. I did have my doubts at some stage if he was actually singing or they were just playing a tape.
James told two jokes, both were rubbish. They were to prove that they were not funny people. James and the bassist both sang a song. The gig ended with a standing ovation and James doing a little song while Jeordie played the drums!!
A good night out, I got the train back and sat in a carriage full of well educated stoners who had nothing but praise for the night. When I got back, I found two tickets for Melissa's UK debut in two weeks!! Yay!! That will be really good!