Matt, Mike, Fiona, Rach and myself headed down to Huskisson on the NSW South Coast near Jervis Bay for a weekend of relaxation, camping and surfing. My car is still broken so I got a lift down with Rach and Mike on Friday morning for the 2 hour drive to Huskisson. You may remember my earlier camping experience mostly involved danger. That is not necessary anymore, I have become accustomed to the Australian wildlife and now it is a pleasure to sleep with deadly snakes/spiders/mosquitoes all around me.
We stopped off at a place called the 'Yallah Woodshed' on the way down the coast, where we asked for some Lattes. They only had 'normal' coffee and looked very angry that we decided not to eat anything. In fact the whole place felt a little bit 'red necky' and we were worried they might even spit in our drinks. Us English town folk wanting Lattes in the middle of nowhere was a tall order I suppose. We then hit a lovely little town called 'Berry' where we had luncheon – I had the Nachos, I was not too impressed but the milkshake made up for it. I also bought some surf wax in some back street surf shop that were very friendly.
So we setup camp next to the tidal creek just close to a little town called Huskisson. Here is the view from our camp down the creek, breath taking –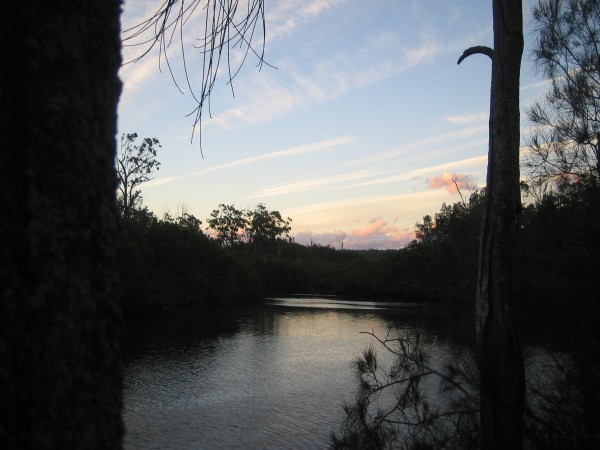 Matt and Fiona did not arrive until the next day, so Mike, Rach and myself headed into down town Huskisson where we enjoyed a drink at the 'Husky Inn' and then returned to the camp for a nice little feed up some more drinks and then a pleasant night sleep (listening to the rain) in our tents. The next day Rach woke up with a really bad throat so went to the hospital in Nowra (there's no doctors in Huskisson) – so, after a strawberry sandwich in Huskisson, I headed to Cave Beach when Matt and Fiona arrived for some serious surfing. The surfing was ok, most of the breaks were right handers and it was really big out back. I rode one really nice right hander which was good practice as I am goofy and prefer the left handers much more. That night we had a superb dinner (which I cooked but Rach did most of the work – i.e. she bought all the stuff and chopped it up). Here are the rest of the gang eating the lovely food –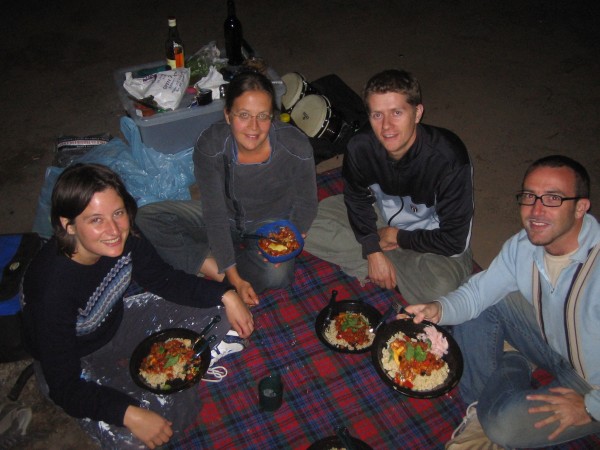 Fiona, Rach, Mike, Matt. Basil from Wagga Wagga.
The next day we went on this mad kind of surfari, not before a really very cold night in the tent (southernly winds and a cold front were to blame – welcome to NSW autumn). A surfari is basically a day spent driving around looking for waves rather than actually spent surfing waves. We found a beach called Kirby Beach but it was too messy for my standards, although Matt had a good try –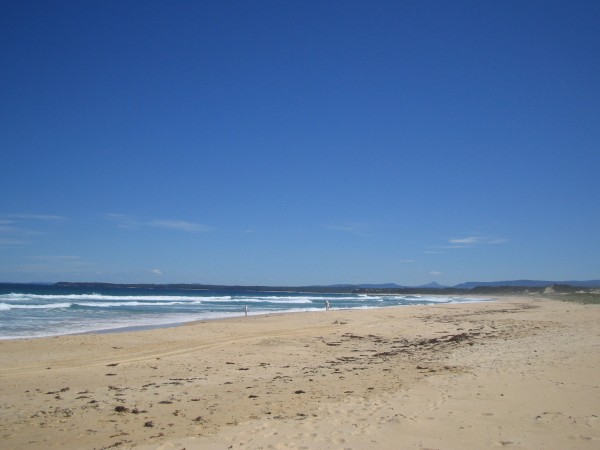 We then went to Hymas Beach which has the whitest sand in the world, but no waves (it is in a bay). We then had a look at Pipeline (which got it's name for its simularity to Hawaii's) but either couldn't find it or it was not happening. So we went back to Cave Beach where it was massive!! About 5-6ft at the back, it was too big for me so I did not do too much surfing this day, but it was nice to see. On the way back from the beach we saw all these Kangaroos having a fun time, so we took a picture of them with the boards –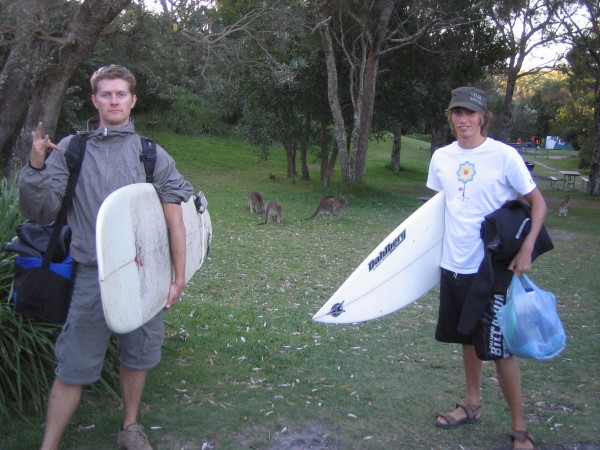 Mike and myself with baby Kangaroos
So we headed back to Sydney that night, stopping off for a McDonalds and then luxury cake and wine in a Tapas bar in Berry! Check out the video –
Another great weekend!!!