Hunter Valley at the Belleray
This weekend we visited the Hunter Valley for Amy's ongoing birthday celebrations. I think we should
try and extend Amy's 30th birthday party to last an entire year as it has been great fun the last two weekends and mid-week birthday celebrations.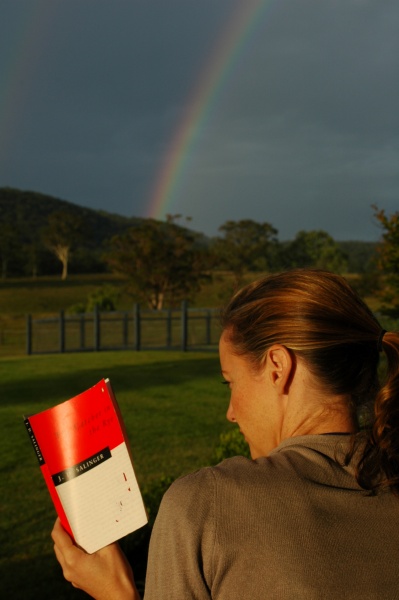 The Catcher in the Rainbow
We drove up to the Hunter Valley to some crazy sunny sometime, rainy the other time style weather, which made a great rainbow when we arrived at the Belleray Homestead, a house that Amy booked for the weekend. When we pulled up there was Kangaroos in the garden and "Bruce the Goose"  making a run for it, we snapped a picture of him (you can see him on Flickr).
The house was one of the most fantastic I think we've stayed in for a weekend trip. It was a huge place with loads of bedrooms and everything was new and there was no scrimping on the fittings neither. The towels were Sheridan and the toaster poped the toast up a variable speeds and the iron was the best irons I'd ever used. The only downside to the place was if you forgot something in the bedroom it felt like a 10 minute walk to go back and get it (it was that big).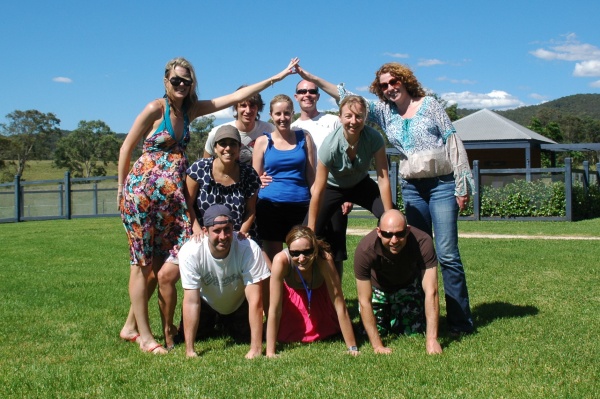 Team Belleray – Not sure how the photo ended up like this
Lucy, Marcy, Simone, Amy, Nancy, Lorraine, Chris, Stu, Marcus and I made up Team Belleray. On the first night Lorraine made a delicious curry which was really fantastic tasting and we went to bed with an early schedule of a wine tour around the Hunter Valley the next morning.
Eric picked us up in a mini-bus and took us around to lots of wineries in the morning. We were sipping on some wines at 10am in the morning. I'm not really a wine drinking but I really enjoyed tasting the fizzy varieties, sweet desert wines and stroking the wine yard dogs.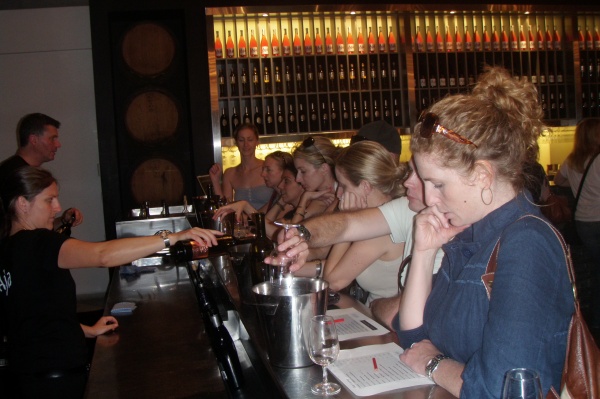 Tasting at Tempus Two
For lunch we went to Enzo and Pepper Creek for a light lunch. It wasn't so light but was fantastic!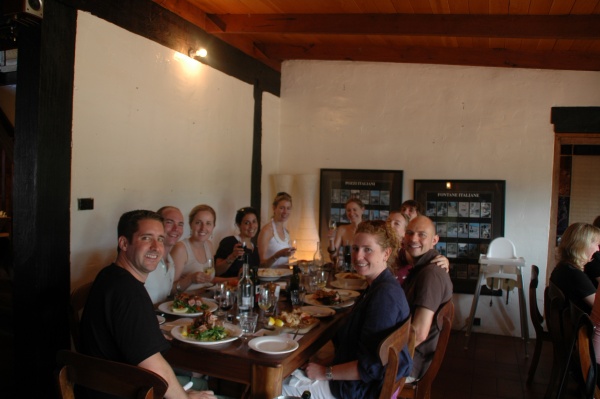 Lunch at Enzo's Peppers Creek
We wanted to save ourselves for our dinner that was going to be cooked for us at home by two Ninja Chefs. It was very LA rich and famous style having people come around to your house and cook for you. It was really fantastic and everyone dressed up for the occasion whilst the two ladies served us up with some Salmon, Lamb and a fantastic birthday cake for Amy.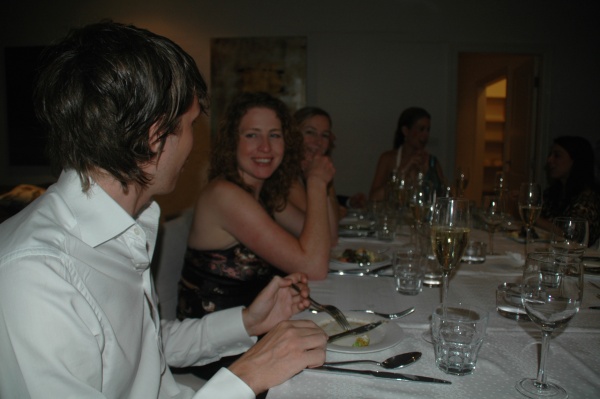 Posh Dinner in the Belleray Living Room
That night we played Nancy and Marcus' fun game where everyone has to write down three "things", I wrote down "Vincent Van Gogh", "Socialism" and "Pain au Chocolat". We then split into two teams and we had to empty a bucket of all these words written down one at a time by explaining them without using the word, when they are all run out you do it all over again but by miming, then a third round where you are only allowed to use one word. It is all timed and the person with the most at the end wins – it is great fun.
The next morning the sun was shining proper and the checkout wasn't until 4pm which was great. So we spent some time around the pool Miami Vice style and had a champagne breakfast –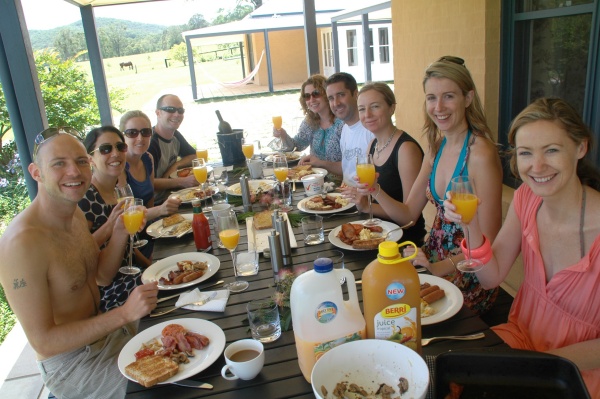 Champagne Breakfast
Breakfast was a fantastic effort and very delicious!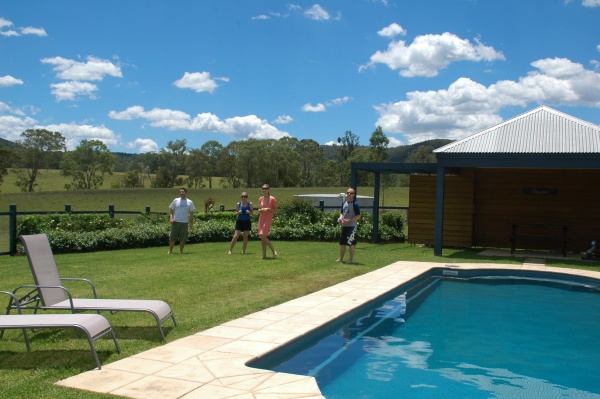 Chris, Simone, Amy and Stu playing Extreme Pétanque – Poolside

There was a little rowing boat in the lake at the bottom of the Estate, here's Marcus and Nancy taking it out for a row –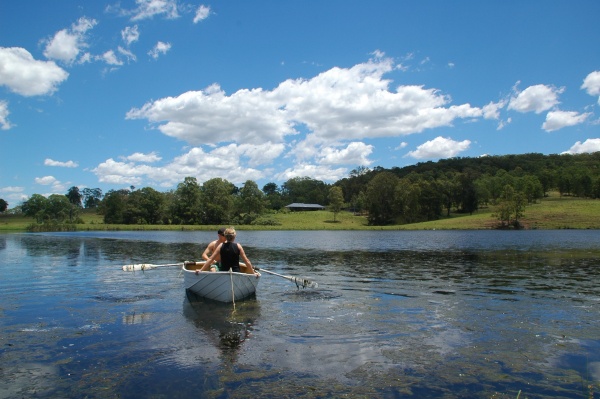 Nancy and Marcus on Lake Belleray
It was a fantastic weekend and I wish we were still there it was so great. Big ups to everyone that came. Ciao Bella!