I am not a very big fan of politics but it is very hard to not notice the political things that are going on here in Australia. The current prime minister of Australia 'John Howard' is up for re-election. A lot of Ozzies are not happy with their troops fighting in Iraq. Margo Kingston has written a book called 'Not Happy John' for all those interested in this viewpoint. Anyway you might remember the sky adverts that I was showing. Well today while we were at the Navy open day (where we actually got told off for entering a restricted area of HMAS Ballarat FFH-155) the plane was writing the title of the book in the sky. Later whilst we were at the Manly Jazz Festival I found this little sticker on a lamp post on the promenade –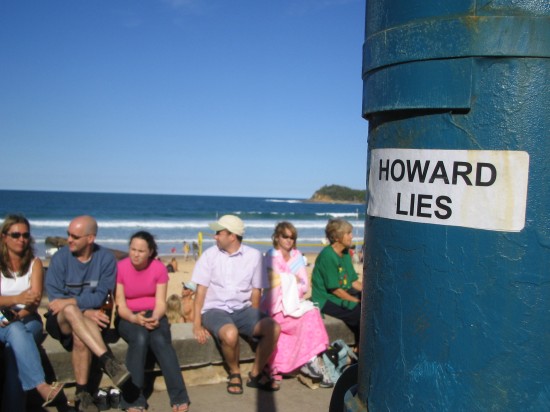 Check out the surf in the background. This is the southern end of the beach and it is still pretty good. The northern end has 5+ ft swell which is too scarey for me!
Went out this evening for beers to watch Roosters vs. Bulldogs. Bulldogs won (which was bad because Roosters are from East Sydney and that is where we live) – I did not get too drunk as tomorrow looks like a return to surfing!!! Woooo!!!