This bank holiday weekend Amy and I went to Nelson Bay on the NSW coast about 3 hours drive (including traffic) North of Sydney, about 45 minutes South of Seal Rocks. This post is geo-tagged so you can find out exactly where it is.
It has some amazing scenary and beaches in this part of Australia and we were lucky enough to get an entire weekend of blue skies and high twenties temperatures. We book a internet deal at 'The Landmark' hotel, which was a studio apartment with views of the water, it was very beautiful –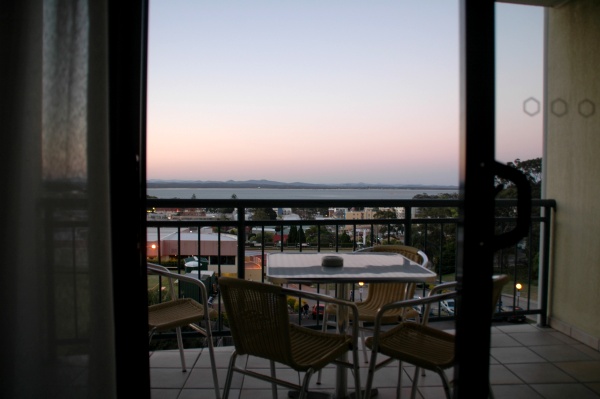 Earth Shadow from the Balcony at Nelsons Bay
We visited some of the beaches and found that Zenith Beach was quite easily our favourite, it was also completely out of the wind, there was no waves there though which was ashame but enough of a shore break to get some serious body boarding under my belt. Amy will not go in the water even though it is not cold at all, apparently its 'no where near as warm as Queensland', however this goes on all year around, even in summer.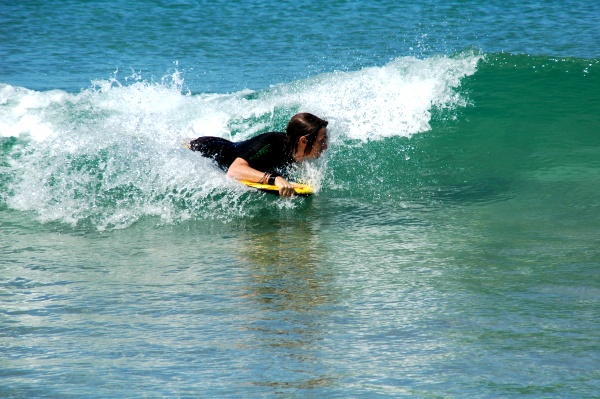 Zenith Lefts
We took a little trip to One Mile Beach where there was more of a wave and I mananged to get out on the board in some very small waves but it was good fun. We then took a drive to Stockton Beach, which is a 32 mile long beach, easily visible from Google Earth, of just a huge sand dune. It looks like you are in the middle of a desert from some angles –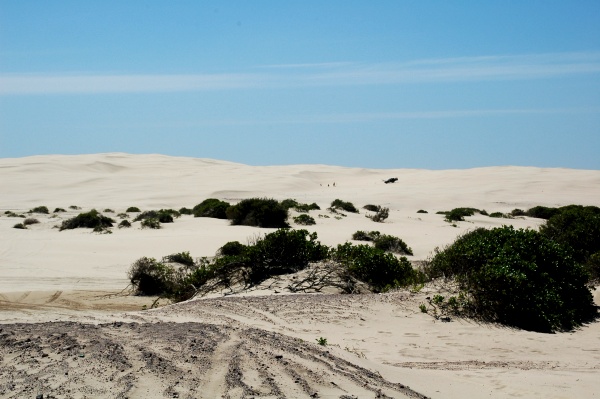 Stockton Dunes
Amy took this great photo of a Camel, which you can ride in exchange for cash –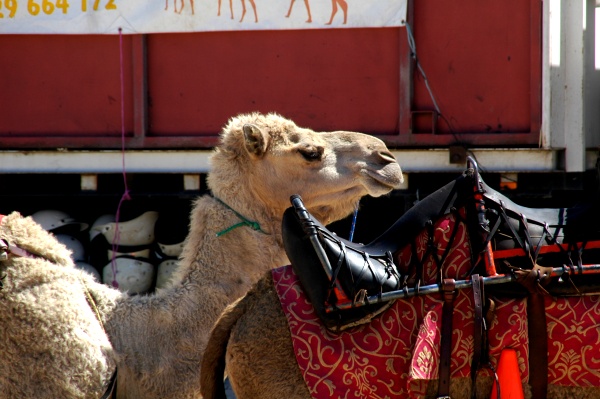 Camels on Stockton Beach
That night we went to 'Hogs Breath' restaurant in Nelson Bay which turned out to be a bit like TGI Fridays. We then went back to out studio and had some nice desert wine and watched films on the cable TV the room had.
The next day we walked up this massive hill next to Zenith beach for a great view of the beaches, Bhanglassi were recording their new album this weekend, so in support I wore the Bhanglassi Tape T-Shirt. Here is Amy and I at the top of the hill (forgot the name) with the great view in the background –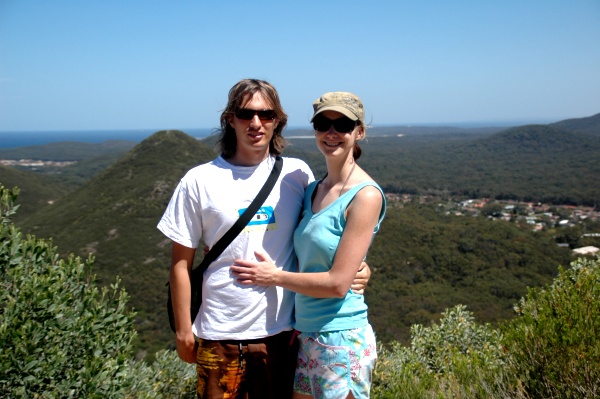 Top of the Hill
Here's a view back into Shoal Bay, beyond the point is Nelson Bay, you can see the wind was quite strong on the this side, but completely blocked out on the East facing beaches –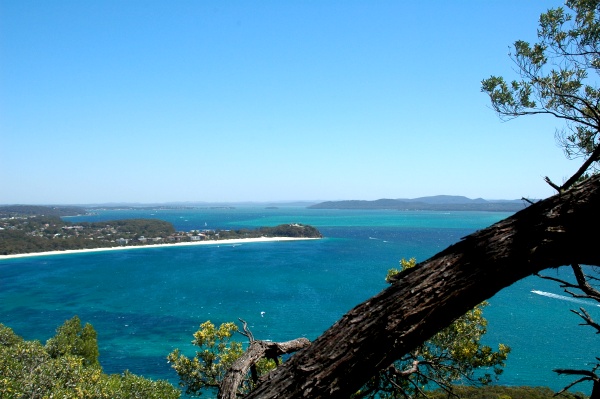 Shoal Bay from the top of the Hill
We couldn't really find anything wrong with Zenith, so we went back there again for another day of amazingly clear water and no crowds, which you really can't fault, here's me again killing some 0.5ft waves in crystal clear water –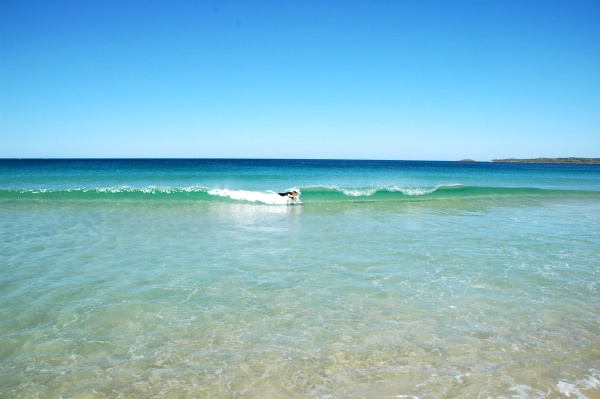 Clear Shark Free (hopefully) Waters
This is the path that leads to the Beach, with Amy standing at the top looking beach ready!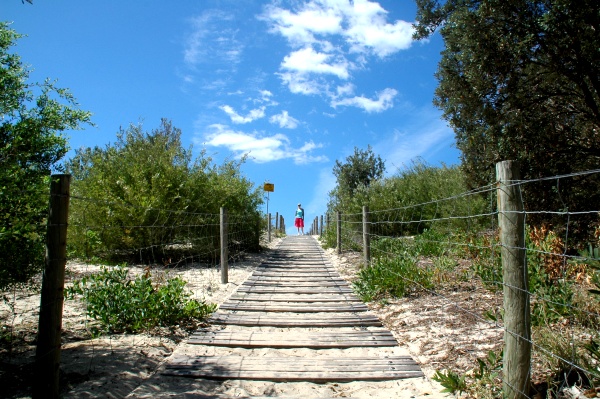 Amy at the top of the Steps
We met Tanya, Neal and Matilda (their little baby) at a Thai restaurant, Neal is an old colleague of mine and current colleague of Amy who moved from London as well, so it was nice to see them and their energetic 9 month old.
The next morning we checked out and went back to the beach again in the morning. It was hot and hazy and we noticed smoke coming from a nearby beach. Eventually this helicopter showed up and started scooping water from the sea to put out the fires –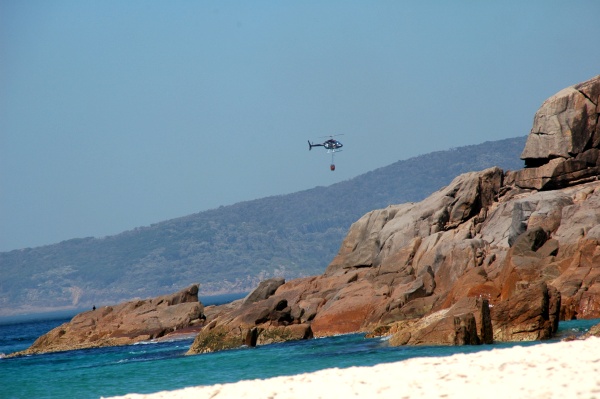 First day of Bushfire Season
All the great weather did have this bad side effect, the start of the bush fire season. Fires destroyed a home in Port Stephens on Monday morning.
Apart from the bush fires on the last day, a great weekend with very good weather and a real relaxing time! More photos on the book.