27 days without a blog entry, surely I've set a new record? We are down to one camera at the moment and that is a DSLR which doesn't travel well, so anything we do normally doesn't involve taking a camera. We recently went to Stu's 30th Birthday at Table for 20 in the city which was excellent and a very different dining experience. We also went to Simone's 31st Birthday dinner at a little restaurant in North Sydney which was also very nice.
This weekend was a big one and it involved cameras so here's a proper blog entry to celebrate! Although most of the photos are from Nancy and Marcus' camera.
Amy, Nancy, Marcus and I went up to the Gold Coast for a long weekend to relax, enjoy the more temperate climate of Queensland, do some surfing, eat out at nice restaurants and generally have a really good time. We covered most of that whilst we were away.
Amy's parents kindly let us stay in their beach unit at Burleigh Heads for the long weekend. Queensland and Northern NSW were just coming out of some of the worst weather they've ever had (although the good news is the dams are full) and the surf was still pretty full on when we arrived. The first night we went to a Thai restaurant in Palm Beach that we knew was good from previous visits. Marcus and I went over to BWS (Beers, Wine and Spirits) to get a bottle of Rose. We weren't sure which one to get but the guy there recommended we get one of the more expensive ones, which came to about six dollars each. I don't think it was a very good one in the end.
As you can see from the picture below the beaches have all but gone following the storms –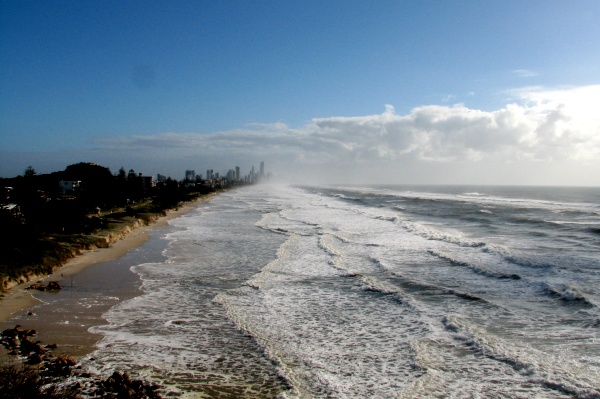 Gold Coast Beaches Destroyed
On the first full day we went to a restaurant in Burleigh Heads and met up with Amy's sisters for lunch. It was a good chance to see how the babies had grown up and see that Zara is walking now –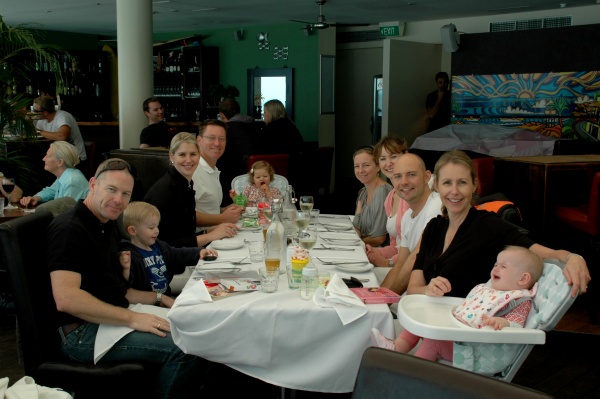 Lunch at Burleigh Heads
We then went for a little drive up to see the super bank and all the other surf spots along the coast there. They were all pretty brown and horrible from the storms but there were a couple of people out. We also drove up Boundary Street which has Queensland on one side and New South Wales on the other which Wade told us about last time we visited. In the summer they are in different timezones which must be confusing.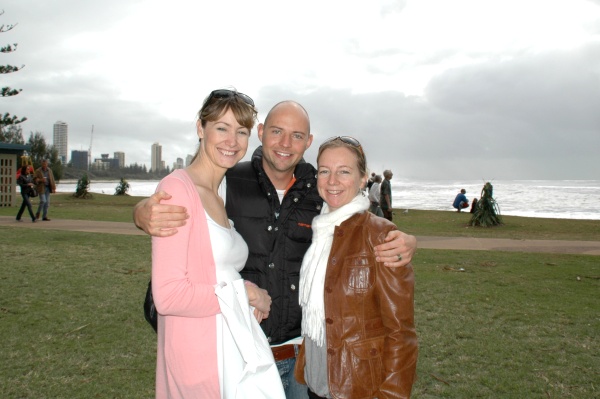 Amy, Marcus and Nancy at Burleigh Heads
That night we went to Broadbeach for dinner, which was very nice. The next day we met up with Uncle Jack (Marcus' Uncle) for lunch at Connors, which is a nice cafe in Burleigh, Amy ordered a burger and it came out without the actual burger inside of it which was pretty funny.
Later in the afternoon we decided we would visit the Hinterland, so we drove the hire car inland, unfortunetly I didn't see the signs saying "road closed due to landslide" so we didn't get very far but we did have a nice hot drink at a tea house on the way back – it is funny how cold it is in the Hinterland compared to by the sea!
One of the highlights of the Gold Coast is the crazy golf coast (putt putt) that is just down the road from the unit. It has three different style of games, water, jungle and one I can't remember the name of but looked liked a bad dream. It was good fun and we did the scoring properly as so it became competitive. Marcus did a fantastic shot where he said "this is how you do it" without looking, hit the ball, it bounced off two obstacles and went straight into the hole! I think he was fairly sure he was going to win, so when the winner of the first game was revealed… well, I'll let the facial expression explain for itself –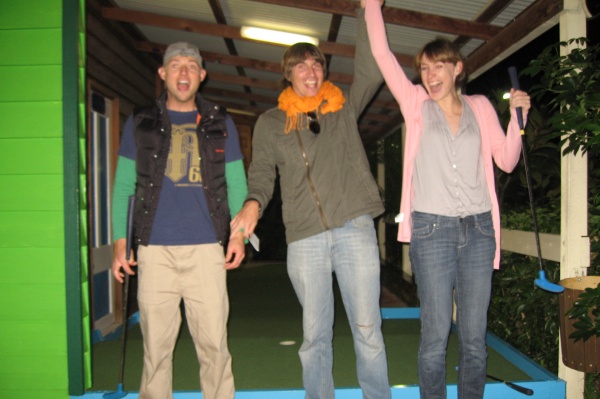 Amy Wins Putt Putt
We then had another round and Amy won that one as well! Just behind the Putt Putt course was Hooters. I've always wanted to go to a Hooters, just to see what was going on. It turns out it's a family restaurant, but we checked it out anyway. It is a strange concept because on the one hand there's these girls wearing these outfits and on the other there's children celebrating their birthdays. The waitresses are all wearing outfits that look like they are from the 80ies and the food is very American. It was good fun and wasn't too bad, I got the impression that Nancy and Amy were not as keen on it as Marcus and I were –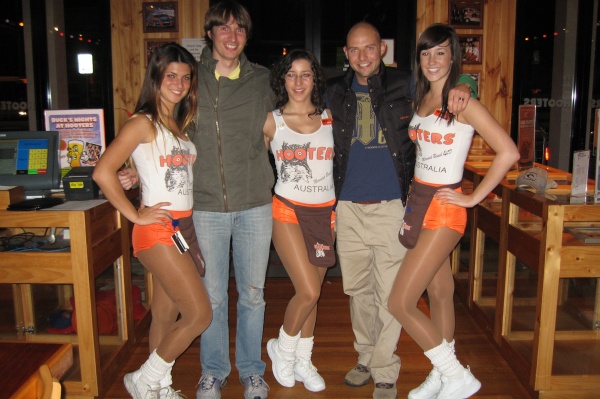 Hooters Girls!
For out last day before going back to Sydney we went to Byron Bay. It is only one hours drive South of the Gold Coast so it is definitely worth the trip. Byron is a really nice town which we have been to many times. The surf was a bit better at Byron and Marcus went out at Shipwrecks to get a few waves which looked good –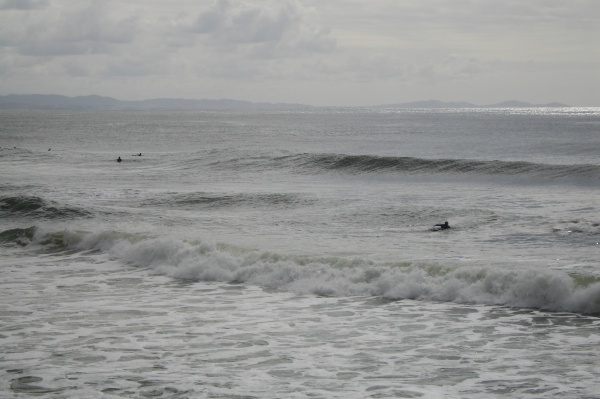 Byron Bay Shipwrecks
Then our holiday had to come to and end and we headed back to the airport to fly back to Sydney. A fantastic break I wish we were still there. In between going out we watched the entire original Office season 1, I forgot how good it is!