I still feel like I am on the boat as I write this, my vestibular labyrinth has not got use to the fact I am no longer on the water but actually on solid ground.
After a morning of surfing at Manly/Freshwater on Friday (where the waves were just throwing themselves into the sand from a great height) I managed to split my lip open after abandoning a take off and getting thrown into the wave, the surfboard must of hit me in the face at an angle. I bled into the water for several minutes but didn't see any sharks.
So I return home and Andy has got a Honda CRV off one of his 'mates'. This saved us a fortune trying to get to 'Paradise Afloat' (we did not need to hire a car) – a house boat hire place on the Hawkesbury river near a town called Windsor, about 60km outside of Sydney. After the long drive in the Anzac Weekend traffic to Windsor we all arrived (after picking up some people from the train station) on the boat. It was too dark to set sail on the first night so we stayed moored against the edge. I had to share a room with Esther and Chris which was ok but Chris stinks a bit after a while. We had a go at doing some fishing and I catch a little Bream fish that is not big enough to eat but a good omen for the rest of the holiday as this was the first night and we were already catching fish!! The next morning we set off down the river for some fishing and sun bathing.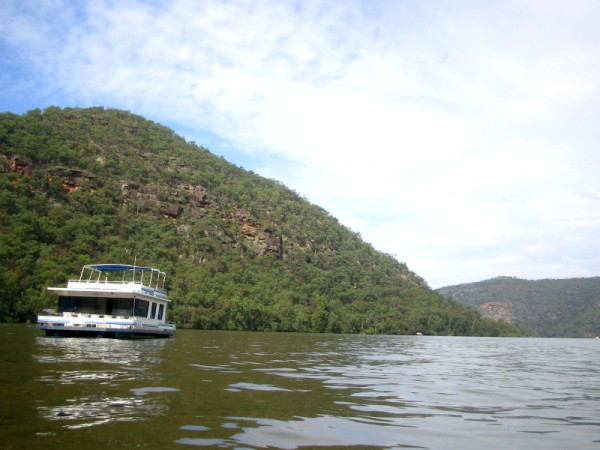 Our Houseboat taken from the 'Tinny'
The 'tinny' is a little tin boat with a little engine on the back. This was the highlight of the trip for me. Although it was slow it was faster than the house boat and if you were in it on your own you could fly around the river on it, it was great fun!!
So Saturday we moor up and jump off the roof of the boat into the water (which is a bit horrible compared to the sea). It was pretty scarey actually because the current in the river was so strong. If you were not a good swimmer or timed it wrong you could get swept away! I tried to swim against the current and I didn't go anywhere!!
Esther managed to catch one fish in 'Dad's Corner' on Saturday which was also too small to eat. This was the only fish for this day.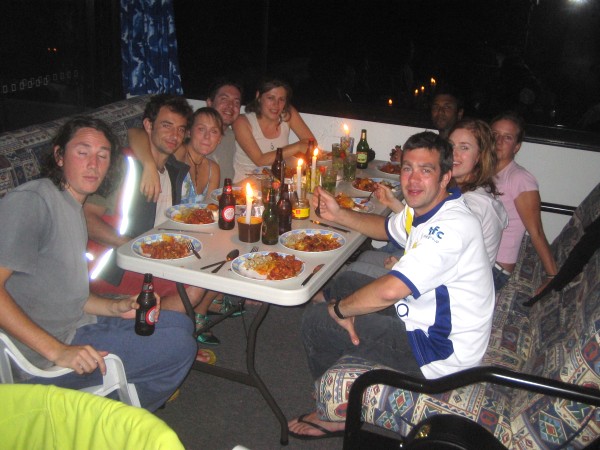 Nachos Yummmm
After dinner we played a bit of poker and then Esther, Nicole and myself built houses out of the cards –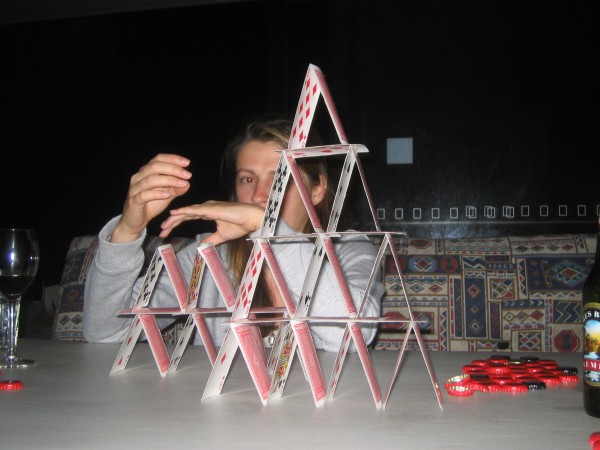 Esther with Card Houses
Sunday we headed back towards Wisemans Ferry. A location which has shops and a pub. We stayed on the boat for most of the time, I was so keen on driving the 'tinny' I became the 'boat taxi' that took people from the house boat to the main land! It was great fun!! We had a beautiful lunch on top of the boat that afternoon, here we are all enjoying it –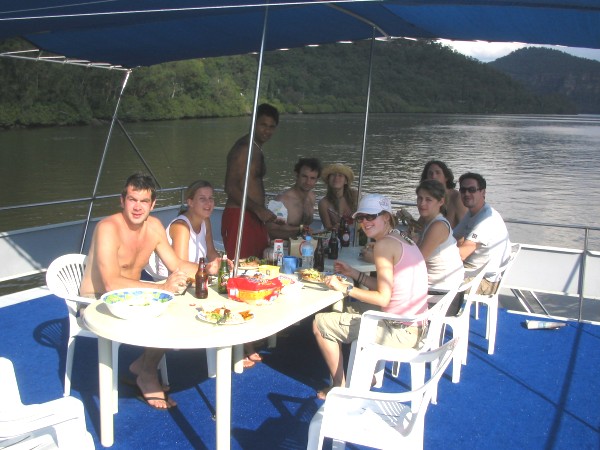 Matt, Nicole, Fizzer, Pete, Jorid, Andy, Chris,Esther, Mel
That night we played more cards and I wrote down some fashion advice for the girls (because I am such a cool dresser in my 1980ies ripped jeans) –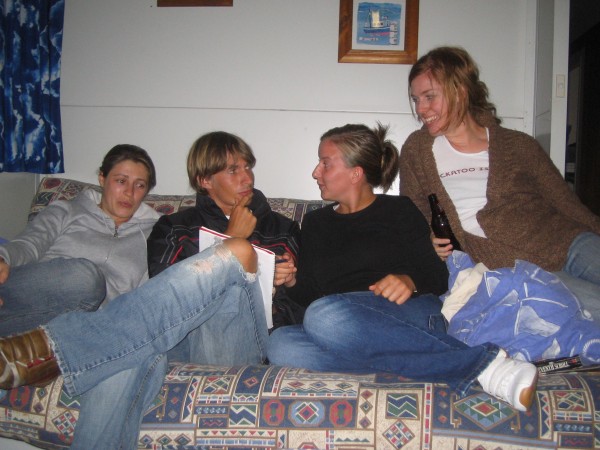 Esther, myself, Nicole, Melingar
After another evening of drinking and eating fine food we woke up the next day, ANZAC Day. This is a day where Australia and New Zealand honour the sacrifice of their fighters in time of war (more information on the link). We also woke up to find that Mel and Fisel had caught a fish big enough to eat!! (the only one of the entire trip).
ANZAC day is also a chance to play 2-up, a game that was popular with ANZAC soldiers, it is probably illegal to play it any other time of the year. The pub in Wisemans Ferry were playing it and I lost $15, $10 to Andrew and $5 to Melingar. Andy actually lost $40 in total (or maybe it was $80). I made this video which contains some house boat action as well as some 2-up action at the pub (listen for Matt telling Andy 'its a mugs game' very funny) –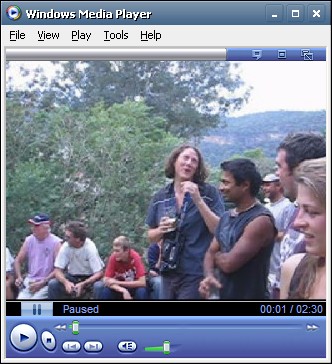 Right Click..Save Target As (Requires Sound)
After the visit to the pub we headed back to the boat for the drive home. I took this photo just as my battery ran out –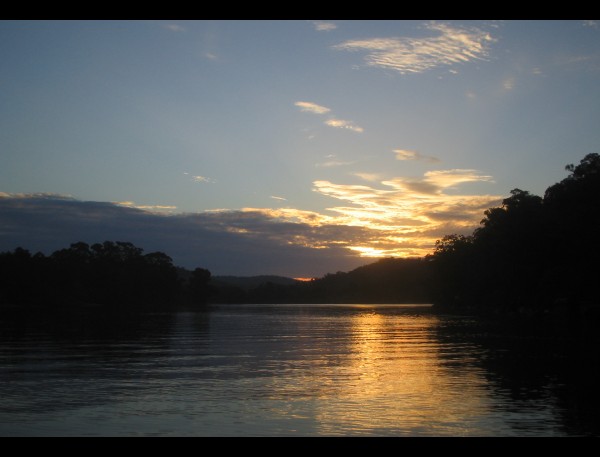 Driving the boat home at sunset
An excellent penultimate weekend in Australia….oh how time flies……..