It was a lovely weekend, a bit of low pressure was lingering around but it soon went and we were left with some glorious sunshine. Some news from the home front, Dino has just jetted off to China to teach children / make knock off Prada bags as Gino says. So now he's on the same side of the planet there's a chance of a visit to Guangdong or wherever he may be.
After a trip to Bondi Junction and getting a BBQ ready for some summer fun, we met up with Rach and Mike who had got back from their trip from Europe recently, here is Rach, Mike and Amy at a cafe in Bronte on the Southern Beaches of Sydney –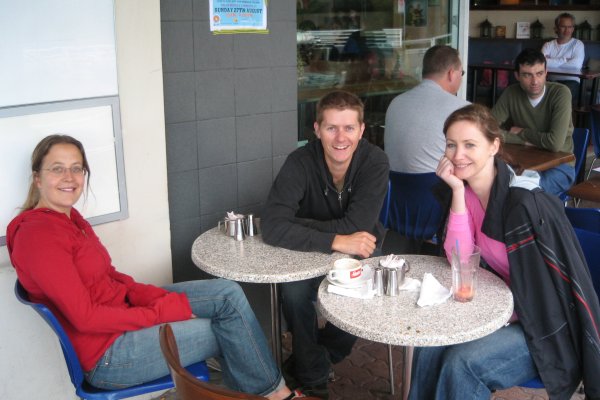 Rach, Mike and Amy in Bronte
That night we headed off to Simone and Stu's where Nancy and Marcus were getting the party pumping by doing their tax returns online – the fun never ends. Simone and Stu cooked Lamb Shank which was gorgeous, we had Polenta as a base which was much debated as no one really knew how to make it the correct texture.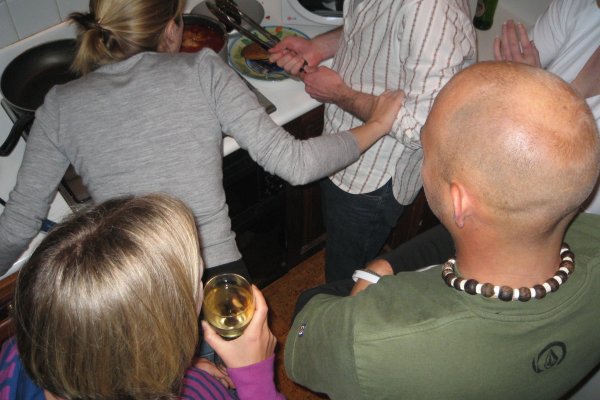 Polenta Tasting Ceremony
Here we all are about to tuck in the shanks –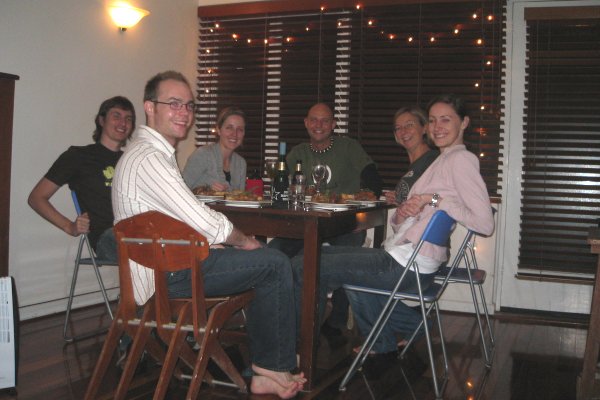 Lamb Shank Dinner Yum
An excellent night and some great conversation and tax advice shared amongst us. Amy and I spent the next morning getting ready for the barbeque that we were putting for some of the crew. We got a great BBQ for pretty cheap at K-Mart so we rolled it out. Here's Chris ( T-Bone ) and me with the new barbie which incidentally has some T-Bones cooking on it.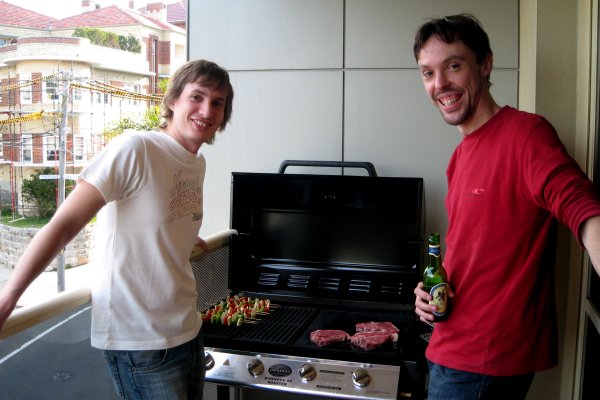 T-Bone and I with some T-Bones!
The BBQ went down well here's the gang in the living room –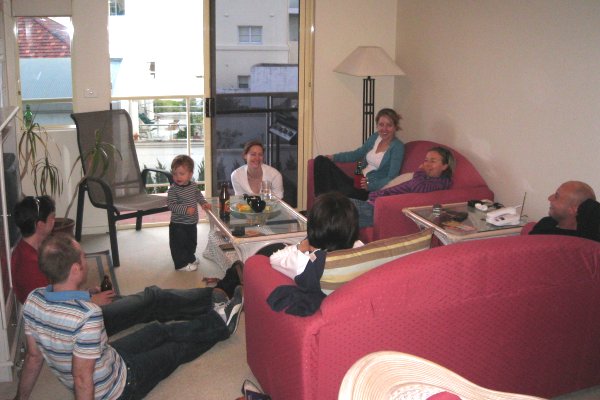 Busy Living Room including Child
That was it for the weekend on the surf front I've got a new angle of approach, I am going to take it back to the golden days with Magnus and Fizzer when we used to rid the mals, so hopefully we will get one of those soon and wait for some smaller wave variety, with a plan to get into the tube sooner rather than later!