This Saturday we went to Bondi Junction, Manly to Bondi Junction Mall is a 40km round trip that costs approximately $0.50 a kilometer based on the $3.40 bridge toll, $5 eastern distributor toll and $11 parking plus petrol! In 2015 someone will read this and will laugh at how cheap it is or be amazed as they will be driving their carbon dixoide fueled space shuttles.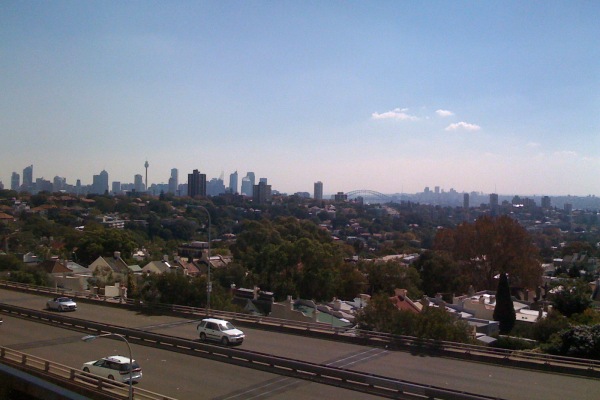 The City from Bondi with Smoke Haze
In the evening we went to Newtown from Manly for dinner with Simone, Stu, Lachlan and Claire which was fantastic, we set off at a reasonable 18h15 for a 19h00 dinner but we didn't arrive until around 19h45! Which averages a speedy 12km/h for that journey which is a little bit crazy! Not to mention another $3.40 bridge toll.
Sunday and we were a little bit over driving so we just went to Manly. In the afternoon Marcus and Nancy had organised high tea, which involved drinking pimms, eating cup cakes and having a sweep stakes on the Grand National which Marcus had cleverly found on YouTube for us to watch at our own convenience at 4pm in the afternoon rather than 3am in the morning or whatever time it was live.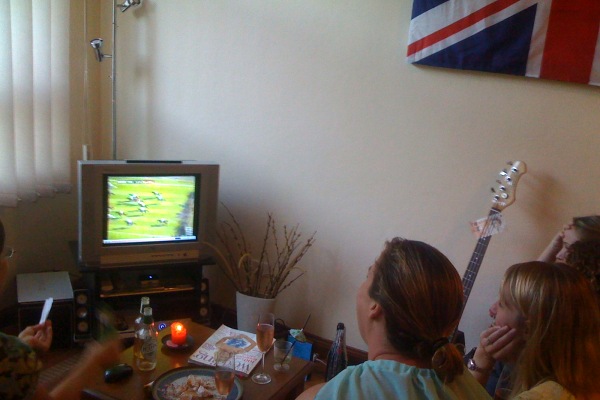 Grand National You Tube Sweep Stakes
A great weekend yet again!