Gold, Surfing, Weddings and Nicole
Still only half way to saving up to buy a digital camera, so I am relying on others to supply me pictures or take them with my big camera whenever I take it out. So it's with thanks to Nancy and Marcus that half of these pictures are on here (they are also reflected on Marcus' site).
I took my big camera up to Brisbane weekend before last as we went up to see Amy's sisters little baby, Cooper. A smaller version of Mr. Felix. However, when I got there I must have left it switched on in its case as the battery was flat! Which was a shame as I got no pictures of Coops and I also went on a ride down the Brisbane river in Amy's other sisters fiancee Wade-o's boat which was good fun.
Last week was a bit mental with fog coming in over the harbour to prevent the ferry for leaving. A the same time a car had not puts its hand brake on properly and was left half way across the road after rolling down a side street –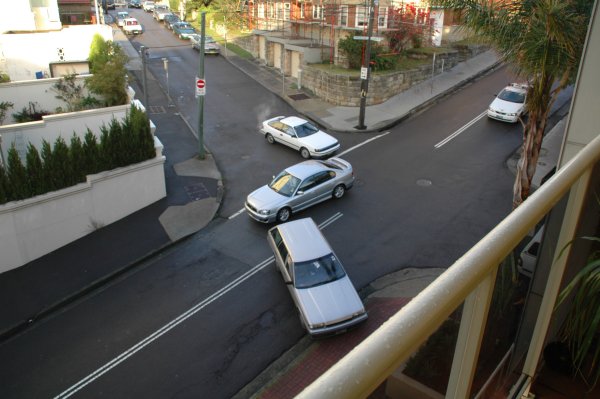 Nice Parking
At the weekend Global Surfari was putting the surf report at around 2ft and sunny (as it has a new weather feed) with low winds, so it was a good chance to get out there! Although it has been more than three months since I did my injury my shoulder has only recently gone back to feeling how it used to before I dislocated it. Last surf was a bit of a right off because it was hurting too much. This surf I felt much better but now I think I have more of a psychological battle to get over than an injury one as I was afraid to really catch anything, even though I've been thrown around by big waves before. Next session (which will hopefully be this weekend) I am going out on my trusty dahlberg as I am more confident with that although my arm power for wave catching has dropped loads I'll hopefully work that back in before the summer. Jon from work also came down for a little surf which was great.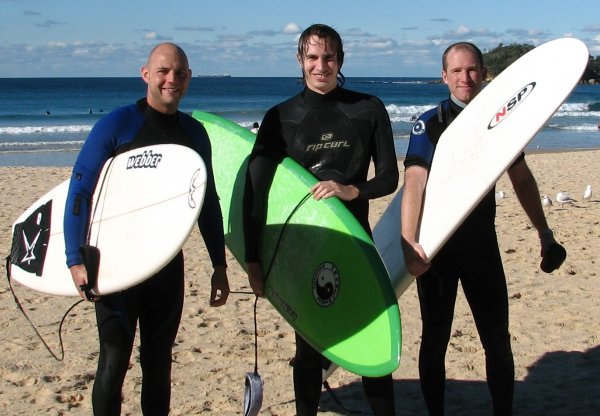 Marcus, Jon and myself at Manly Beach
That night we went to Greater Union cinemas to see Da Vinci Code in "Gold Class" – a special cinema with about 30 seats and luxury recliners which have electric buttons to make them into beds. We all wore standard day time clothes to the cinema, but when we got there people were dressed in their best clothes and drank sparkling wine from champagne glasses, we felt like commoners! As for the movie, it is ok if you've read the book, good to see all the places mentioned in the book and the merging of times when they were in London was brilliant (which you'd understand if you have seen the film).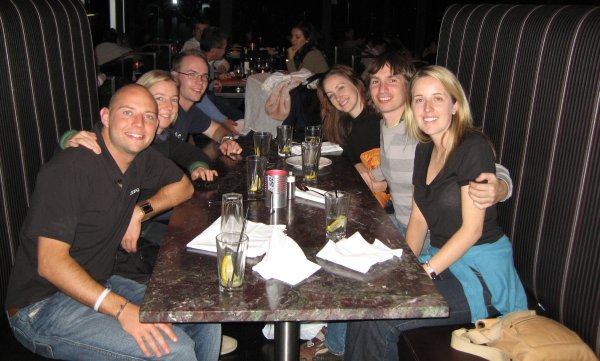 Amy, Simone, Nancy, Stu, Marcus and myself at Bondi Junction
Honolulu Hawaii, USA born actress Nicole Kidman and Whangarei, New Zealand born country singer Keith Urban got married in our home town Manly, Australia on Saturday. Amy has had an illness for the past four days which meant she couldn't really leave home, so it was a surprise to see her running around the flat in excitement when five helicopters starting circling near to our flat for the start of the wedding. After I told her we could not go out in the car and drive up there because she was in her pyjamas she did this –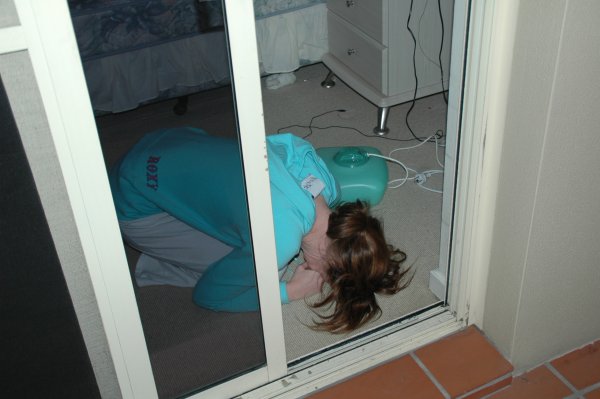 Amy having a tantrum
After the tantrum was over I finally conceded and drove up to St. Patricks Estate, a 2 minute drive from us. We got out the car and walked to the entrance of the estate where a crowd had gathered. One minute later and Nicole was driving past, Amy, still in pyjamas ran up to the side of the car and took a photo. I did not take my camera as I didn't want to look like paparazzi but I hope Amy's picture comes out well. She has one of those old fashioned cameras which you have to take to a shop to get developed, so I'll put that on the blog when the time comes around or Amy might even put it on hers as she is yet to make an entry!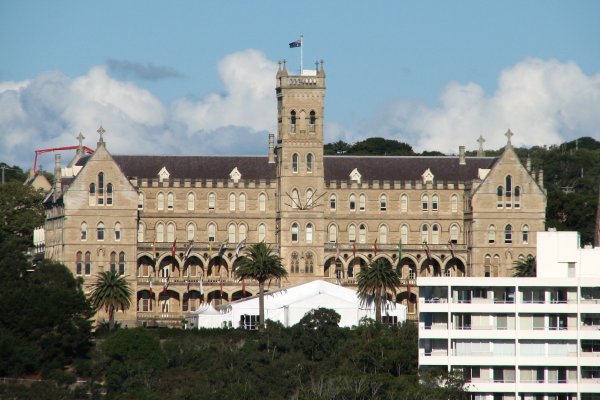 St. Patricks – Nicole's Wedding Venue – Manly
The picture above was taken by Nancy from their balcony, a great place to spy on the wedding. Well that is it for now except for a quick Happy Birthday to Andres who is the grand old age of 25!