Three gigs in four days! Matt, Andy, Chris and myself went to all three of them. Here is a quick round up and some pictures –
This was the first gig at Hodern Pavillion here in Sydney. Money Mark was the first guys to play and they were really good. The did the 'I've got my hand in your head' classic, the DJ, Mike Realm, finished by playing two little numbers, one was a Lennon song and the other was a Charlie Brown remix with some frantic mixing! It was excellent. We could have left after that alone. Next up were J5, they were 'the bomb'. To be honest this is not the sort of music that I normally listen to but I enjoyed the gig very much!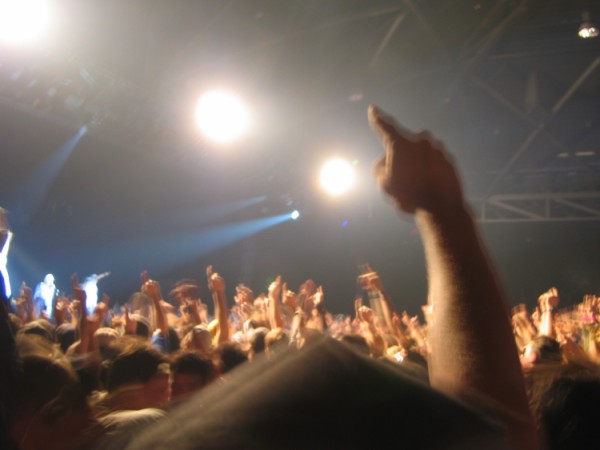 This gig was at the Metro (not Chicago). The venue was great it has a little bar when you go in and some really weird lights. It also has some ignorant staff and unfriendly bouncers. I was pushed by the lady behind the counter to stand slightly to my right which was embarrassing. However I did get her back after asking her if we had finished the transaction and the arrogant "yes" reply, why she hadn't given my credit card back. The tide had turned – a cautionary tale. Ozomatli were brilliant and very lively and so was the crowd! Jumping up and down and dancing all night, it was great. At the end the band came off stage and played in the middle of the crowd! It was insane! We were right in the front and I got some excellent photos. Here is one of the main guy pulling a huge grin –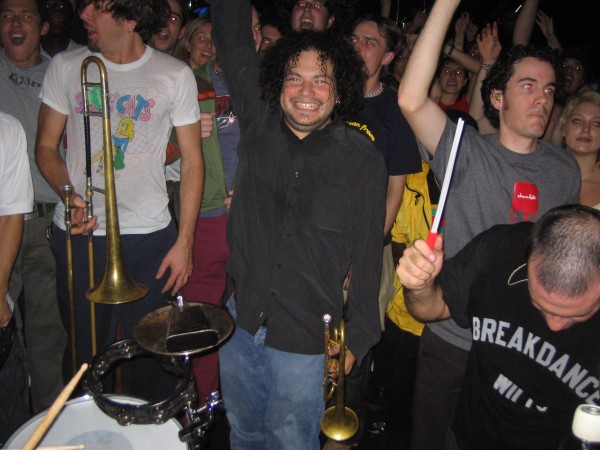 Afterwards we went to the bar (everyone else went home as it was a Sunday night). We were at the bar buying some beers and one of the band members (the one in the white t-shirt above) was standing next to us making conversation…with us! It was all very rock and roll as you can imagine! Then some girl in a low cut top appeared and he stopped talking to us – couldn't really blame him.
Some good old rock music to finish the 'festival' that we had been going to! The venue was the Gaelic Club, which is tiny and really intimate. It was a bit like Paradiso Amsterdam but smaller!! Keane were the warm up band they were really good considering they did not have a guitarist! I have listened to Snow Patrol a bit recently so when they played their tunes it was really good to be able to sing along…and jump around!! The crowd were really poor and didn't seem to get into it. Andy was adamant that this was due to them all being 'pommies' at the end he did a survey and they actually turned out to mostly be German. A great end to the tour, although I was nearly sick that night from too much jumping around and too much alcohol (I wasn't though, India has made it impossible for me to be sick). No pictures from Snow Patrol, the battery was flat!!!!!