Forty One Restaurant on Level Forty Two
After a hard days work, tonight, as a farewell to my parents who have been in Sydney for the past two months, we went to Forty One Restaurant. I have to say it was probably the best restaurant I have ever been to ever. This was also the most expensive restaurant I have ever been to, out doing even London's 'Le Pont De La Tour' and not even on a conversion comparison!! It was also the heighest restaurant I have ever been to, located on the forty second floor of this building –

Black Arrow Indicates Location
Here are parents and myself at dusk with our superb view over Eastern Sydney –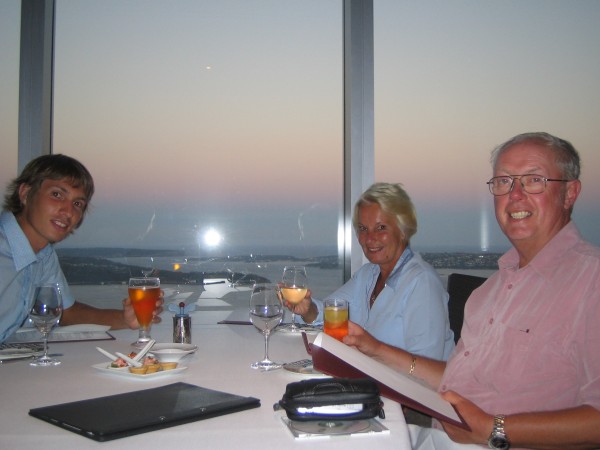 Here is a view of East Sydney, Woolloomooloo is at the bottom of the picture, the bright lights on the horizon to the left of the picture is Bondi Junction –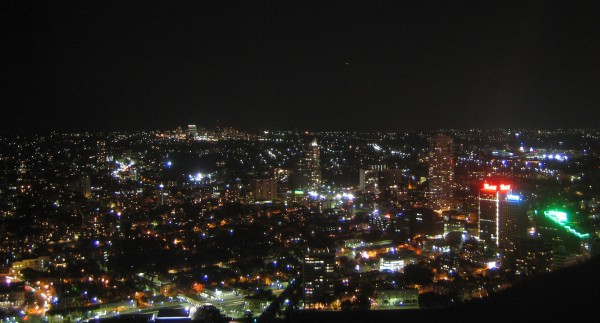 And this is a view of Finger Wharf at the bottom of the picture and some of the bays of Sydney, the yellow light in the sky in the middle of the picture is the moon –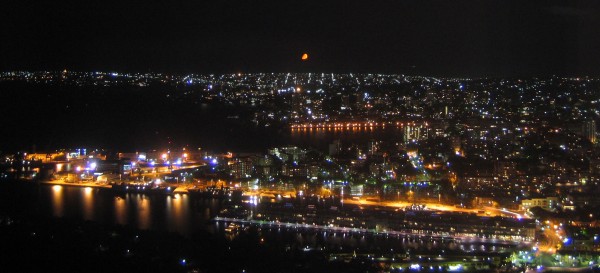 My parents opted for the normal menu, whilst I decided to go for the degustation option (which means the tasting menu). A total of 6 courses and little bits inbetween for me which I enjoyed very much, let me give you the run down –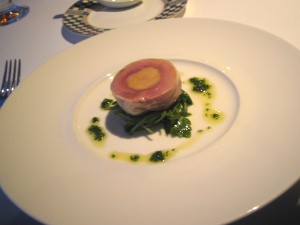 Galantine Of Quail & Foie Gras, A Small Salad Of Baby Beans & Endives, Truffle Oil Infused Ravigote Vinaigrette
followed by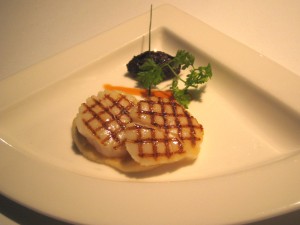 Grilled Queensland Sea Scallops, Cauliflower Puree, Kalamata Olive Tapenade, Green Apple Reduction
followed by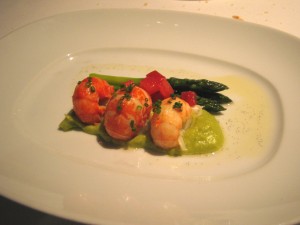 Steamed Western Australian Yabby Tails, Asparagus & Bread Sauce, Vanilla Infused Extra Virgin Oil
followed by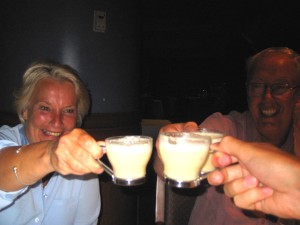 Leek Potato Soup in an espresso cup!?!
followed by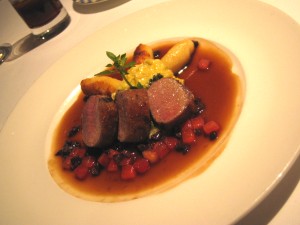 Roast Boneless Rack Of Gippsland Lamb, Creamed Parsley & Leeks, Sauteed Potato Gnocchi, Black Olive Infused Jus
followed by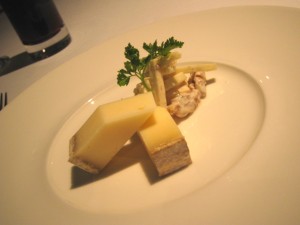 Ossau Iraty Sheeps Milk Cheese With A Celeriac, Apple, Date & Walnut Salad
followed by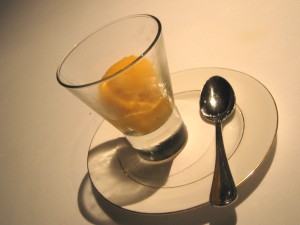 Apricot Sorbet
followed by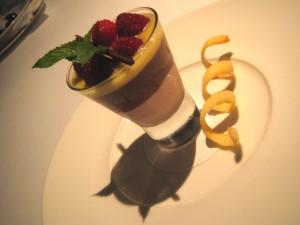 Dark Chocolate Mousse With A Raspberry Crème & Warm White Chocolate Sauce
followed by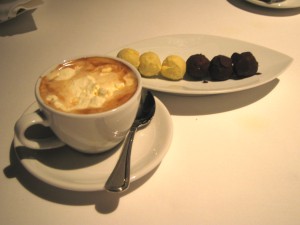 Coffee Vienna and Chocolates
An excellent evening and an excellent restaurant. The funniest thing about the place is the toilets, it is very hard to 'go' when you are looking out over half of Sydney –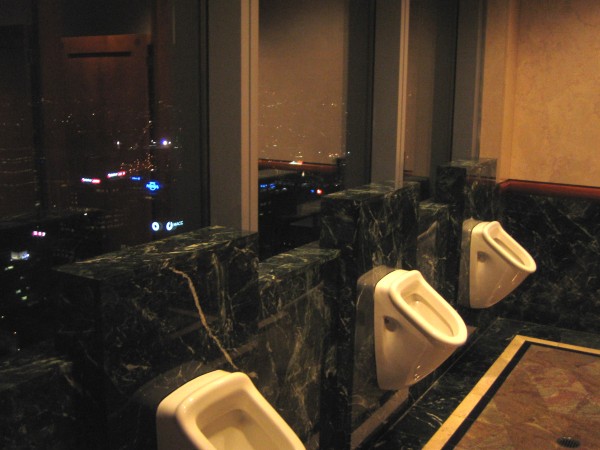 Finally….Forty One Restaurant, located at the very top of landmark Chifley Tower, has long been recognised as Sydney's most revered fine dining experience gaining international recognition for the innovative cuisine of its chef and owner, Dietmar Sawyere. Open for dinner from Monday to Saturday from 6:30pm and for lunch from Tuesday to Friday from 12 noon. I recommend this restaurant to anyone visiting Sydney, it is not really on the tourist path.. you read it here first!! Visit Forty One Website Here.