Fear makes the wave look bigger…. (UK Surf Trip 5)
It's the middle of September, the best time of the year to go surfing in the UK because the water is "warm" and the waves are "big". I will definitely say the water feels warm but that is probably because the air temperature is less than the sea temp!!
Faiser Chief (Faisel) is working at various Pharmacies on the SW coast, so, as testing for my new website GlobalSurfari.com I got the latest data and started the six hour drive to the coast!
Just to remind you how much of a rip off the UK is check this out –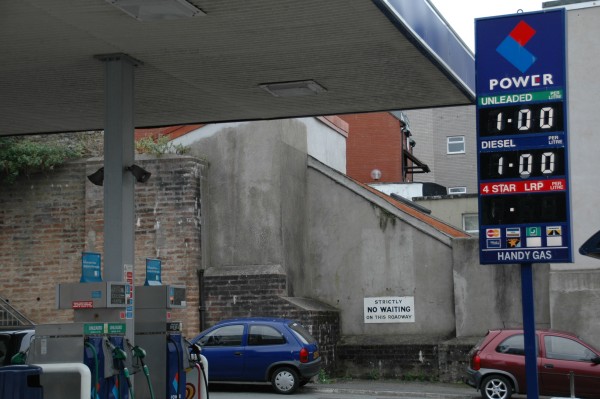 $1.80 USD, $2.12 CAN, $2.35 AUD, €1.48, ¥200.66 Per Litre!
We also have to pay £3 for the privilege of parking near the beach here as well!!! So we headed for Croyde, which is Devon's surf capital (its the Newquay/Bondi/Hossegor of Devon). It is a lovely little village in Devon (see map) which has a real nice beach break and also has some more serious reef breaks at either end of the beach. Something that the UK surf suffers/benefits from are large tides. The sea can go out and in over large distances, it dramatically changes the surf conditions and this definitely occurs at Croyde.
The sleeping arrangement, beautiful English countryside backdrop at Croyde –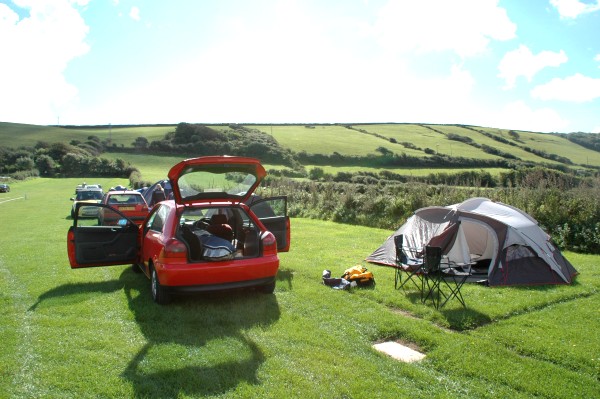 So back to the surf. The GlobalSurfari.com surf report put the SW region of UK at 1ft with low winds and fairly good periods. The graph showed bigger swells on either side of the lull that was the weekend so I was thinking maybe if we weren't going to get much waves what we would get might be ok. When we arrived it looked pretty small from the distance, but I am used to that now (in UK) that I was a bit excited because there was an opportunity to go surfing. Croyde beach has a main beach break area and two reef breaks at the North and South ends of the beach. The reef breaks only really get good when the surf is big so they were not really happening but they were giving more of an edge than the waves in the middle of the beach so I went as far South as I considered was safe without killing myself on the sharp jagged rocks that I could see and which were slowly disappearing under the water as the tide came in. I got a few nice rides and the waves really started to pick up a bit so it was getting good fun. I definitely could tell it was a good surf session as when I came out of the water I had the obligatory bleeding cut. Only got one picture on a good set and it's of me coming off (looking midly concerned as I put my hand out hoping I'm not on the rocks) –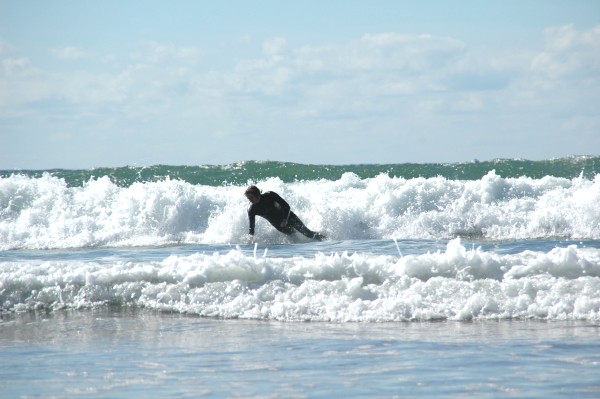 No I didn't 'recover' this move
Faisel rocked up and we went for lunch at the local pub in Croyde, we had burgers and then I pulled out my GlobalSurfari UK – South West Print Page for Fizzer to check out –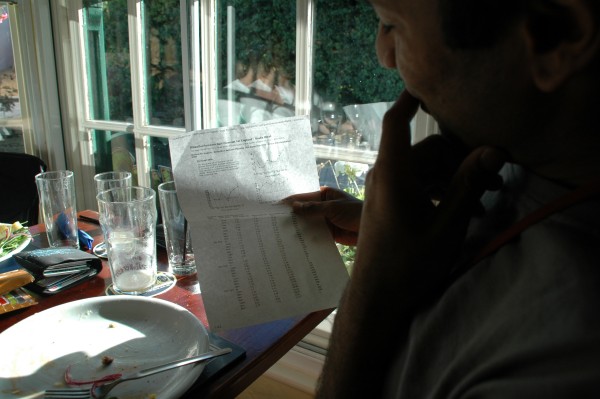 Global Surfari Test Run
We headed back out afterwards and the sun was beginning to set. It was a beautifully clear day and the sun sets out to sea (as we are facing west rather than east as in 'stralia). Which makes it a bit safer because you can see where you are going when you are flying down a wave towards some innocent other water goers in your path of destruction) but it also makes it harder to see the waves coming because the sun is sitting right where you are looking.
If however, you have the luxury of only being about 6 people out at that time and you have glassy 2ft conditions and left hand wave breaks then you are in paradise! Paddling out is an amazing experience. The sun is shining right infront of you and then disappears as swell rises up above the sunset and the wave has a beautiful green tint to it the swell then goes down and the sun shines again as you look out to the Isle of Lundy a few miles out to sea – dead ahead. I was in a perfect position to join a left hander, all I could see was a perfect little wave curling and getting ready to break as the green tint of the sun shone through the wave. It was an amazing experience and possibly the best surf session in terms of location and beauty I've ever been on!!
The next day and Fizzer was working at the Pharmacy so we drove over to visit him. On the way we passed Saunton, which is a really nice long boarders break that has less power than Croyde and much longer rides. You can see the swell coming in from miles out and it starts to build real early. Today was a especially nice day for the chilled out long boarder crew –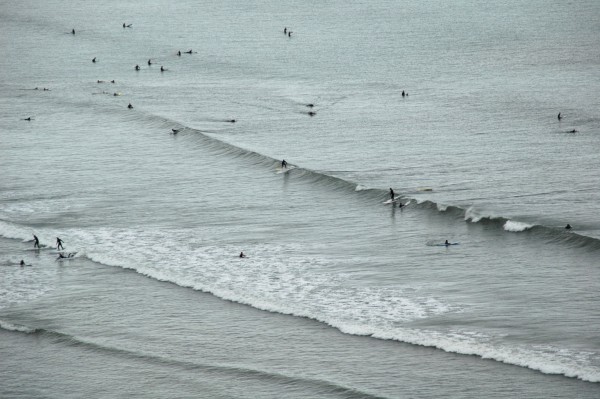 Saunton Long Boarder Crew
We bought some paracetomol and a tooth brush at Fizzer's pharmacy then headed for a beach called Woolacombe. This had some waves breaking and occasionally some 2.5ft sets coming in. Annoyingly everytime a decent set came in I'd find myself too close to the break so I'd have to duck dive the first one, paddle out a bit more then turn around and begin the push for the next one. I need to visit the pool more often however as I was too tired from the day before to be able to push hard enough to get on! I did get a few nice ones, although most of the breaks were rights and my lack of experience recently is making it hard to hit those.
Woolacombe on Sunday, notice the insanely over deep duck dive being performed in the centre of the picture –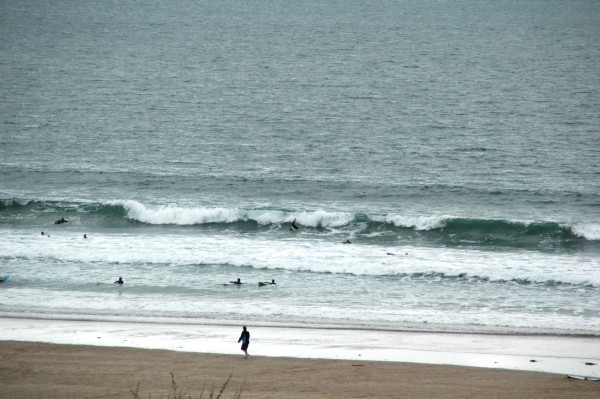 Duck!
Now it was the drive back to London, my favourite surfing trip and best waves I think I've ever surfed in the UK!!! Rock on surf trip 6….
As for the GlobalSurfari information, it was pretty correct, it predicted low winds (there was hardly any) and 1ft swell (which there was) so I am pleased with that!