Engagement Party
We woke up on Saturday morning to the rain which we didn't want to hear as this put the location of our Engagement party in jeopardy. We were supposed to do it at Manly Dam, but there's nothing worse than being outside in the rain. Even if you do have cover the ground is soaked.
We made the right decision to move the party to our flat, Which was good as it gave everyone who have not been around a chance to see the place and it also worked out to be logistically much easier. We could make the food on-site, warm things up and keep everyone dry at the same time.
Thanks to Marcy and Chris bringing over their BBQ and Chris using some smokey wood chips we had a delicious spread of burgers, sausages and kebabs. We also had a great selection of little bits for people to eat such as mini-quiches, salmon and creame cakes and lemon tart and cup-cakes. Thanks to Marcy for taking these photos –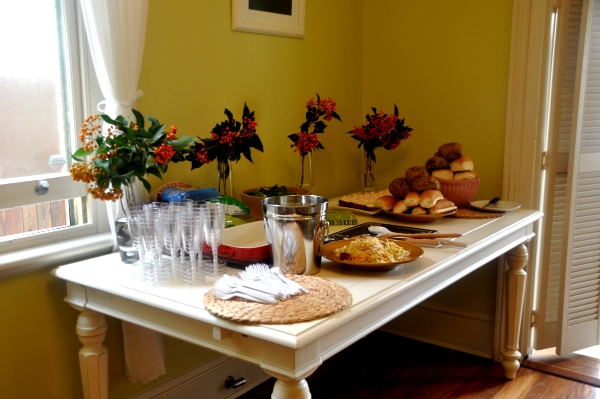 The Spread
The day went really quick and we had a good amount of people! Luckily some creative re-think of how our flat was laid out meant that everyone fit without many problems. We used the living room, dining room and bottom room as sitting/standing areas and also the outside porch and a chillax area.
We had a lot of visitors from the south side which is great as its a long way to come especially in the rain. It was good to see that crew we don't see them enough. We also had a lot of babies in attendance, one of the funniest moments was when Mia gave Chloe a nice cuddle but then the kids being so young, balance was lost and there ended up being tears.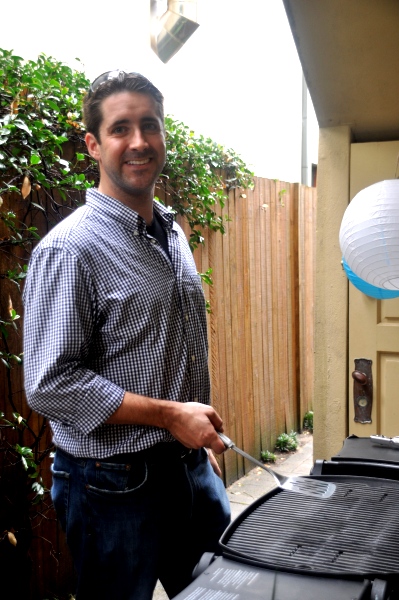 Chris on the BBQ
We got given some fantastic presents as well which we were very grateful for.
The engagement party day got extended into the evening and we went out for dinner at Jellyfish restaurant on what happened to be the brightest moon in 18 years or something like that Chris kept on telling us.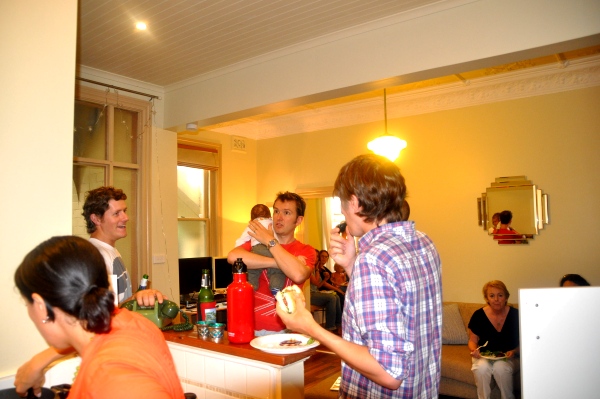 A selection of people at the Engagement Party
Marcy and Chris slept in the spare room and the next day we carried on the partying by having a lovely breakfast made up of all the left overs from the night before, with Marcus, Nancy and Hugo also coming around to enjoy that. We then went down the beach for a swim although we ended up not going in because the water was brown and their was things like washing up bowls on the beach (how do they get there from the rain?).
We then bought a large chicken and smoked that on the BBQ and had everyone over again for dinner, all whilst watching the massive amount of TV shows and movies I've managed to accumulate thanks to Stu and Simone's hard drive they let us borrow!
At the end of it all and once everyone had gone home Amy and I stamped the engagement weekend as a success and felt a bit down after everyone had gone because it was so much fun having everyone over and hosting the party. I think we might do more parties at home if we can think of reasons to have one!!!!