On Friday morning I told Amy to get up at 3:30am which she was not very happy about. Her excitement changed when I drove past the domestic terminal and onto the international one! So it was all a secret until the check-in desk told us we'd need to pickup our suitcases in Auckland to transfer them ourselves to Queenstown!
Queenstown is a little town in the southern part of New Zealand, if you don't know where New Zealand is, don't worry, it's a small island off the bottom of Australia.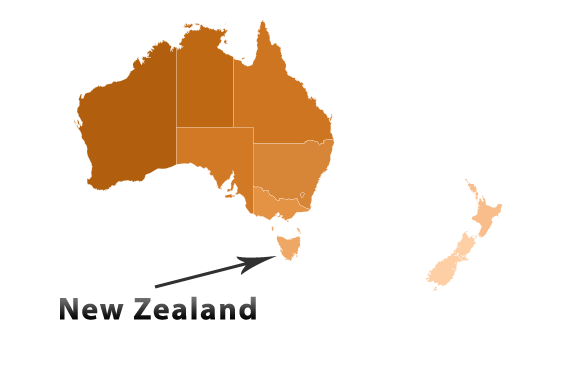 Queenstown totally blew us away, flying into Queenstown airport in the plane, all you can see out of both windows is terrain, which is a bit scarey but amazing to think of the massive mountains that surrounded us. The airport is like as if we just arrived at some luxury ski resort in Europe, I wasn't expecting that at all.
We stayed at a resort called Azur which is the best place we've ever stayed, the view from the window was spectacular and totally private, breakfast was served all day and canapés came down in the afternoon and for Amy it was drink as much wine as you can as it was all only a phone call away! The mini-bar was also free, which I've never heard of, it also had a dog called Elvis, can you guess why –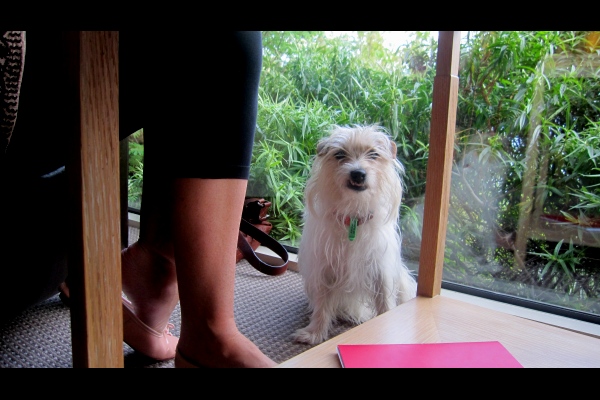 Elvis the Dog at Azur, Queenstown
So, Saturday morning came around and we rang in our breakfast order of fruit salad and pancakes and some cappuccinos. The sun was out and as we sat on the balcony I decided it was the right time, so I asked Amy if she wanted to get married and she thankfully said yes!

Engaged!!
After the excitement of getting engaged, we finished off breakfast and headed off towards Arrowtown, which is a small gold mining town. On the drive to Arrowtown there's a river called the "Shotover River" which has canyon sections and a very quick boat that goes down them. Amy wanted to have a go on it, I would have been happy with a normal boat to view the amazing scenery but New Zealand and adventure sports go hand in hand, so here's Amy and I doing a powerslide on the shotover jet boat –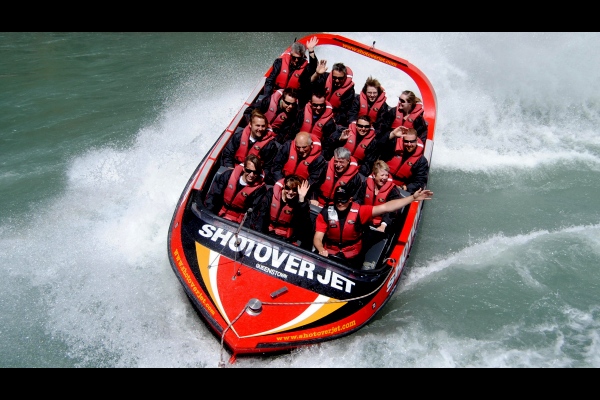 Amy and I on the Shotover Jet Boat (bottom left)
Amy is waving in the above picture I am doing as the guy told us and hanging onto the bar. It was really good fun and amazing to go so close to the rocks at such high speed without hitting them.
We then continued on our drive to Arrowstown which was very nice, here's Amy and I having our first luncheon as an engaged couple –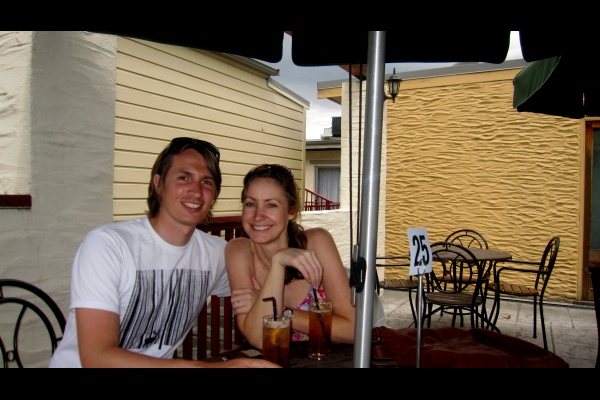 Amy and I in Arrowstown enjoying some Lemon Lime and Bitters
We had a great time in the town where we visited a shop called Ogle which I'm sure will get a letter from Google's lawyers at some stage. That evening after a tiring day of being engaged we headed back to the lodge for canapés and to get ready for dinner at a restaurant called Gantleys. We had a hire car for the trip but we didn't really need it, the lodge was happy to drive us around and even if the destination was further than they would take us, a free taxi would pick us up from downtown Queenstown and take us to the restaurant!
Queenstown suffers and benefits from a transient English backpacker population that do lots of jobs, so we were served by very few New Zealand people the entire time, mostly English which was funny.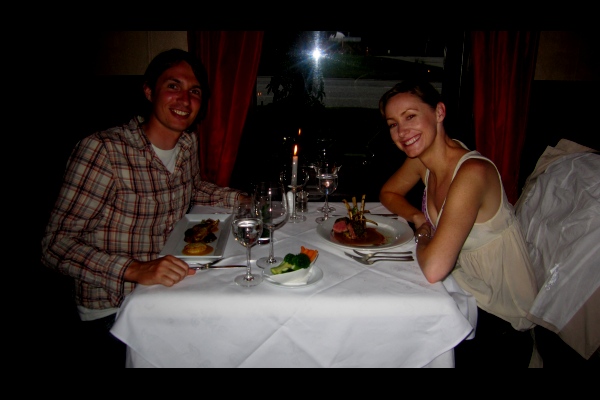 Amy and I at Gantleys, Queenstown
The next day we drove alongside Lake Wakatipu to Glenorchy, a small town right at the end of the lake, I was intrigued to find out what was around the corner of the mountain that we were staying on. The view of the ranges after we got around the mountain corner was stunning, the trees are all ferns and we really could have been on a ski trip in Switzerland –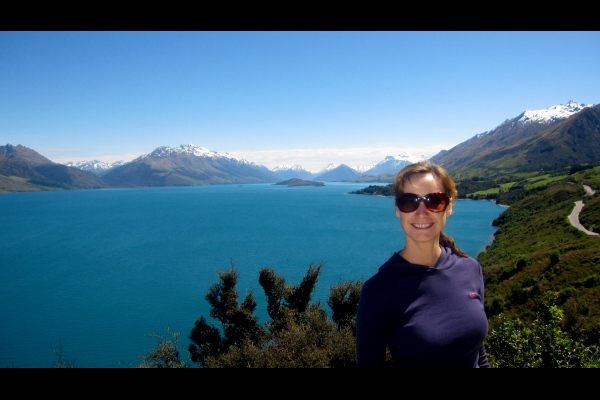 Amy with some mountains and snow peeks
It was a nice drive (you can see the road in the right hand side of the picture) and we got to see some sheep as well. We then headed into downtown Queenstown to get some lunch at a place called "The Cow" on Cow Lane. We tried to visit Botswana Butchery but it had burnt down 🙁
The next day we got the phone call the helicopters were flying, so we took a scenic flight out to Milford Sound and a cruise down the river there. Milford Sound is a four hour drive from Queenstown, or a 20 minute flight, simply because the road just won't go straight to the Sound. The flight also had a quick stop off at the top of a mountain on a glacier, I put on a t-shirt and a light jumper and hoped for the best. Our pilot was a local farmer (they have to have helicopters to get anywhere) and was very nice, we even did a little fly over his house to wave to his wife and one of his children! Amy said she could see his dog and he told us he had 17 of them! We also asked him how big his farm was and he said its about 120,000 acres (187 square miles)!! Here's Amy and I on top of glacier looking cold but having a great time –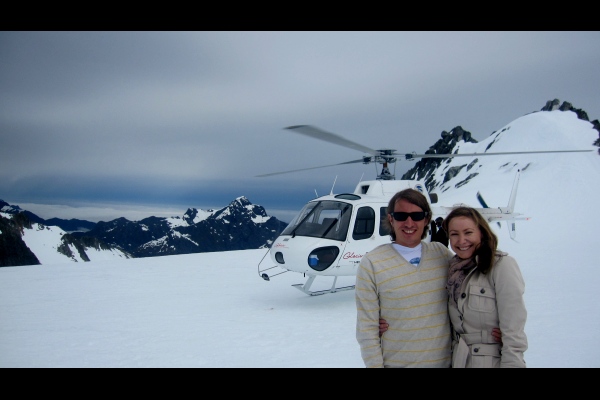 Amy and I on top of a glacier near Milford Sound
Milford Sound was very beautiful, the boat trip was fun and we got to see some seals and a little penguin which made me feel really stupid not bringing a coat! That evening we tried the legendary "Ferg Burger" which was very nice!
The next day was our last day so what better way to spend it than go on the Gondola in Queenstown for a ride on the Luge! It was awesome fun but again could have probably have done with wearing a coat –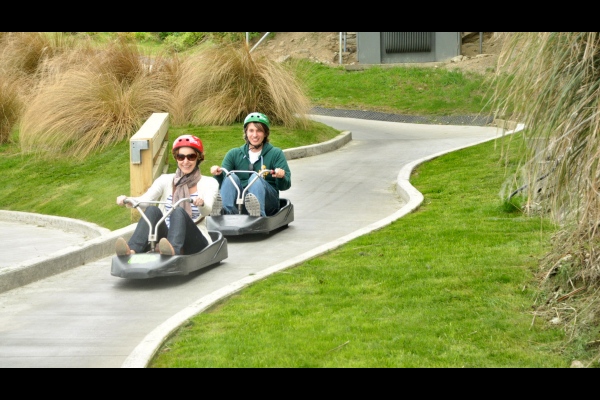 Amy and me on the Luge
So then we flew back to Auckland and then back to Sydney, arriving on Sunday night just before a load of planes arrived from Europe and Asia, so we didn't have very many hassles at the international airport getting back home!
A fantastic trip and very happy Amy said yes to my proposal!