This weekend was the first weekend in a while where we've been able to go out not wearing pullovers or sometimes even coats. It is very strange how it goes from being fairly cold to being 30 degree weather. I like to pretend we are tourists and walk around Manly, here we are on the way to Shelly Beach enjoying the weather –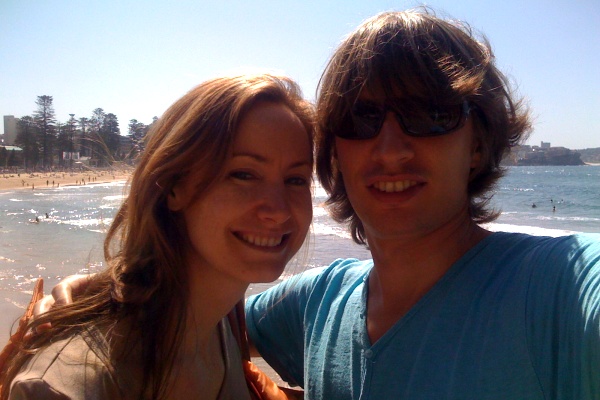 Amy and me Manly Beach
Amy got her hair cut and came out of the hairdressers wearing a coat, I told her she had to take it off because everyone else was wearing shorts and t-shirts. I guess that is what happens when you grew up in Queensland.
That night we had Simone and Stu over for dinner, Amy got the recipe for a fantastic Lamb with Quince and White Wine sauce which was a bit of a risk because we'd never done it before but it turned out absolutely fantastic. Here's Simone, Amy and Stu about to tuck in –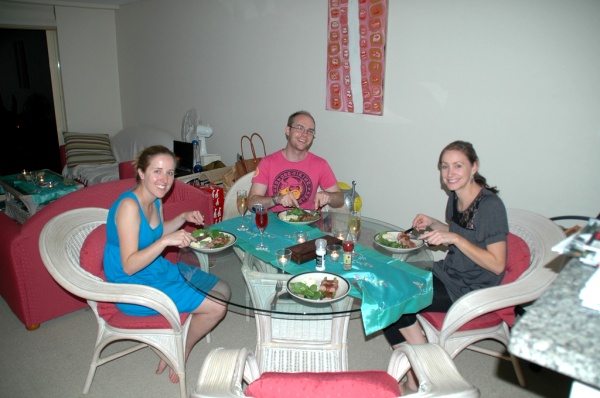 Simone, Stu and Amy
The next day the warm weather turned on us and the storms came in we spent most of the day indoors but for a detour back from the shopping mall to a place where we had not been before; Dobroyd Head it has a fantastic view of Sydney –

Manly from Dobroyd Head
There was also an opportunity to see the spot of a wave you see from the ferry in large swells which doesn't really seem to have a name so lets call it "Dobroyd Lefts". It looks like it breaks nice when you see the back of it from the manly ferry.

Dobroyd Head – Is it Surfable?
I found some posts on realsurf of people who have claimed to have surfed it and they say –
It gets pretty crazy, definitely only for the experienced. We normally take the boat and anchor it in crater bay and paddle from there. Very sharky [sic], seen some big bulls and hammerheads around there. You also invariably hit the bottom which has lots of caves amongst the boulders.
So probably won't be paddling out there anytime soon! I'll go back when its crankin' and get some decent swell photos.
That night we went over to Lorraine's house, who has just moved into a great place in Manly for dinner. Here's Marcus, Mel, Nancy and Amy on the cheese plate before the delicious dinner that Lorraine made –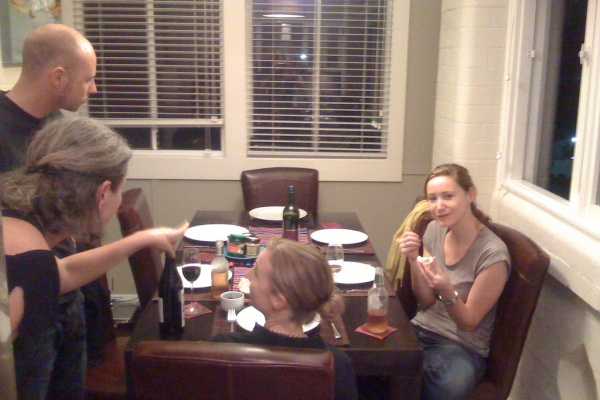 Delicious Dinner at Lorraine's House
Peace.