Coolendel is a tiny little camping place in the middle of nowhere, which is about 20 km inland from Nowra, which is about 3 hours south of Sydney on the Shoalhaven river down a dirt track road which would destroy the suspension of any normal road car.
Rach and Mike; the inventors of camping, invited Amy and I down to this very special camp site on the long weekend. We left at 06h30 on Saturday morning ( that only happened because Amy thought it was 07h30 ). It was a lovely drive down in beautiful sun, in fact we were blessed with great weather all weekend long.
The place is beautiful and has a lot of wildlife running around. This peacock was on the roof of the camp site office –

Peacock on the Roof
We setup the new tent which was a dream as you can stand up in it, a tent requirement that I've introduced to any form of camping that will be going down in the future.
Later that day we spotted this little character hiding in the tree right near our camp, it is a creator of the Australian continent –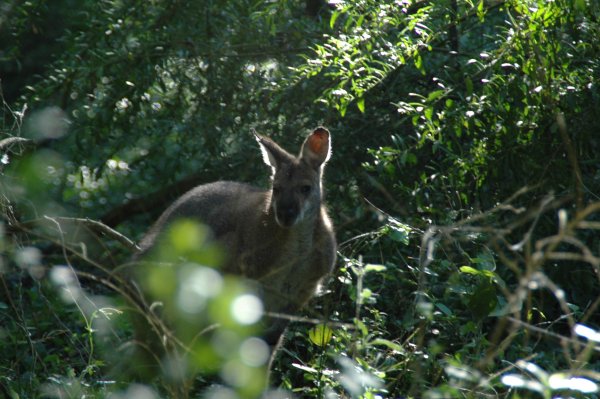 Creature of the Australian Continent
We went down to the water for a swim and to jump off a rock, it was pretty scary but had to be down for the initiation process. The water was pretty cold I must admit and I saw an eel / snake in the water the next day so it wasn't that nice to be in it.
Amy and I went for a nice walk to sandy beach, which looks over the shoalhaven river and the beautiful setting on the way back we went down "Wombat Trail", here is Amy on the little bridge through it –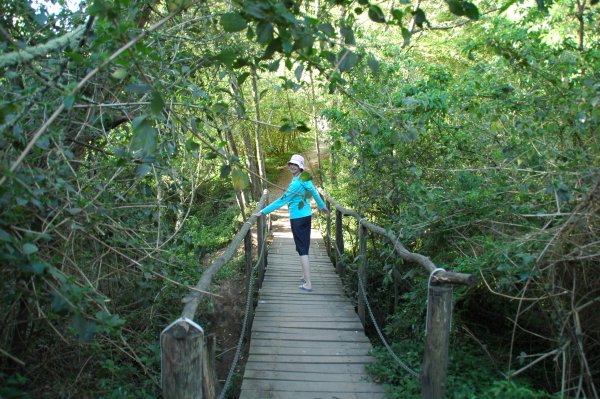 Amy on Wombat Trail
It was funny because of it's name but one night when we were walking down it we had to stop to let a Wombat walk across in-front of us!
Gemma and Dan arrived later on that evening and they bought some lovely food for a lovely meat / vegetarian dinner. Gemma also cooked banana bread on the fire which was also very nice.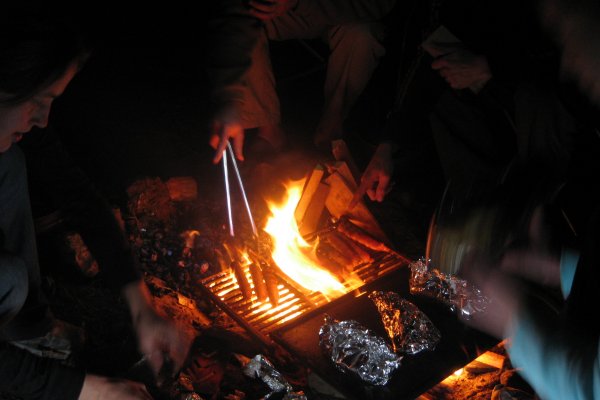 Cooking on the Fire
The next day was kayak day. We were told by the Kayaking people to go up stream as opposed to down, which turned out to be good fun but also very difficult as we did not have the right foot wear. The shoalhaven river has little rapids which are too shallow to paddle up so you have to walk up them. My feet did not hurt that much because I have a really good pair of flip flops but everyone else was having issues with their havianas! When we finally did get up the rapids it was really good fun going down them!
We were given the full apparatus of life jackets and helmets, Mike and I wore them religiously, everyone else laughed them off as ridiculous because the was no dangerous rapids to go over. However, the "I told you so" came true when Gemma and Dan cap-sized their supposedly in-capsizeable kayak coming down one of the rapids. Here is Mike (in full protection gear) and Rach looking for their things –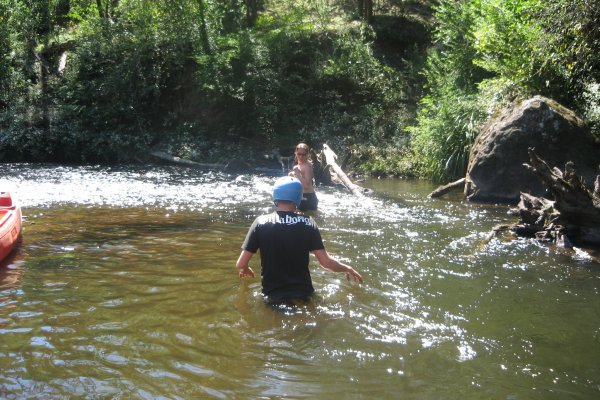 Kayaking Accident Scene
and..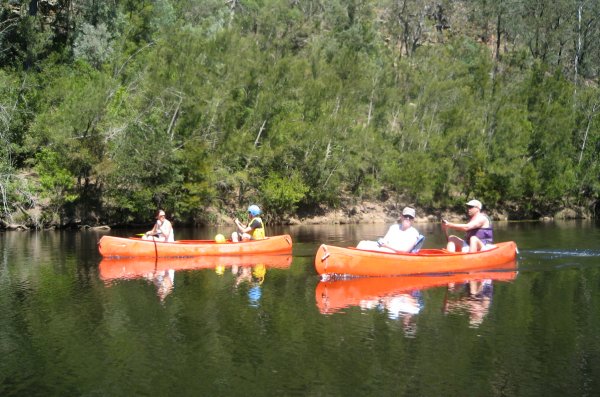 Happier Times on the Kayaks
The cool thing about Coolendel was the amount of Wombats that just walk around! From not seeing a Wombat ever to seeing about 15 of them was pretty amazing! They are cute little creatures that eat grass and only come out at night. They have stumpy little feet are can be pretty scatty,with open sores on them and hair missing. The ones in this photo are pretty nice though –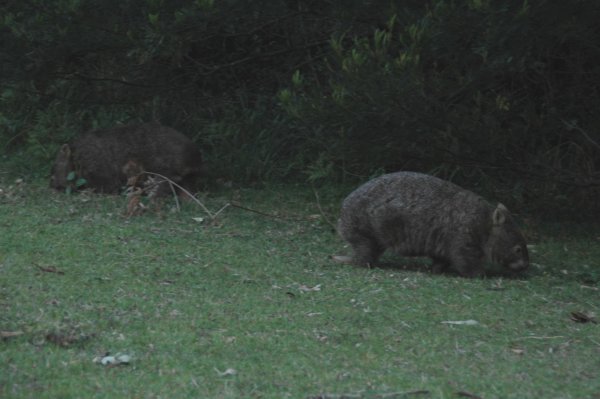 Wombat Feeding
It wasn't just Wombat's though, it was these pre-historic looking Goannas –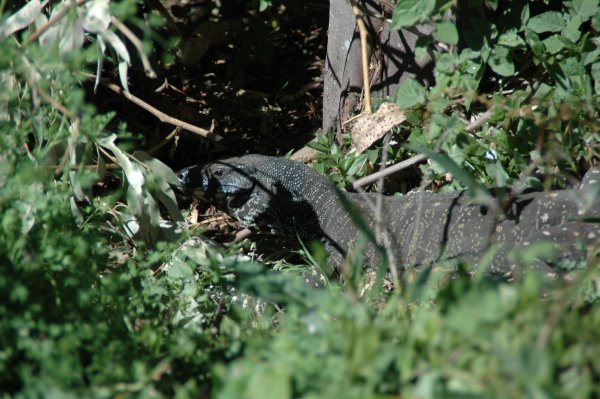 Goanna Go!
Also managed to capture this fire confronting, axe welding, oven glove wearing mad man onto digital film –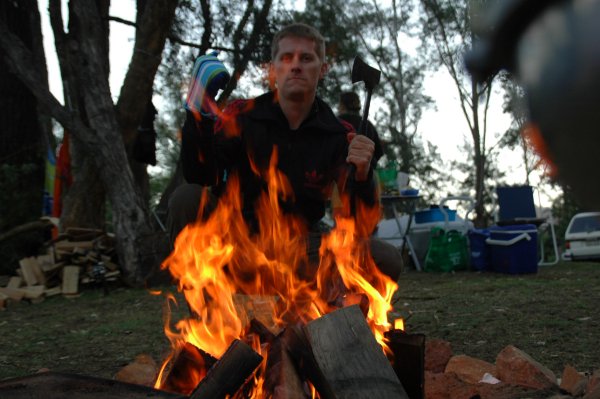 Guardian of Hell, Mike
A great weekend in the wilderness, a little bit closer to nature, which we should all try to do now and then. To quote Ben Lincoln who said of Coolendel – "Animals at every turn, a live menagerie, the river breeze through the trees, reminds me that I'm free."