"Let China sleep, for when she wakes the world will shake" – Napoleon Bonaparte. China certainly seems to be shaking!
We boarded out China Eastern flight from Sydney to Shanghai. It was a good flight and it had some nice food. The only thing that separated it from any other airline (apart from Singapore Airlines which are the best by a long way) was they didn't give us little packs of nuts during the flight. The coolest thing about the flight was probably the exercise program that we all did at the end of the flight together, instructed by the air stewardesses and video.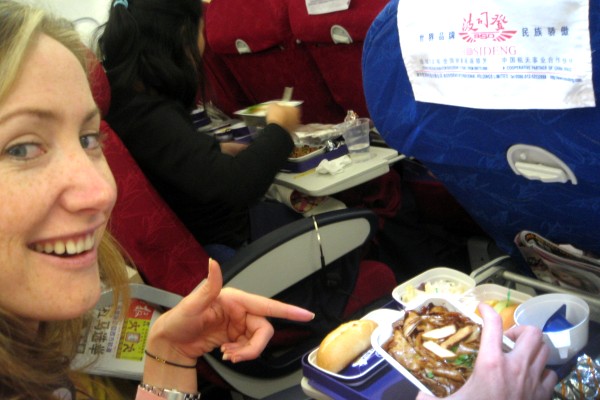 Amy on the plane with lunch
I had visions of China being a very strict country based on its style of government, so I was expecting the airport security to be tight. It was completely the contrary, with no problems getting through customs, immigration and health. We basically handed the pieces of paper we filled out to people, got our bags and then we were in China proper! Getting a taxi was just as easy, we joined the taxi queue and had none of the hassel I had read about, got in the taxi and made our way to our hotel (via the help of a Chinese printout of the directions – that was important as the taxi driver spoke no English). The journey was a bit reminicent of India, travelling at break neck (literally) speeds without the ability to put a seat belt on always gets me a little nervous.
So that night after we got dropped off at the hotel (the wrong one but the right one is next door) we went to a little food place next to it. We ordered spring rolls, pork dumplings and something else which was like a ball but inside and this stuff that looked like it had been poured from an ash tray that had water in it. It actually had a sweet taste but more than a couple of mouth fulls would had been too many.
Our hotel is the Jin Jiang Hotel, where Nixon, the Queen and Chairman Mao have stayed. It is in the French Concession, which is described as the 'Paris of the East' – the shops in the area are similar to Sydney's Oxford Street or London's Carnaby Street.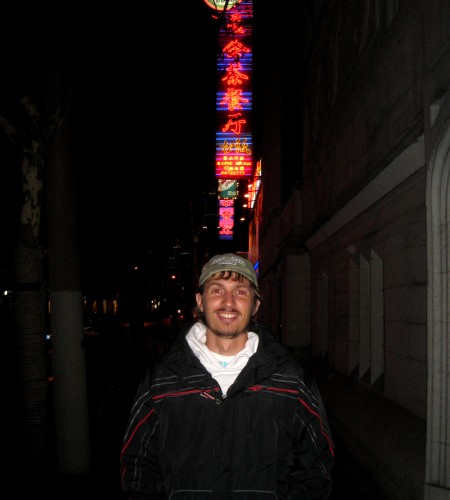 On the streets of the French Concession
We went to sleep and I had a bit of a confusing night, setting the alarm clock three hours earlier than Sydney time, which was actually six hours off the actual time. So when I woke up at one am thinking it was seven am and then wondering a few hours later how the Chinese got by with it being pitch black at nine am in the morning! Once I realised my mistake (thanks to Amy) I went back to sleep for another six hours to the 'real' morning (which does have daylight).
So the next day starts and we decide to walk down a road called Nanjing Road, which has lots of shops, however, it is not the Western shoppers paradise as I thought it might have been. Globalisation has taken over and you'd be hard pushed to get a bargain or work out what country you were in –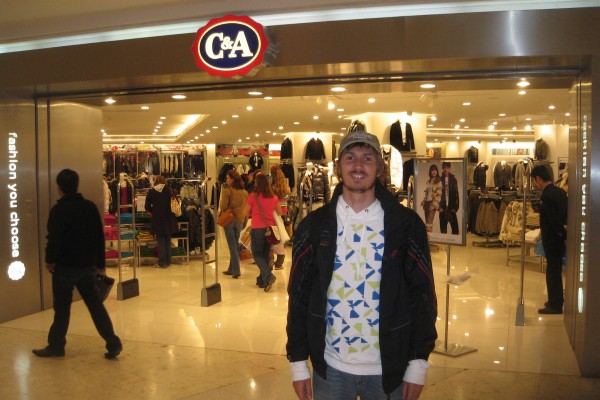 Guess the country?
Nanjing Road took us all the way down to The Bund which has a view of Shanghai Harbour to Pudong, the financial area of Shanghai. The view from The Bund of Pudong is spectacular, consider that none of these sky scrapers were here in the early 90ies –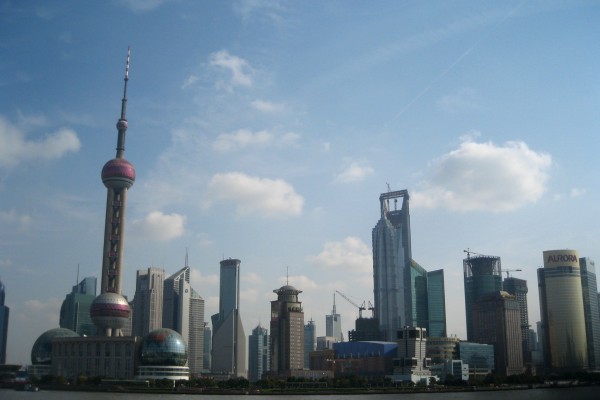 Pudong!
The large building on the left with the balls is spectacular; it looks like something out of a sci-fi movie set in the year 3038.
We got this psychedelic underground train over to the other side of the river and into Pudong (I made a video of the train ride it was seriously out there). We went to a huge shopping area where Amy had the time of her life in shops that Australia doesn't have like Zara, H&M, C&A, Next, etams etc. We also tested out China McDonalds (you can't beat integrating with the local culture) and I have to say its probably the best one I've ever had. We got the little crazy train back to the other side and I picked up my only bargain off a street seller, some little wheels you attach to your shoes so you can skate about and help increase the chances of breaking an arm, they also flash colours when you go along on them – all for 50 yuan ($8) – haggled down from 100 yuan ($16) (she haggled herself down, all I had to do was walk away).
After all the shopping, McDonalds and sky scrapers we thought we'd better do some cultural things as we'd kind of forgotten we were in a Communist country of a billion people, so we headed to Yu Yaun Garden which was very beautiful –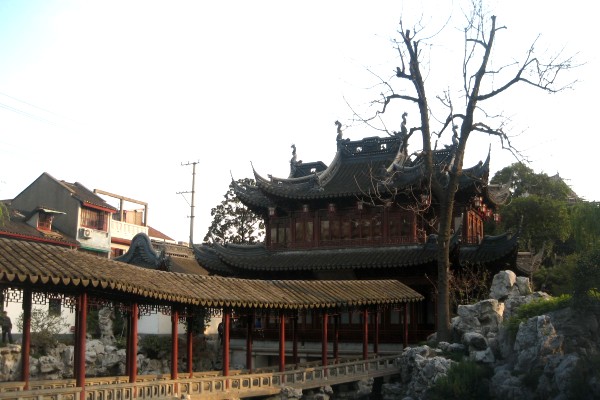 Yu Yuan Garden
Next we walked the long road back to our hotel and booked ourself in for dinner at the Jin Jiang Tower (the hotel next door) on the 41st floor, so should get some nice views and photos! Tomorrow we are getting out of town, so hopefully we will get more of a taste of China.